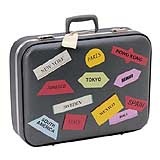 photodisc Or, how one woman learned to stop worrying and love losing her luggage
"Your bags are not here," the woman in white gloves told me, taking a deep breath that suggested she'd been on the receiving end of passenger wrath before. "And there is no match with your tags in the computer." She lowered her eyes.
After innumerable reroutings and delays due to wild thunderstorms in Chicago, I'd finally landed at Tokyo's Narita Airport. It was as close as I would get that night to my destination, Xian, China, for the start of a 10-day conference on water management. And now this.
I insisted on speaking directly to someone at the airline concerned in Chicago. Too polite to refuse, the clerk opened what looked like a personal pocket telephone book and dialed. The baggage supervisor, on duty thousands of miles away, sounded stunned to be voice-to-voice with me but remained calm. "Don't worry," he said. "Your bags are somewhere. We just don't know where yet. We'll send them on to you." Fat chance. I knew that, given the one-night stands ahead of me in the Chinese hinterlands, there was no way my luggage would catch up.
On the other hand, waiting in Tokyo for my suitcases seemed futile, so I gave in and told the airline to have my things meet me in Beijing at the end of my trip. After all, I did have a change of clothes in my carry-on, thanks to my standard precaution. Somehow, I thought, I'll improvise the rest.
I grudgingly accepted the airline's offer of a night at the airport Narita View Hotel (the name says it all) and rushed to catch the last shuttle bus, the baggage handler and I being the only stragglers left in the now-closed airport. But this was a breeze. She who has no luggage needs neither porter nor pushcart, which by then were all chained together in neat rows. Moreover, she who doesn't have to wait for suitcases to be unloaded from the bus gets to check in before everyone else.
Within minutes I was in my room, at last free to give in to fatigue. I had planned on sleeping nude—my nightgown was among the lost possessions, of course—but then saw a linen robe fanned out like a butterfly on the bed. Just the thing to sleep in, especially since I couldn't figure out how to turn off the air conditioner and the room was ice-cold. A night's sleep in a clean robe; clean teeth, thanks to a toothbrush wrapped and sterilized by the hotel "for my comfort and beauty"—things could be worse. I must admit that I considered pilfering the robe the next morning, but, realizing I could be traced, I decided to hold out for a T-shirt-cum-nightshirt, hoping that one would be available ahead.
In fact, I easily began restocking at the Tokyo airport, which is the capital of gadgetry and ingeniously compact packaging: soap, shampoo, notebook and pen, even socks in packets so tiny they could be tea bags.
My new routing to Xian had put me through Shanghai, where I eked out a few moments to scan the airport's department store. But the women's clothing looked far better suited to a soprano in a Chinese opera than to me. Fearing that I'd have to wear the same sweaty clothes for days, I raced to the men's department, and spied a fine tab-collar cotton shirt on a distant counter. With one swipe of my credit card, I owned it. What a difference between necessity and an impulse buy.
In Xian, just as I was wondering how I'd find a taxi, a taxi found me. With no baggage, I had quickly cut through the sea of arrivals and stood alone on the curb. A driver rushed up, jumping the line. "Good, no bag," he said approvingly, as he flipped my carry-on onto his shoulder.
Finally, I was where I had intended to be. Without guidebooks or camera, I was free simply to look around me, the images all the more indelible for being first impressions: Air gray and dense with smog. Ancient tombs waiting to be excavated. Bricks, sacks of grain, and every manner of vegetable, all piled high on wagons pushed or pulled by people. A child riding behind her mother on a bicycle, blissfully licking an ice cream cone.
At the hotel, I showered for dinner, put on my new Shanghai shirt, and met my conference group in the dining room. "You look great," a colleague said, much to my surprise. "Losing your bags agrees with you!" And things only got better. All conferees received a brand-new T-shirt—divine sleepwear to me.
Nevertheless, an overnight train trip to a remote town loomed ahead, and I'd been warned to bring a variety of personal items. The Narita View Hotel was light one roll of toilet paper, I confess, but I still needed to pick up a few supposedly vital items. I headed off for the Friendship Supermarket and found that it carried just about everything I was missing, including, to my amazement, underwear. And while trying to determine if I'd come up with enough yuan to cover my bill, the salesclerk gave me a mesmerizing lesson on the speed of the abacus.
As it turned out, our next hotel provided soap, toilet paper, and towels, so from one day to the next I actually moved into a state of oversupply. In fact, in Yanan, where Chairman Mao concluded the Long March, it would have been nothing to add a full-fledged Chinese Army uniform to my build-as-you-go wardrobe. At a pagoda overlooking the city, entrepreneurs were outfitting visitors from a rack of army regalia for souvenir Polaroids. One of the women took special pains to find me just the right Chairman Mao cap when she noticed that my worn-for-three-days slacks matched Mao's jacket perfectly.
Eventually I arrived in Beijing, where I was reunited with my suitcases, just as the airline had promised. The bags stood ready to do service, unscathed and familiar. Yet I hardly wanted them—they looked like heavy stones compared with what I had gotten used to. I signed for them in a huge logbook, adding my name to a long list of prior luggage-losers and wondering if they too had been able to do without what had once seemed so essential. I dutifully took my bags home, now missing only the unbearable lightness of having lost them once upon a time.