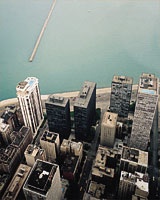 Julie Toy Chicago and the lake from above. Where else can you find astonishing architecture, carnival rides, and lake swimming, plus world-class popcorn, pizza, hot dogs—oh, and some pretty great museums?
My New York friends say, "It's so clean." My San Francisco friends say, "People are so friendly here." My Washington friends say, "It's so real and gritty." My friends from Atlanta say, "There's so much art here." My mother from Philadelphia says, "The weather. I never know what to wear."
My husband and I are geographical mutts, but our kids are pedigreed Chicagoans. William could hail a cab by age two, and knew the White Sox lineup at six. Caroline could navigate the Art Institute by herself at four, and knew the Cubs lineup by five. They are both on a first-name basis with a tyrannosaurus named Sue. They mix caramel and cheese popcorn together, think gourmet pizza is for sissies. They won't put ketchup on hot dogs, but will use it to smother cheese fries. Most telling of all, they firmly believe that these foods cover the nutritional bases.
There's something about the scale of this place—the world's second-tallest building, busiest airport, biggest Ferris wheel—that makes it a blast for kids. Vast Lake Michigan, with its swimmable water and 29 miles of sandy shoreline, is their backyard, and their front yard is the 7,328 acres of public parkland. (No wonder Chicago's motto is Urbs in Horto, "City in a Garden.")
A word about the weather. There's a running debate about the origins of the epithet "Windy City." Journalists say it refers to the long tradition of windbag politicians. On the other hand, as anyone who's walked along Lake Michigan in the winter will tell you, dressing in layers can be a fine idea. When it comes to the elements, Chicago is like a big kid: it loves to defy conventional wisdom—such as weather reports. Snow flurries swirled at my May wedding. Caroline's first birthday party was on the beach in late September. As for my mother, a down coat and a sundress await her arrival.
PLAN OF ACTION
Water Tower 806 N. Michigan Ave. This neo-Gothic castle, one of the few buildings to survive the Great Chicago Fire of 1871 (remember Mrs. O'Leary's cow?), is your North Star. Find it, then look across Michigan Avenue to the Waterworks Visitors Center (163 E. Pearson St.). It has the city covered—the staff provides maps, tickets to plays and various spectacles, and friendly advice. Hungry?Walk north to the Original Pancake House (22 E. Bellevue Place; 312/642-7917; lunch for four $32), a squat, white-brick building that belongs on a country road, and order the Dutch Baby pancakes. A sure sign that they're good: the policemen in the next booth.
SEEING IT ALL
From the ashes of the Great Fire, a new city arose, planned by architect Daniel Burnham, who declared, "Make no little plans; they have no magic to stir men's blood." Burnham's vision for the city—the Chicago Plan of 1909—was big indeed. To take in a pulse-raising view of the broad boulevards and grand parks he laid out, choose your vantage point:
Sears Tower Skydeck 233 S. Wacker Dr.; 312/875-9696. The 70-second ride to the world's highest observatory (in the second-tallest building, after the Petronas Towers in Kuala Lumpur) is a thrill—especially when those photos of Earth seen from outer space appear on the elevator's 50-inch monitors. The 3-D illusion of a baseball speeding toward a White Sox catcher—from his perspective—is also a winner. But best of all is the view at the top: 50 miles (on a clear day) in any direction. Kids will also enjoy the trivia signs (Q: How many windows are there in this 110-story tower?A: 16,100). Walk a few blocks to Greektown for lunch or dinner. Try Greek Islands (200 S. Halsted St.; 312/782-9855; dinner for four $105), where the highlight is saganaki, a flaming cheese dish—and the show the waiters put on when they drop the match and shout "Opa!"
John Hancock Observatory 875 N. Michigan Ave.; 888/875-8439. The fastest elevator in the world at 1,800 feet per minute—another of those Chicago superlatives—will get you to the 94th floor in 39 seconds. Don the SoundScope binoculars to zoom in on the city sights and clamor—cheering fans at Wrigley Field, roaring jets at O'Hare. Click a computer button for "Windows on Chicago," and you'll be inside the Bulls' locker room via virtual reality. Or check out the History Wall to trace Chicago's transformation from primeval swamp to modern metropolis.
IF YOU HAVE TIME FOR ONLY ONE PLACE
Art Institute of Chicago 111 S. Michigan Ave.; 312/443-3600. Two bronze lions guard the entrance to this museum, a cross between a Greek temple and an Italian palace—and the city's pride and joy. Stop at the gift store and make a $15.95 investment in Behind the Lions, a family-oriented activity book and guide to more than 225,000 works of art spanning 5,000 years. Check out Edward Hopper's famed Nighthawks and Seurat's giant, Pointillist painting A Sunday on La Grande Jatte, then divide and conquer. Send one faction off to the massive armor collection and another to the elaborately detailed Thorne Miniature Rooms, 68 models of period interiors, created by a Chicago matron between 1937 and 1940. Our favorite is the Tudor Great Hall, a showcase for teensy tapestries, late-16th-century chairs, and portraits.
TAKE A TOUR OR TWO
Wendella Boats 400 N. Michigan Ave.; 312/337-1446. These jaunts up the Chicago River and along the lakefront are fully narrated and bursting with factoids: the Merchandise Mart is so big it has its own zip code; Chicago has more movable bridges (46) than any other city.
Untouchable Tours 600 N. Clark St.; 800/660-8824 or 773/881-1195; reservations required; no stops, no toilet; suggested for kids over 8. In a black school bus riddled with bullet holes, you'll pass all of the city's famed mob hangouts—in Chinatown, Little Italy, the Gold Coast—including the former garage where seven of Al Capone's rivals were gunned down one unsentimental Valentine's Day. The trip takes two hours, but "da boys" entertain with a slapstick routine and gimmick souvenirs, such as a comb that looks like a knife.
THE MOST IN A MILE
Navy Pier 600 E. Grand Ave.; 800/595-7437 or 312/595-7437. It's a mile long, it's packed with entertainment (call 312/595-0090 to see what's playing at the IMAX theater), and, yes, it's a tourist trap—but one that's well worth a few hours. Jugglers, clowns, and a cappella singers reign. From the 150-foot Ferris wheel (yep, the world's largest), the views are extraordinary. Modeled after the very first one, which was built for the 1893 World's Fair, this McDonald's-sponsored version has seats that resemble containers of french fries. Joe's Be-Bop Café (312/595-5299) has the real thing—and a kid-scaled sloppy joe. The highly interactive Chicago Children's Museum appeals to the under-eight set, especially those willing to don rain gear and build dams. Take in a musical—the legendary Second City troupe gives Romeo and Juliet a Gilbert and Sullivan twist—at the Chicago Shakespeare Theater (312/595-5656). Ready for a respite?Duck into the pier's own sanctuary, the Smith Museum of Stained Glass Windows (312/595-5024). Stay after dusk on Wednesday and Saturday for the pier's fireworks display.
LAND OF LINCOLN (PARK)
Jump into the stream of strollers and Rollerblades on the park's leafy paths to find three of the city's great attractions. From north to south, they're 15 minutes apart—a perfect afternoon walk.
Peggy Notebaert Nature Museum 2430 N. Cannon Dr.; 773/755-5100. Older kids will want to man one of the Environmental Central computers and use its data to debate controversies (How to handle drought?) with a moderator. In the jungly Butterfly Haven, spot the Casper-like rice paper butterflies from Asia and the monarch chrysalides—lumps of turquoise with gold filigree.
Lincoln Park Zoo 2200 N. Cannon Dr.; 312/742-2000; free. At the nation's oldest zoo, kids go eye-to-eye with critters—most famously the booming population of gorillas. Hop astride a Siberian tiger or giant panda on the Endangered Species Carousel. Paddle around the lagoon on a swan-shaped boat. A nuts-and-bolts lunch: the zoo's Park Place Café. Order the Kids' Fun Meal Bucket and hang on to the pail for the city's beaches.
Chicago Historical Society 1601 N. Clark St.; 312/642-4600. There's a lot to offer fans of President Lincoln, including his tall hat, his deathbed, and—on a more positive note—the original draft of the Proclamation of Emancipation.
TRIPLE-HEADER
In a feat reflecting Chicago's can-do spirit, Lake Shore Drive was relocated in 1996 so visitors could stroll among a trio of museums without dodging minivans.
Adler Planetarium & Astronomy Museum 1300 S. Lake Shore Dr.; 312/922-7827. Zip through the main building—each of the 12 sides represents a sign of the zodiac. Seat yourself in the StarRider Theater and control your journey through the solar system by operating the nifty armrest controls. Log on to www.adlerplanetarium.org, zero in on the Chicago skyline, and e-mail a snapshot to a friend.
Field Museum 1400 S. Lake Shore Dr.; 312/922-9410. Home to a girl, or boy, named Sue: the biggest, baddest, most complete Tyrannosaurus rex ever displayed. Named for the amateur fossil hunter from Chicago who stumbled upon the bones in South Dakota, Sue is 14 feet high at the hips and more than 41 feet long—even without her real head, which, weighing nearly a ton, is too heavy to mount on the skeleton. If Sue doesn't make you feel small enough, try "Underground Adventure," which creates the illusion that you've shrunk to the size of a penny to inhabit the subterranean world. A special exhibition, "Chocolate," makes a decadent debut this spring, tracking the candy's evolution from the seed to the sweet.
Shedd Aquarium 1200 S. Lake Shore Dr.; 312/939-2438. You could easily spend an afternoon among the 8,000-plus creatures at the world's largest indoor aquarium. But if pressed for time, head straight to the Caribbean Reef exhibit. Divers climb into the 90,000-gallon tank several times a day to hand-feed the bonnethead shark, hawksbill turtle, and cow-nosed rays, among others. Swing by on Thursday nights between 5 and 10 (June—August) for tankside meals (there are tables and a bar) and outdoor jazz concerts.
SHOPPING ON AND AROUND MICHIGAN AVENUE
American Girl Place 111 E. Chicago Ave.; 877/247-5223. The throngs of shoppers toting outsized claret-colored bags testify to the magnetic powers of colonial waif Felicity, escaped slave Addy, and Depression-era Kit. A large cast of historical and contemporary dolls, with accompanying storybooks and accessories, are sold in this three-story, 37,500-square-foot store and entertainment complex. Reserve well in advance for a table at the pink-and-black-polka-dotted café, where napkins are bound with hair scrunchies and desserts come in flowerpots. Not to worry: there's a seat at the table for your doll. You might also splurge on the one-hour musical Circle of Friends ($26 a ticket, ages six and up), in which young actors bring the American Girl characters to life.
Children in Paradise Bookstore 909 N. Rush St.; 312/951-5437. Just a block west of Michigan Avenue is the city's best kids' bookstore. Look for two novels: Richard Peck's Fair Weather, about the 1893 Chicago World's Fair, and Harriette Gillem Robinet's Missing from Haymarket Square, in which three brave children battle for an eight-hour workday.
Garrett Popcorn Shop 670 N. Michigan Ave.; 312/944-2630. Dispatch Dad for some melt-in-your-mouth caramel- or cheese-covered popcorn. The ridiculously long line that snakes out from this tiny shop day in, day out, regardless of weather, is a reminder that Chicago is indeed part of the nation's Corn Belt. Junk food trivia: Cracker Jacks were born in Chicago, when a salesman taste-tested molasses-coated peanuts and popcorn at the 1893 World's Fair and exclaimed, "That's crackerjack!"
BASEBALL FOR BELIEVERS
Catch a game at Wrigley Field (1060 W. Addison St.; 773/404-2827; call ahead for tickets). That the Cubs have not won a World Series since 1908 only adds to their underachieving charm. This ivy-covered ballpark, the second oldest in the nation, is in no-longer-working-class Wrigleyville. Reject the romanticism of the bleachers, unless your idea of a good time is being doused in Bud Light. For families, the best bet is the upper deck. There are picnic tables nearby, and the view of the field—and of Wrigleyville—is excellent. (Pack a sweater; it's chilly up there.) If the team is on the road, tour the ballpark ($15), including the clubhouse, press box, dugouts, and field. Bring your mitt if you want to play catch where the greats do.
The other team?It's charm versus grit as the Cubs and White Sox compete for the hearts of fans. The blue-collar, South Side Sox play in relatively new (1991) Comiskey Park (333 W. 35th St.; 312/674-1000), yet can't shake their "Black Sox" history as the team that threw the 1919 World Series—eliciting that famous plea from a young fan to outfielder Shoeless Joe Jackson: "Say it ain't so, Joe."
UNDERAGE BLUES
There's no smoke, no booze, no cover for kids under 12, but otherwise Down in the Basement (Blue Chicago Store, 534 N. Clark St.; 312/661-1003; Saturday nights 8—12), a 15-minute walk west of Michigan Avenue, is the real stuff. Gloria Shannon and her band don't dumb down the tunes, and they invite the audience to leave their mismatched chairs and come up for a chat between sets.
RESTAURANTS WHERE KETCHUP COUNTS AS A VEGETABLE
DOGS
The Chicago hot dog traces its beginnings to two young Austro-Hungarian immigrants who steamed their wienerwursts, then topped them with yellow mustard, bright green relish, raw onions, tomato wedges, a pickle spear, and a dash of celery salt, and served them in warm poppy-seed buns at—where else?—the 1893 World's Fair. Our favorite family spot is tiny Wiener's Circle (2622 N. Clark St.; 773/477-7444), with a dozen stools inside and four picnic tables outside. You don't have to be from Chicago to think that fries smothered in a soft blanket of cheese makes a great snack—but it probably helps.
BURGERS The city's best goes for just $2.60 at the Billy Goat Tavern (430 N. Michigan Ave.; 312/222-1525). There won't be many kids in this newshound hangout, but they're (Continued from page 64) welcome. (My son, no Chuck E. Cheeser, had his eighth birthday party here.) If the ambience feels familiar, it's probably because it was spoofed by John Belushi, in a Saturday Night Live skit, chanting, "Cheezeborger, cheezeborger. No Coke, Pepsi! No fries, chips. Pepsi, no Coke." And that's still pretty much the menu.
PIZZA Some say that the secret ingredient of Chicago's deep-dish pizza is Lake Michigan water. It's fitting, then, in a city where the river has been reversed, that the pizza ingredients would be, too. Here the mozzarella goes on first, tomato sauce last. Deep-dish pizza was invented in 1943 at Pizzeria Uno (29 E. Ohio St.; 312/321-1000) when founder Ike Sewell attempted to make a pizza slice that was a meal in itself. Uno's younger sister, Pizzeria Due (619 N. Wabash Ave.; 312/943-2400), and Lou Malnati's (439 N. Wells St.; 312/828-9800) also dish it up. Terrible lines at all three might lead you off the beaten path to a neighborhood joint. Our hangout is Pizza Capri (926 W. Belmont Ave.; 773/296- 6000), where the crust is flaky, the sauce fresh, the wine list pretty good, and kids get to add their own sauce and toppings (except on Saturdays).
SO, YOU WANT A BALANCED MEAL?
Big Bowl 6 E. Cedar St.; 312/640-8888; dinner for four $50. China, Thailand, and Vietnam converge here. Children are greeted with a bowl of steamed white rice (said to have a calming effect) and a take-out container filled with crayons, Wikki Stix, and chopsticks jury-rigged with rubber bands for small hands. The Sparkling Red Dragon (Sprite, grenadine, and a cherry) and the Small-Bite Combo (satays and pot stickers) make Big Bowl perfect for picky eaters.
Ed Debevic's 640 N. Wells St.; 312/664-1707; dinner for four $40. Signs like if you can find a better diner . . . eat there decorate this ersatz fifties eatery. The gum-cracking waitstaff—women in poodle skirts, men in bow ties—dish out hefty burgers, thick shakes, and smart-aleck insults, then burst into songs and routines on the countertops and in the aisles. The carnival atmosphere peaks on Saturday nights, when the place is packed, face-painting is free, and a DJ named Dr. Feelgood spins the vinyl.
North Pond Café 2610 N. Cannon Dr.; 773/477-5845; lunch for four $55. Once a warming house for ice-skaters, this ideal lunch or brunch spot is Midwestern down to its Frank Lloyd Wright Prairie School lamps and wide-plank floors. For you: Lake Superior walleyed pike or Nebraska corn-fed beef. For the kids: a great grilled cheese and ducks to feed in the lagoon.
WHERE TO STAY
DoubleTree Guest Suites Chicago 198 E. Delaware Place; 800/222-8733 or 312/664- 1100, fax 312/664-8627; doubles from $220. The comfy rooms and good service are worth noting, but more significant is the location near the Water Tower and the Museum of Contemporary Art (220 E. Chicago Ave.; 312/280-2660), where families can drop in for Saturday workshops with local artists. Best of all is the 30th-floor pool—and its view of the Navy Pier's fireworks displays.
Four Seasons Hotel Chicago 120 E. Delaware Place; 800/819-5053 or 312/280-8800, fax 312/280-1748; 724-square-foot family suites (one king-sized bed, two twins, two baths) from $1,025. The Kids for All Seasons package (doubles from $305) gets you discounts at stores and museums around town. Kids are provided with terry robes, which they can wear to the hotel's skylit pool—the very one seen in Home Alone 2. At bedtime: popcorn and pop (it's never "soda" in Chicago), or milk and cookies.
House of Blues Hotel 333 N. Dearborn St.; 312/245-0333, fax 312/ 923-2442; doubles from $150. At the base of the twin corncob towers known as Marina City, this hotel is an exuberant clash of Moroccan, Tibetan, East Indian, and Gothic designs. A huge gold-painted wooden Buddha greets visitors—and their dogs, who are equally welcome. The guest rooms are stylishly mismatched in oranges and blues, and hung with Outsider art. Ornate patchwork quilts are turned down, on request—with blue jelly beans plus a rawhide bone for Rover.
Meridien Chicago 521 North Rush Street @ Michigan Ave.; 800/543-4300 or 312/645-1500, fax 312/ 645-1550; doubles from $195. A pastry plate with child-sized truffles and chocolate mice awaits arriving families. Direct access to the kids' floor at the North Bridge Mall makes this a favorite hotel for the young and acquisitive. Don't miss the formidable Sears Tower at the Lego Construction Zone, where kids can try their hand at building their own big city.
LAY OF THE LAND
Chicago is divided among distinct urban tribes. Their neighborhoods, from north to south: Wrigleyville, a once-gritty, now yuppified precinct a 15-minute drive from downtown, named for the Cubs' ball field. •Lincoln Park, where Lexus SUV's queue up for after-school passengers, Lake Michigan is the backyard pool, and roars and brays from the zoo are lullabies. • The Gold Coast, from North Avenue to Oak Street—trust-fund babies living in brownstones and Mies van der Rohe towers. • The Magnificent Mile, a 24-karat stretch of Michigan Avenue that's a runway for nonstop shoppers. • The Loop—the Sears Tower, Marshall Field's, City Hall, a five-story Picasso sculpture, and legions of pin-striped soldiers, within a circle of El tracks. • Hyde Park, a brainy South Side enclave, home to the University of Chicago and its pack of Nobel Prize winners.
Elizabeth Taylor is the literary/Sunday magazine editor at the Chicago Tribune and co-author of American Pharaoh, a biography of Mayor Richard J. Daley.