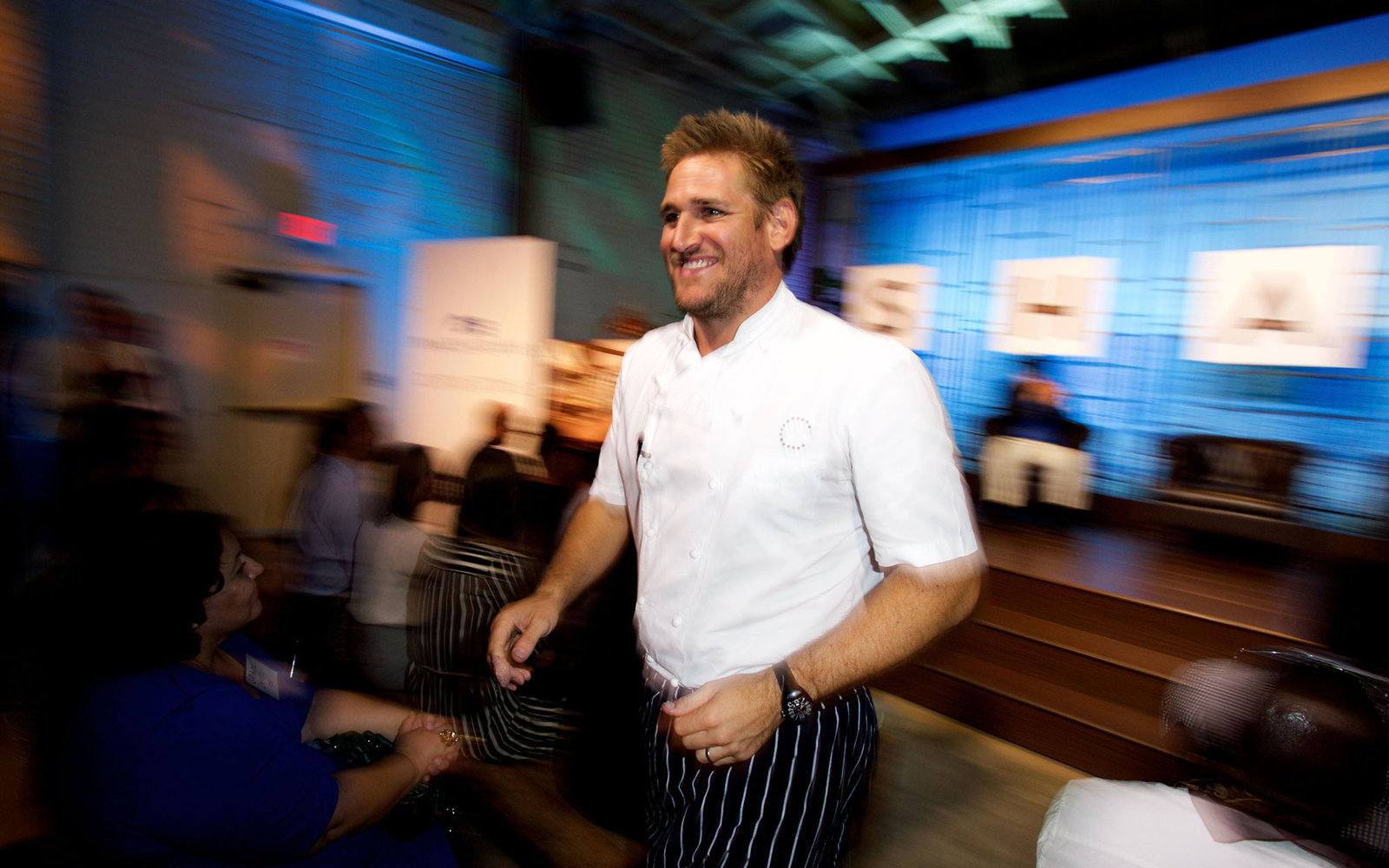 The always endearing Curtis Stone tells us about his secret-weapon ingredient and describes a perfect day of eating in L.A.
Australian chef Curtis Stone had countless TV appearances and hosting gigs (not to mention half a dozen cookbooks) long before he opened his first restaurant in 2014. Maude, named for his grandmother, is set on a quiet street in Beverly Hills. T+L was so impressed, we declared it one of the best new restaurants in the world. The 25-seat space serves a nine-course tasting menu that focuses on a different ingredient every month. Up next? Stone is partnering with his brother Luke and chef Chad Colby, formerly of Chi Spacca, on a new restaurant and butcher shop set to open in mid-2016. In the meantime, Stone tells us about his favorite ingredient, the homemade dish that makes his wife swoon, and his favorite places to eat in L.A.
Favorite ingredient to cook with and why?
White truffles. They totally move you. I have an instinctual attraction to them. From the very first time I smelled them, I was like, "Oh my god, what do we have here?" I was working in one of Marco Pierre White's restaurants and I can remember the truffle man coming in, opening the box, and that was it—I was completely drawn in. I've been anticipating their peak season all year, and at Maude, we devoted the entire month of November to cooking a 13- to 14-course degustation inspired by this rare and exquisite culinary gem.
One rule you learned while training that every home cook should know:
Chefs call it mise en place, which sounds fancy, but it's simple and just means everything in place. Before you start cooking, prep all your ingredients and place each in a separate bowl. Pull out anything you'll need from the fridge or cupboard, and then start cooking. With all your ingredients in one place, the cooking time flies.
Kitchen tool you can't live without:
A razor-sharp knife is hands down the most important tool you can have in the kitchen. Blunt knives equal ragged edges and cause damage to and bruise food. You need a sharp knife to achieve beautifully sliced food that'll enhance whatever dish you're making. If you've got that and a nice, sturdy chopping board, you can prep anything.
Secret weapon ingredient:
Extra virgin olive oil. It's like liquid gold, and gives a fragrant, silky touch to plenty of dishes, especially classic Italian food.
Technique you turn to again and again:
I love to make homemade pasta. I make it all the time in my restaurant and at home. My wife, Lindsay, loves homemade lobster pasta—expensive date, hey?—so whenever I have the chance, I try to whip up this dish for my love.
Favorite dish to cook at home:
I constantly play around with new dishes and ingredients in the kitchen, so it changes all of the time. I was recently reminiscing about how my brother, Luke, and I used to eat nice, warm crumpets before school in the morning. I realized I'd never made them myself, so I've been playing around with perfecting this English brekky staple over the past couple of weeks, which has been fun—especially because my son is my little sous chef. He loves being in the kitchen with me and gets right into the mixing, stirring, and eating of them. The best thing about crumpets is they can be enjoyed at any time of the year with seasonal spreads and toppings, like apple jam in the fall or marmalade in winter.
Perfect day of eating in your city:
After a massive week at the restaurant, I love rolling out of bed and heading to our local café, the Oaks Gourmet, and picking up one of their insanely good brekky burritos. I want one right now slathered in hot sauce! Lunch is definitely somewhere by the sea. We are blessed with over 300 days of warm Californian sun here in L.A., so I'm usually out there enjoying it whenever I get the chance. For a bite at night, the food at adjoining restaurants Pizzeria Mozza and Osteria Mozza is high on my list. The thin-crust pizzas from the pizzeria are delicious, and when I'm after a slightly fancier experience, you can find me sitting at Osteria's mozzarella bar watching the chefs at work. It's the best seat in the house. Where to start on the drinks? There are so many awesome areas with bars. Bar Covell in Los Feliz is probably the best wine bar in town, for its dynamic, thoughtful list and super knowledgeable staff. It's unpretentious, chatty, and lively.