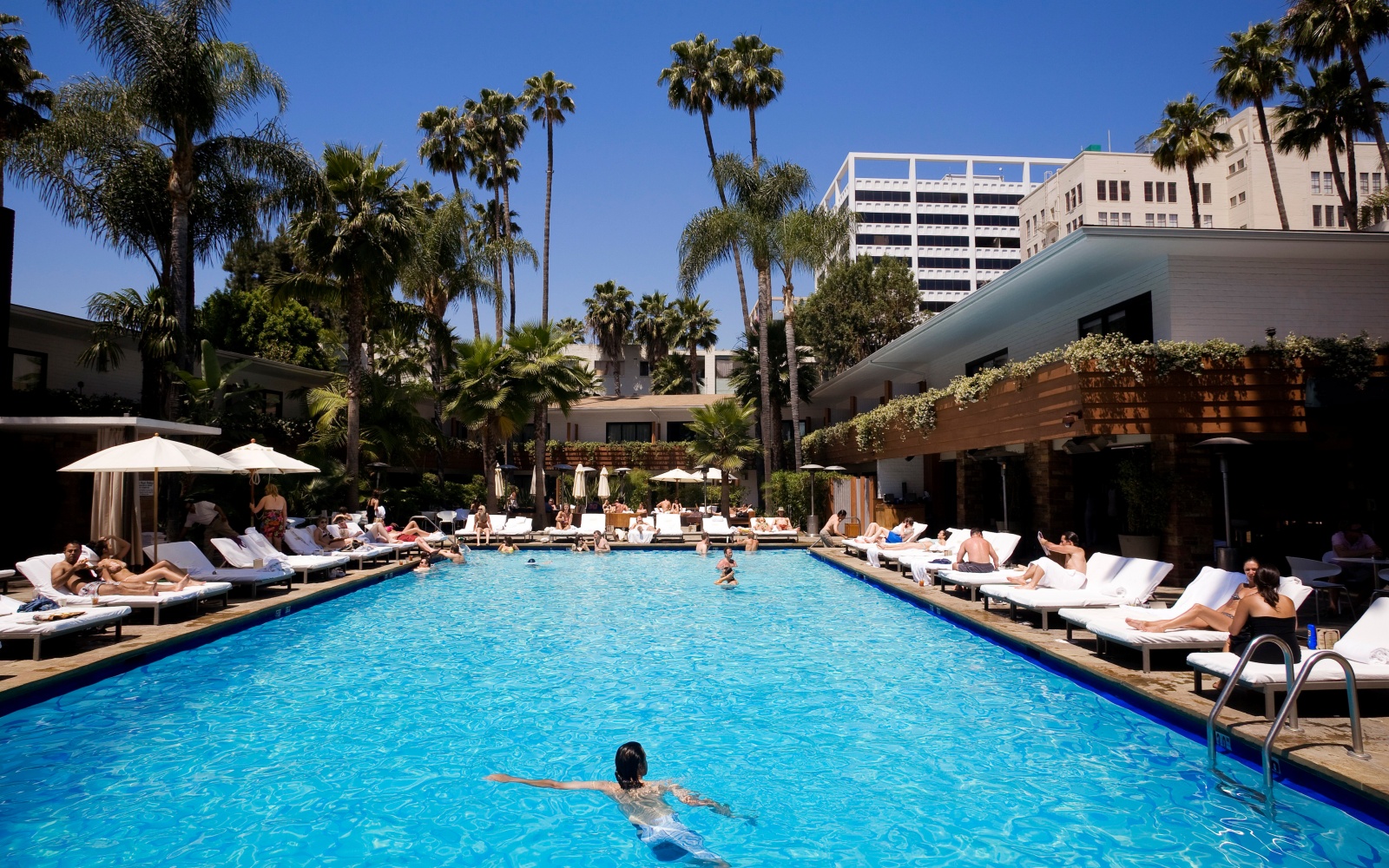 In Los Angeles, lounging poolside is a year-round past time that gets even better during the summer months—but not all swim spots are created equal. Whether you're after a pulsing pool party or a place to swim laps, we've got you covered with our picks of the best hotels with places for a dip.
Best for Actually Swimming: LA Athletic Club
The historic L.A. Athletic Club was originally established in 1880, and has since grown into an 88,000-square-foot fitness facility that includes a cleanly kept 25-yard indoor pool. Imagine swimming backstroke underneath an oversize 1920s Tiffany chandelier in a naturally lit space where Esther Williams once trained. Bonus: they keep the space ventilated, so you're not inhaling chlorine like you do at other indoor pools.
Best Cabana Service: Viceroy Santa Monica
If you're gathering a group for a day of #treatyoself, this seaside Viceroy property has a cool new cabana service, complete with a pair of TOMS Traveler sunglasses, CooLA Suncare sunscreen spray, beach towels, flat screen TVs, a carafe of mimosas, sangria, or Peruvian pisco punch, plus WiFi access and ample plugs in case you need to check into work for a while. The cabana can accommodate up to twelve guests, and is $500 for half day (4 hours) or $800 for full day (8 hours).
Best Pool Parties: The Standard DTLA
In the summer months, the retro rooftop pool at the Standard becomes home to some of the best electro-drenched dance parties in the city. The bar serves simple staples and the views are unrivaled—so pack sunscreen, because you won't want to leave.
Best Poolside Food: SLS Hotel
The SLS Hotel's Altitude Pool is the perfect blend of swank and low-key, with views spanning Downtown L.A. to the Hollywood sign, to the beach. Even better than stopping by their weekend downtempo DJs and cabana service is dropping by for eats from celeb chef Jose Andres. Our favorites include crab cake sliders, Pacific tuna ceviche or a mezze platter with baba ganoush, hummus, and tzatziki. Add a pitcher of sangria blanca, and you're in business.
Best For Girl Talk: Andaz Hollywood
The draw of the rooftop pool at the Andaz is just as much the views as it is the amazing lounge pods, which provide privacy for catching up while overlooking the city. They have a killer menu of everything from spicy bloody marys to cubano sammies, sunscreen, sarongs, sunnies, and more. The only thing you need to bring are your friends.
Best To Be Seen: Hollywood Roosevelt Hotel
This classic 1920s Tinseltown property still exudes Hollywood glam, especially in the summer, when the pool (pictured) becomes a haven for locals and hotel guests alike for their outdoor movie screenings and pool parties. Dress to impress, as the scene really heats up around mid-day with the Hollywood types.
Best For Hiding Out: Petit Ermitage
If the idea of a scene makes you want to retreat, there's no better place to do it than at Petit Ermitage, a secluded hotel pool that's an oasis amongst the madness. Only hotel guests are allowed, period. And children are only permitted to swim in the early hours of the day. It's serenity at its best.
Krista Simmons is a culinary travel writer and native Angeleno; she covers the Southern California beat for Travel + Leisure. You can follow her adventures bite-by-bite on Instagram.
More good reads from T+L:
• 20 Exciting New Hotels on the Summer 2015 Radar
• The Definitive Guide to Las Vegas Cabana Culture
• Best Places to Travel in 2015