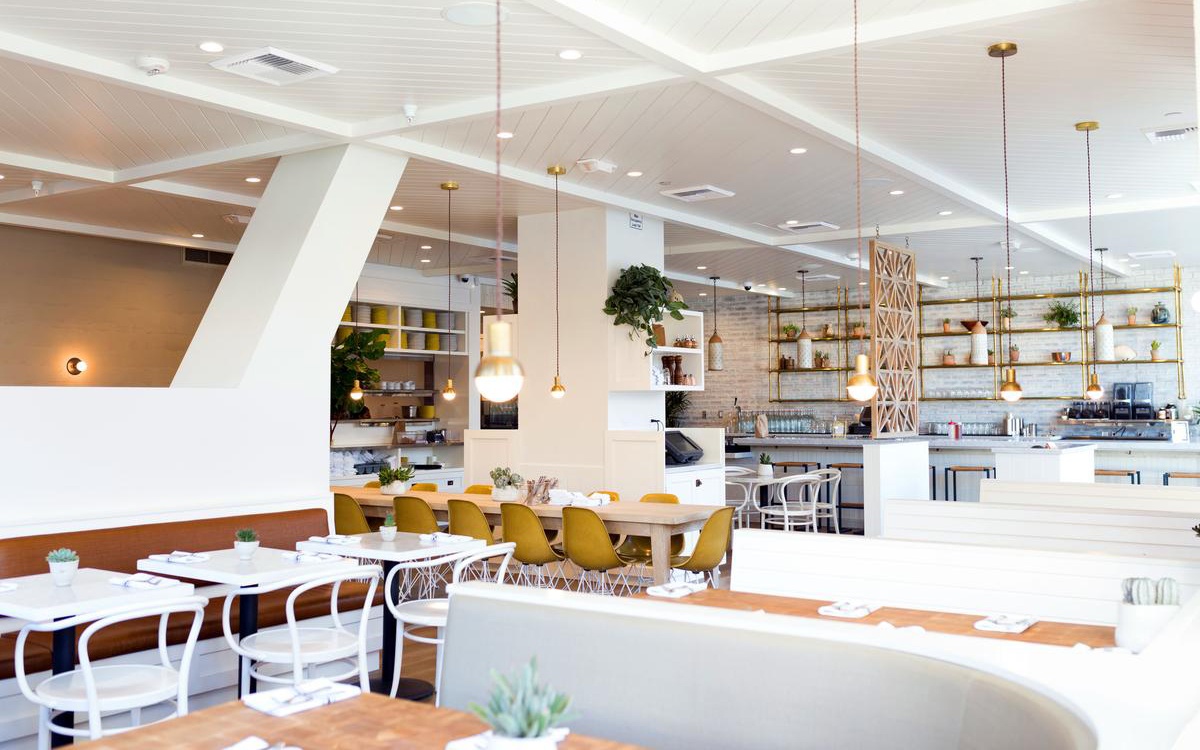 Our guide of where to go, what to eat and what to see in the hip DTLA arts district.
District by district, Downtown L.A. is going through a rebirth, with the Arts District at the height of its renaissance. What started as an urban artists' colony in the 1970s has recently become a hotbed for creators from all arenas, making it one of the city's most exciting neighborhoods to visit. Located just east of Little Tokyo and west of the L.A. River, it's easy to see why artists like Paul McCarthy and George Herms made this vibrant, and yes, highly walk-able neighborhood their home. Here's what to do in the area right now.
Eat
For breakfast, follow your nose to Breadlounge, a wonderful local bakery that provides baguettes and loaves for many of the city's top toques. Look for the pain au chocolat, Middle Eastern balkan borek with spinach and feta, and farmers market-inspired quiches. Lunchtime requires a stop at Urban Radish, a grocer with charcuterie and cheese counters, sandwiches, market-fresh salads, as well as a bottle shop to pick up wine for a night in.
Vegan, plant-based Cafe Gratitude (pictured) opened up shop at One Santa Fe, a mixed-use community filled with galleries, lofts, and indie shopping. Hop by for weekday happy hour from 3 p.m. to 6 p.m. to mingle with locals over coconut ceviche and mojito spritzers made with lime, cucumber, muddled mint, and sparkling wine. Come dinnertime, you won't regret the handmade pastas (cavatelli with pork sausage, truffle and grana padano), house cured salumi, and wood fired pizzas at Bestia.
Drink
The Arts District has quite the scene brewing when it comes to craft beer. Mumford Brewing Company recently opened their taproom, offering tastes of L.A.-inspired beers like The Black Mamba, an American black ale named after the Lakers' Kobe Bryant. Unleash your inner child at Eighty Two, a 4,000-square-foot arcade and pinball bar where classics like Ms. Pacman, Street Fighter, and Donkey Kong have been known to swallow up the laundry money of locals. Cedd Moses—who also operates the charming Arts District dive Tony's and countless other well-respected craft cocktail bars downtown—is planning to open his own microbrewery called Arts District Brewing Company before summer's end.
See
Gentrification and skyrocketing rents have threatened to push out artists, but nearly 20 galleries opened in the area within the last year. One of America's most important destinations for street art is Bloom Square. At the intersections of Traction Avenue and East 3rd Street, you'll see works from Shepard Fairey, JR, How and Nosm, and more. Thursday nights from 5 p.m. to 9 p.m., the square hosts a farmers market where you can meet local artists and bohemian-types. You can also opt for guided art tours with folks like Cartwheel or the Los Angeles Mural Conservancy.
In 2016, former MOCA Chief Curator Paul Schimmel will open a 100,000-square-foot contemporary and modern art gallery in a defunct flour mill at 901 E. Third St. with Hauser, Wirth, and Schimmel, and the ADCA will be opening a gallery, screening room and curatorial space at One Santa Fe.
Shop
There's certainly no shortage of indie shopping in the Arts District. Apolis offers socially conscious gear for the global citizen, including weekenders, leather goods and more. Over at Poketo, you'll find quirky, design-forward home wares, books, stationaery, and the like. Alchemy Works has unique vintage finds to California-style prints and locally crafted clothing. In other words, if you end up buying souvenirs at the airport, you just haven't done it right.
Sweat
It wouldn't be a trip to L.A. without a workout. The Springs offers yoga, meditation classes, and a cute little cafe with raw-and-vegan eats, which might sound like the most cliched California experience if it weren't done in such a seamless, stylish fashion. If a good sweaty dance party is more your style, be sure to look out for Daybreaker, a bi-monthly morning free-for-all that often takes place at The Springs or The Unique Space. If all of that is a bit too hippy trippy, pop over to the box at The Rec Center Crossfit to lift with some of the area's fit creative types.
Sleep
There aren't many accommodation options in the Arts District as of yet, so while you wait for the SoHo House build-out or the American Hotel's potential renovations, you can book a stylish loft in the Arts District through AirBNB, of which there are plenty. Or stay at The Ace Hotel in Downtown's Broadway District and bike over using one of their uber-cool Tokyobikes, complimentary for guests. It's how true Downtowners get around, anyway.
Krista Simmons is a culinary travel writer and native Angeleno; she covers Southern California for Travel + Leisure. You can follow her adventures bite-by-bite on Instagram.
More good reads from T+L:
• The World's Best New Food Halls
• 25 Things You Didn't Know About Disney Parks
• Best Places to Travel in 2015