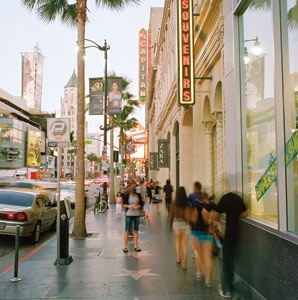 T+L heads to Tinseltown in search of silver-screen relics and vintage treasures.
Take One: Everybody Comes to Hollywood
"Are you Mr. Edmunds?" I ask the guy behind the counter at Larry Edmunds Bookshop, a paper-crammed emporium between Gene Autry's and Michael Curtiz's stars on Hollywood Boulevard. "There hasn't been a Mr. Edmunds for seventy years," he replies drily. It's my first day in Los Angeles, and I'm in town to hunt for movie memorabilia—the posters! The props! The glamorous fashions!—anything with a connection to our shared cinematic history. I want souvenirs that really evoke Hollywood's past—items with a peerless provenance that also manage to be ineffably cool. And what better place to begin than this quirky landmark?
It's only my first day in town, but I feel like I have been here all my life. Maybe it's because I hail from a movie-besotted family: Oscar night was like a religious holiday in our house; my 90-year-old dad still enjoys a spirited discussion about which is the better film, All About Eve or Sunset Blvd. To this day I spend far too much time devouring films with names like Our Dancing Daughters and Shadow of the Thin Man.
Which is why I am having such a good time at Larry Edmunds, albeit minus Larry himself. The store, in business at various locations since 1938, is bursting with more than 20,000 entertainment related books, mile-high stacks of yellowing fan mags, and 3,000 or so movie posters. Two seconds inside and I am already coveting a 1964 French poster for Ann-Margret's La Chatte au Fouet (Kitten with a Whip) for $250.
There are also a quarter-million photographs on hand, and tourists often come in looking for a special kind of souvenir—pictures of relatives who were minor players back in the day. And good luck to them: "We don't have a cross-reference," the clerk tells me. "They're by movie title." Too daunted by this volume of pics, I content myself with a $25 purchase of the December 1954 issue of Screen Stars magazine—Sandra Dee! Liz! Annette!—which I plan to peruse over lunch at the historic Pig 'N Whistle up the street (Judy Garland had her 15th birthday party there).
But first, a stolen hour at the Hollywood Museum, in the former Max Factor building and salon. The "Brunettes Only" dressing room is a riot of retro-chic; Hannibal Lecter's jail cell is enthralling, if hardly cozy; but given the choice I'd rather loll in Roddy McDowall's green-and-babypink powder room, which is protected behind glass, like some sort of shrine to our collective Hollywood past, which I suppose it is.
I love this museum but alas, no gift shop. I perk up when I notice a glorious Art Deco edifice across the street. This would be my one-stop destination if I were interested in shot glasses that say hollywood or music boxes trilling "Somewhere over the Rainbow." But though I have a well-documented weakness for cheap trinkets, I am looking for something a little more sophisticated.
So I am overjoyed when I discover the delightfully ridiculous Bettie Page store (between the stars of Smilin' Ed McConnell and Jack Benny)—one of those quirky businesses that could only pop up in a locale like this (actually, there are two other branches in Vegas and one in San Francisco, but never mind). You might think that the town would have shops offering styles made famous by icons like Marilyn Monroe or Audrey Hepburn—but no, only Bettie Page, the cheerfully sexy dominatrix, has a boutique of her own. Behind its vintage storefront— surely these 1950's vitrines once held authentic 1950's ensembles—the interior features a boomerang table, a leopard rug, and a passel of fullskirted printed shirtwaist dresses that are shockingly demure, considering Page's line of work.
The Midcentury mood at Bettie Page's has me considering a Singapore Sling at Musso & Franks Grill across the street (F. Scott Fitzgerald and Greta Garbo used to tipple here, though maybe not together), but I'm eager to dip into the adorable Artisan's Patio, a historic landmark at 6727 Hollywood Boulevard, home to artists' ateliers almost a century ago and now a charming retail passageway marked by an ancient neon sign. Luckily, it's Friday, which means that Ronald V. Borst, the proprietor of Hollywood Movie Posters, the last shop on the street, is in residence (the shop is only open on Fridays, Saturdays, and Mondays.)
"I've been in this business forty-three years—I turned a boyhood hobby into a vocation," Borst tells me. Since 1979 (Kramer vs. Kramer! Apocalypse Now!) he's been ensconced in this sunny lair, where $175 will get you a 14-by-36-inch poster for the 1940 drama Angels over Broadway. Though there is also plenty of ephemera from more recent films—Borst says that at the moment there is burgeoning interest in the Twilight series and he expects a surge for Harry Potter and the Deathly Hallows movies—it's the more distant past that entrances him (and me). I experience a thrill when he tells me that his shop was a screening room in the 1940's where film noir director Fritz Lang once introduced a movie.
Take Two: Wardrobe Department
A single Bettie Page shirtwaist hardly constitutes a new Hollywood wardrobe. So I go to It's a Wrap, a consignment store with an only-in-L.A. conceit: the clothes have actually been worn on, or at least purchased for, a set. Each tag bears a code that refers to the item's former life (UIA for Up in the Air, for example). "It's kind of awesome!" says the saleswoman, showing off a faux-garnet bangle bracelet that once graced someone's arm on The Starter Wife. As at any vintage venue, you've got to dig for treasures: a rack of beaded dresses commissioned by Howie Mandel's Deal or No Deal are a ridiculously inviting $10 each; $240 gets you an olive green gabardine suit with crystal detailing at the waist once sported by a diva on All My Children.
Of course in L.A., as everywhere else, there is vintage and then there is vintage. If It's a Wrap represents the total democratization of Hollywood fashion, Decades Inc. is the opposite: a place where celebrities buy or borrow high-end vintage gowns for red-carpet galas.
"If you don't like it, somebody from the Sex and the City cast wants to wear it!" Cameron Silver, the proprietor, is saying into the phone as I enter. When he hangs up he explains that he was talking to a far-flung customer who is being sent a Jean Patou by Christian Lacroix bubble dress; if she passes on it, Kristin Davis has first dibs. "Kristin's a good friend. She wears a lot of vintage from us," Silver tells me. "She wore Balmain couture from the sixties to the White House correspondents' dinner—a real Jackie Kennedy feeling!"
Silver, who is wearing pale pleated trousers and looks a bit like a 1940's Hollywood player himself, tells me that it all started several years ago when early clients like Nicole Kidman and Renée Zellweger wanted something unique for premieres. "They all referenced another star in an effort to solidify a modern iconic style," Silver explains, by which he means that when, say, Marisa Tomei selected a black-and-pink Traina-Norell, she was echoing Audrey Hepburn in Funny Face. That said, celebrities, like the rest of us, mostly just want to look gorgeous: "They'll get the reference but it's not really the selling point."
There's nothing to prevent me—or anyone else—from buying the very same vintage gowns these stars wear, and as I sit on a python-covered pouf atop a 1940's monkey-fur rug it's easy to convince myself that I really need a flower-strewn, Mia Farrow–worthy Ossie Clark frock from the 1970's. (Actually, maybe I do.)
Take Three: Giving Props
You'd never guess that behind the bland warehouse door in Canoga Park a lion roars. The horrifyingly lifelike beast hails from Jumanji and now presides over a vast room of floor-to-ceiling movie memorabilia at the Prop Store. Brandon Alinger, the shop's COO, tells me that his customers are mostly men, though when something such as Christina Ricci's dresses from Sleepy Hollow or Keira Knightley's Pirates of the Caribbean costumes surface, they sell out in a flash, despite the sometimes four-figure price tags.
White Star Line plates and silverware from Titanic went pretty quickly, too, but there are still some blankets and life jackets available if that floats your boat. (Ouch! Sorry!) If you don't want those, how about Angelina Jolie's speargun from Lara Croft: Tomb Raider, or maybe a pair of 15-foot-high faux-Egyptian columns decorated with falcons, refugees from the sci-fi TV show Stargate SG-1?
"We call it film art. Practically everything here is made by hand," Alinger says, showing off Tobey Maguire's Seabiscuit boxing gloves and Tom Cruise's briefcase from Valkyrie. There's something for every taste, even mine: if I had a home theater instead of a 12-inch TV, I'd be tempted to grace it with a model of Roger Rabbit's head that was used as a scale reference for the actors (it's the size of a human noggin, minus the ears) that is completely winning in its own right.
Take Four: Flea-ing the City
Where is that zippy 1930's dance tune coming from? I've timed my flight back to New York so I could spend my last day at the famous monthly Rose Bowl Flea Market in Pasadena, where I am sure I will find, among the 2,500-plus stalls, the perfect examples of Hollywood ephemera. And after hours of looking at stunningly inexpensive Midcentury furniture and acres of vintage clothes, my wish is granted. The music is wafting from booth B02, where Steven Ranger has a stock of movie memorabilia, much of it dating to the earliest years of Hollywood, when Pasadena provided the backdrop for Tom Mix westerns and D. W. Griffith extravaganzas. And here I find what is for me the ultimate Hollywood souvenir: a set of 12 delicate spoons, issued by Photoplay magazine and the Oneida silverware company in the 1920's and decorated with portraits of silent-film stars and facsimiles of their autographs. I hesitate for a moment, but in the end I succumb: though a hot southern California sun is beating down, I have a vision of myself on a snowy New York night, curled up in front of a stack of DVD's, deciding whether to stir my hot chocolate with Douglas Fairbanks, Gloria Swanson, Mary Pickford, or Marion Davies.
Bettie Page 6650 Hollywood Blvd.; 323/461-4014; bettiepageclothing.com.
Decades Inc. 8214 1/2 Melrose Ave.; 323/655-0223; decadesinc.com.
Hollywood Movie Posters 6727 5/8 Hollywood Blvd.; 323/463-1792.
Hollywood Museum 1660 N. Highland Ave.; 323/464-7776; thehollywoodmuseum.com; admission for two $30.
It's A Wrap 1164 S. Robertson Blvd.; 310/246-1183; itsawraphollywood.com.
Larry Edmunds Bookshop 6644 Hollywood Blvd.; 323/463-3273; larryedmunds.com.
Rose Bowl Flea Market 1001 Rose Bowl Dr., Pasadena; 323/560-7469; rgcshows.com; admission for two $16.
Prop Store 9035 Eton Ave., Suite A, Canoga Park; 818/727-7829; propstore.com.