Great Alcohol-Free Drinks
TIME : 2016/2/29 16:51:59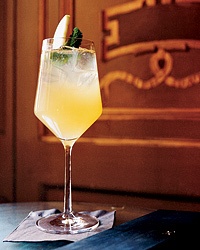 Looking to detox this summer?New alcohol-free tropical drinks that pack a different kind of punch are shaking up hotel bars worldwide. Below, a sampling.
White Mojito
Plaza Athénée
A blend of elder flower, violet, and rose essences adds plenty of zing.
Garden of Eden
Hotel Bel-Air
Don't miss this tart concoction made with organic honey, cucumber, and lime juice.
Endless Summer
New York Palace Hotel
Spritzer Apples, ginger, and lemon make for a guilt-free elixir.