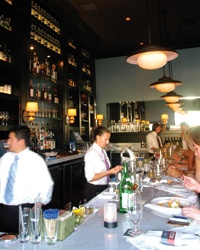 Courtesy of Osteria Mozza Ask T+L
Q: I'd like to take my daughter to a spa for her birthday. Can you suggest any U.S. resorts that offer weekend packages? —Tatiana Bossy, Saint-Joseph-Du-Lac, Quebec
A: T+L associate editor (and resident beauty expert) Elizabeth Woodson has the following recommendations: At Miraval Resort in Catalina, Arizona, try the Ultimate Package—an all-inclusive splurge with daily treatments like the Arizona Aloe Wrap. The Four Seasons Resort Maui at Wailea customizes spa packages—think coconut, pineapple, and kukui nut–based therapies—for its guests. And at the newly renovated spa at The Sagamore, on Lake George in upstate New York, opt for the Mother & Daughter Retreat Package, which includes 75-minute facials, manicures, pedicures, and a two-night stay.
What are some good Web sites that provide up-to-date travel maps? —Peter Pelz, Rockville, Md.
At schmap.com, you'll find downloadable maps and guides for 200 cities in Europe, the U.S., Canada, Australia, and New Zealand. The two-year-old Web site also plots popular tourist spots, provides history and service information, and even suggests walking routes. Schmap will add Asian and South American destinations in the coming months. U.K.-based multimap.com offers detailed street maps with highlighted points of interest for hundreds of locations throughout the U.S., Europe, and Asia. Travelers can also find user-friendly driving or walking directions, along with local weather conditions. viamichelin.com allows you to create maps by marking museums, theaters, and Michelin-starred restaurants. Customize your itineraries using Google Maps, at travelandleisure.com.
I'm traveling to Los Angeles for business and want to try some new restaurants. Any suggestions? —Emily Shannon, Portland, Oreg.
The recently opened Osteria Mozza, a lively Italian restaurant from Nancy Silverton, Mario Batali, and Joseph Bastianich, arrives next door to popular sister establishment, Pizzeria Mozza. The burrata from Basilicata with bacon, marinated escarole, and caramelized shallots and the orecchiette with sausage and Swiss chard are worth braving the perpetually busy reservation line. For French food, try Comme Ça, a brasserie in West Hollywood created by chef David Myers of L.A.'s much-lauded Sona. Standout dishes include the roasted beef marrow with oxtail jam and tarte flambé. Steak lovers should check out Wolfgang Puck's Cut at the Beverly Wilshire for the Japanese Wagyu rib eye and the prime filet mignon carpaccio with celery hearts and French black truffles. Also, don't miss the coral tree–shaded dining patio at Hidden Restaurant. Dishes to try: thin-crust pizza with mozzarella, mushrooms, Italian ham, artichokes, and black olives; or salmon and albacore sashimi with a chili ponzu sauce.