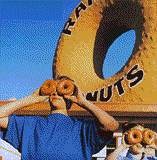 Eika Aoshima Kids in front of Randy's Donuts in Los Angeles. Themeland dreamland has a part for everyone to play.
THE CITY OF ANGELS IS A HEAVENLY PLACE FOR FAMILIES. Sure, see Disneyland and Universal City. Beyond that, follow your own road. Step into a role -- cowpoke or surf dude, Beverly Hills princess or culture queen -- and step on the gas. Have a blast.
where to hang your hat

Face the fact that choosing a hotel central to everything in Los Angeles is impossible. Instead, book rooms in two spots -- one by the beach, followed by one inland. Two beds (in two entirely different neighborhoods) are definitely better than one. Besides, kids love storming a new hotel.
BY THE SEA
Loews Santa Monica Beach Hotel offers a (seasonal) kids' program and Shutters on the Beach has direct access to the big sandbox. Hotel Oceana has neither, but its rooms are spacious and reasonable, and its location, overlooking a quiet stretch of Ocean Avenue, is ideal. What was a condominium complex is now a 63-suite hotel. Rooms look into a courtyard with palms and a pool or out to the Pacific. Kids love the yellow Adirondack chairs on the balcony, M&M's in the snack basket, and Sega on the TV. Their parents appreciate the well-furnished kitchens, room service from Wolfgang Puck's Café, and crisp white Frette sheets. From the Oceana, it's a quick walk to the Third Street Promenade and the Santa Monica Pier, and a rapid descent, via 189 steps, to the ocean. When the kids are acting up, the waves will set them straight. Hotel Oceana,849 Ocean Ave., Santa Monica; 310/393-0486, fax 310/458-1182; one-bedroom suites from $275.
BEVERLY HILLS AT YOUR SERVICE
For a bona fide 90210 experience, pull out all the bucks for a few nights at the local pink palace, the Beverly Hills Hotel. Like a luxury cruise ship, this 12-acre spread gives the whole family elbowroom and security. Go ahead, dispatch the kids to the Fountain Coffee Shop for waffles while you sleep in. Or pack them off on a (silent, please) safari through the Jurassic Park-like grounds. Included in the gift pack for kids is a water bottle that they can present for a refill, À la Oliver Twist, at any of the four restaurants. Can't find your children?Check the pool -- complimentary sorbet is served in the afternoon. As if all that's not enough, there's also wallpaper patterned with jumbo banana leaves, and, clash as it may with pink stucco, a drumroll-worthy runner of red carpet under the porte cochere.Beverly Hills Hotel & Bungalows, 9641 Sunset Blvd., Beverly Hills; 800/283-8885 or 310/276-2251, fax 310/887-2887; doubles from $320.
sea and stars (the natural kind)

CAN YOU MALIBU?
Take your kids to Malibu to glide over the tide, via boardwalks above the estuary at Malibu Lagoon State Beach. While there, drop into the Malibu Lagoon Museum (23200 Pacific Coast Hwy.; 310/456-8432) for the surfing time line, or tour neighboring Adamson House and view the brilliant palette of the defunct Malibu Tile Company.
Faster than you can cast a line, you can join the line at Gladstone's 4-Fish (17300 Pacific Coast Hwy.; 310/454-3474; lunch for four $40). A kids' platter of fried shrimp comes with house potato chips, slaw, a drink, and ice cream for $6.95.
TWO EXTRAORDINARY POINTS OF VIEW
On a clear day, top your to-do list with a trip to Griffith Observatory and Planetarium (2800 E. Observatory Rd.; 323/664-1181). The panoramic view here, a constant in reel life, is more evanescent in real life. Come after dark for star sightings through one of the largest public telescopes in the world. Come day or night for a planetarium show. [The main observatory is closed for renovations until May 2006. Call ahead before visitng.]
Santa Monica's seldom-visited but always intriguing Camera Obscura is tucked inside the Senior Recreation Center (1450 Ocean Ave.; 310/458-8644). Request a key (no charge) to a windowless upstairs room where you'll find a round white tabletop. Once your eyes adjust to the darkness, a fish-eye view emerges of the bay, Palisades Park, and Ocean Avenue. Turn the captain's wheel to starboard and the landscape, reflected via a lens in a periscope-like turret, rotates accordingly. Bright days work best.
PEERLESS PIER
Beyond providing a stage for fishing and coastal views, the Santa Monica Pier buzzes with amusements: a roller coaster, a Ferris wheel, a restored 1922 carousel, games and souvenir stands, even big and little bumper cars. For a more natural diversion, stop in at the UCLA Ocean Discovery Center (310/393-6149), staffed by volunteers and college students.
ROAM FREE
Conduct your own sea- and star-gazing program in the Santa Monica Mountains National Recreation Area (30401 Agoura Rd., Agoura Hills; 818/597-9192). With 50 miles of mountain range, there's plenty of room for tranquil picnics and independent exploration, as well as ranger-led walks and a summer music festival at the park's Peter Strauss Ranch.
see the stars (the movie kind)

HOORAY FOR YOU-KNOW-WHAT
Hollywood Boulevard may have lost some of its luster, but with the Walk of Fame's 2,100 stars, it still twinkles. Along the way, lay in supplies for next Halloween at Hollywood Toys & Costumes (888/760-3330); seize control of the Enterprise on the Star Trek set at the Hollywood Entertainment Museum (323/465-7900); catch a premiere (if you're lucky) at the El Capitan Theater (323/467-7674), a true movie palace; and check out Denzel Washington's cement shoe size (and the movie schedule) at Grauman's Chinese Theater (323/464-8111). Down the street, the Entertainment Industry and Development Corporation's Film and Video Permit Office (323/957-1000) has current location shoot sheets, also available on their website , that are more fun than a map of the stars' homes. Other in-the-flesh opportunities are available through Audiences Unlimited (818/753-3470), which handles tickets for live tapings of television shows.
STUDIO VISITS
Want an in-front-of-the-scenes, rather than behind them, experience?Devote a day to the tram-driven Universal Studios tour (100 Universal City Plaza, Universal City; 800/864-8377). More manageable is a two-hour walking tour of the Paramount lot (5555 Melrose Ave.; 323/956-1777). For Bugs loyalists, Warner Bros. (4000 Warner Blvd., Burbank; 818/977-1744) also offers a tour (maximum 12 to the group) of its studios. Kids must be 10 or older for the Paramount and Warner tours.
the old west

THE OLD SPANISH HOMESTEAD
L.A.'s earliest house, the Avila Adobe (El Pueblo de Los Angeles State Historic Park, E-10 Olvera St.), is a free and worthwhile sight, not to mention an oasis of calm amid the hubbub of touristy Olvera Street. Stalls and shops along the street sell Mexican crafts and trinkets perfect for birthday party decorations and goody bags. Particularly lively times to visit are Cinco de Mayo (May 5) and Mardi Gras (next year, February 16), when Miss Olvera Street is crowned.
GOOD GALLOPING
Urban cowboys may despair over the paving of L.A., but not to worry, thar's mounts and trails in them thar hills. Griffith Park (4730 Crystal Springs Dr.; www.laparks.org), on 4,218 acres, offers carousel steeds, as well as pony and stagecoach rides for the littlest ones -- plus 43 miles of trails through the park for more accomplished riders. Rent a horse at one of the stables by the park's northern end -- or get back in the saddle again with cowboy crooner Gene Autry. The Autry Museum of Western Heritage (4700 Western Heritage Way; 323/667-2000), on the grounds of the park, has one of the finest collections of firearms in the country, as well as nostalgic radio, TV, and film artifacts that helped swell the cowboy myth.
HOME ON THE RANCH
"Cowboy philosopher" Will Rogers may have been a cutup, but he was downright brilliant when it came to horses and real estate. His 186-acre ranch, on prime L.A. property, became Will Rogers State Historic Park (1501 Will Rogers State Park Rd., Pacific Palisades; 310/454-8212) in 1944. Tour the appealing stables; in the living room of Rogers's 31-room ranch house, fancy roping a calf (now stuffed) that he used to rope in his show; and hike the two-mile Inspiration Trail, with panoramic views of the Pacific. Best of all is the absence of crowds, except during weekend polo matches, a fascinating and free activity.
ALL'S QUIET ON THE WESTERN SET
Only in L.A. would a tour called "From Set to Screen" be offered by the National Park Service, which now runs the 760-acre Paramount Ranch (Santa Monica Mountains National Recreation Area, Agoura Hills; 805/370-2301). Hills of chaparral surround a western town set with wooden sidewalks, a train platform, and even a cemetery. Anyone can roam the encampment, except for roped-off areas where productions are sometimes being filmed.
wheels as a way of life

CAR CRAZY
Sure, you could rent a Lamborghini, but it might be tight in back for the kids. Why not tool around town in your own version of Herbie, the Love Bug? Bug City [This business is no longer in operation.], across from the Beverly Center, rents VW convertibles. From there, ease on down the road to the Petersen Automotive Museum (6060 Wilshire Blvd.; 323/930-2277) to meet the real Herbie, the "hide"-top Flintmobile, and such cherries as an original Tucker and Greta Garbo's 1925 Lincoln limo. Kids can learn about transportation tricks used in movies and put themselves in the driver's seat of an Indy car or a Model T, donning a helmet or a duster for the ride.
BLADING AND BIKING
Santa Monica and Venice, linked by a 22-mile long bike trail, are the starting gates for freewheeling. Rental on the Beach (Washington Blvd. Beach Lot; 310/821-9047) has a good selection of bikes and in-line skates at fair prices. Shift your blades to turbo speed by renting a sail from WindSkate (look for a van at Ocean Park Blvd. and Santa Monica Beach Lot.; 310/453-4808) on blustery days from Easter through the summer.
NO LICENSE REQUIRED
The sidewalks in Beverly Hills are smooth, but skate ramps come without curbs. Using the ones at the Santa Monica Boys & Girls Club (1238 Lincoln Blvd.; 310/393-9629) is as simple as filling out an application, signing a waiver, and forking over $5 for a one-year membership (ages 7 to 18). Serious boarders and bladers may want to make the trek north to Ventura for a killer afternoon at Alpine Ventura [Formerly known as Skate Street.] (1990B Knoll Dr., Ventura; 805/650-1213), a 29,000 square-foot indoor skate park. To buy skateboards and cool gear by Shortys, Este, and Girl & Chocolate, cruise on over to ZJ Boarding House (2619 Main St., Santa Monica; 310/392-5646).
THE MUSEUM THAT COULD
Popping a mean wheelie can't compare to the thrill of pedaling a high-wire bicycle 42 feet above the lobby floor of the brand-new California Science Center (700 State Dr.; 323/724-3623, $2 per ride) downtown. Other great sensations range from sweet (chicks hatching) to scary (simulated earthquakes) to squeamishly seductive (an operating-room video). You'll want to return again and again; since admission is free, you will. Don't miss the Insect Zoo, with its giant ant farm, next door at the Natural History Museum (900 Exposition Blvd.; 213/763-3466).
IN AND AROUND AIRPLANES
At Santa Monica Airport's Museum of Flying [This museum is under renovation until 2006.] (2772 Donald Douglas Loop N.; 310/392-8822), kids clamber around more than 30 aircraft, design their own fighter planes, and go for simulator rides in Air Venture, the museum's interactive area. Extend the good time by reserving weekend brunch at Typhoon (3221 Donald Douglas Loop S.; 310/390-6565; brunch for four $60), a Pan-Asian restaurant just 200 feet from the runway. You might catch Tom Cruise, one of the celebs who garages his plane at the airport, in a Top Gun takeoff. Failing that, you've still got a panoramic view from the Pacific all the way to Century City. Restaurant DC3 [This restaurant is no longer in business.] has the view too, but the time to come is from six to nine, Tuesday through Friday. Your kids will be fed and entertained in the museum downstairs (best for ages 4 to 12) while you dine À deux. Reserve by 2 p.m. the same day.
ALL ABOARD
For a clickety-clack experience, head downtown to Union Station (800 N. Alameda St.) and take a tour-the-missions day trip north to Santa Barbara or south to San Juan Capistrano. Or just check out the station itself, a 1939 Mission-style building that allows you to slip back to the glory days of overland travel. Tucked into the former telephone room is Traxx (213/625-1999; lunch for four $60), a new restaurant that departs from typical station food. Try the ahi tuna napoleon with crispy wontons.
The majority of the trains at Travel Town (5200 W. Zoo Dr., Griffith Park; 213/662-5874) don't go anywhere. That doesn't bother most kids, who are happy just to scramble over the biggest collection of steam locomotives in the West.
culture . . . yeah we got that

KING OF THE HILL
Banners all over town put a friendly face on the high-minded collections of the Getty Center (1200 Getty Center Dr.; 310/440-7300). Art information rooms in each of the five pavilions make masterpieces such as Mantegna's (that's Andrea, not Joe) Adoration of the Magi accessible; the costumes in the Family Room allow kids to dress up like the subjects in their favorite paintings. Beyond all that, it's fun just to ride the tram and run around all those travertine plazas. Bring home the new Going to the Getty guide by the noted children's book illustrator/author team, J. Otto Siebold and Vivian Walsh.
ENCHANTED GARDEN
Kids might ooh for a few seconds before Gainsborough's Blue Boy at the Huntington Library (1151 Oxford Rd., San Marino; 626/405-2141), but they'll aah for hours in the Botanical Gardens. Particularly popular are the Desert Garden's otherworldly cacti, and the Rose Garden, especially in spring when the pergolas disappear under blossoms (and year-round for a treat in the tearoom). The Japanese garden's bonsai collection, Zen garden, 19th-century house, and moon and zigzag bridges are worth an afternoon in themselves.
WHERE MINI IS BIG
The Carole and Barry Kaye Museum of Miniatures [This museum is no longer in operation.] might seem the unlikeliest place to experience a European Grand Tour, but it's all here, albeit scaled way down. Visit Fontainebleau, Hampton Court, the Doge's Palace, even the Vatican, complete with an accurate rendering (thanks to advanced color copiers) of the Sistine Chapel. Boys and girls alike fall under the spell of a Titanic made of 75,000 toothpicks and Alexander the Great's siege tent at Halicarnassos. One of the newer exhibits -- the courtroom scene of the O. J. Simpson trial -- brings the players down to size.
LOOK AND LISTEN
Take little children, or big kids with an imaginative mind-set, to Every Picture Tells a Story (1131-C Montana Ave.; 310/451-2700), where they can sprawl on a rug to read illustrated books and see how the tales took shape in the adjacent gallery of original art from children's books. Storyopolis (12348 Ventura Blvd.; 818/509-5600) is perfect for a town where most children's-book authors have screenplays moldering in desk drawers: it's a bookstore, an art gallery, and a production company all in one.
HEAR HERE
The Hollywood Bowl (2301 N. Highland Ave.), a legendary amphitheater for concerts and performances, is less well-known as a public park, a perfect place for kids to rock and roll across the lawns of what was originally known as Daisy Dell. Throughout the summer, the Los Angeles Philharmonic presents a series of open rehearsals, arts and crafts workshops, and performances (213/850-2000).
WALK THE WALK, SHOP THE SHOP
For all ages, nothing beats Santa Monica's Third Street Promenade. Little ones bounce from streetside topiary dinosaurs to toys (at Puzzle Zoo) to treats (from the Candy Baron) to Johnny Rockets for a burger or La Salsa for a burrito. Older kids love cruising though NA*NA for dispensable (to you) essentials (to them); trying a new band on for size at Hear's listening bar, and rounding the corner to Vans, at 400 Broadway, for California classics: sneakers and big pants.
Two other spots to shop: Melrose Avenue, starting at Martel (Fred Segal for sure; Retail Slut, Wacko, and Atomic Garage maybe), and La Brea Avenue, between Beverly and Second (check out American Rag, Stüssy, and Swell). And don't miss the chili dogs at Pink's, where La Brea meets Melrose.
LARGER THAN LIFE
I spy the giant doughnut crowning Randy's Donuts at 805 West Manchester Boulevard in Inglewood. Also keep your eyes peeled for the outsize binoculars in front of Chiat-Day advertising on Main Street in Venice, and the giant hot dog of Tail O' The Pup, a takeout spot at 329 San Vicente Boulevard that serves you-guessed-it.
Heather Smith MacIsaac is the creative director at Travel & Leisure.