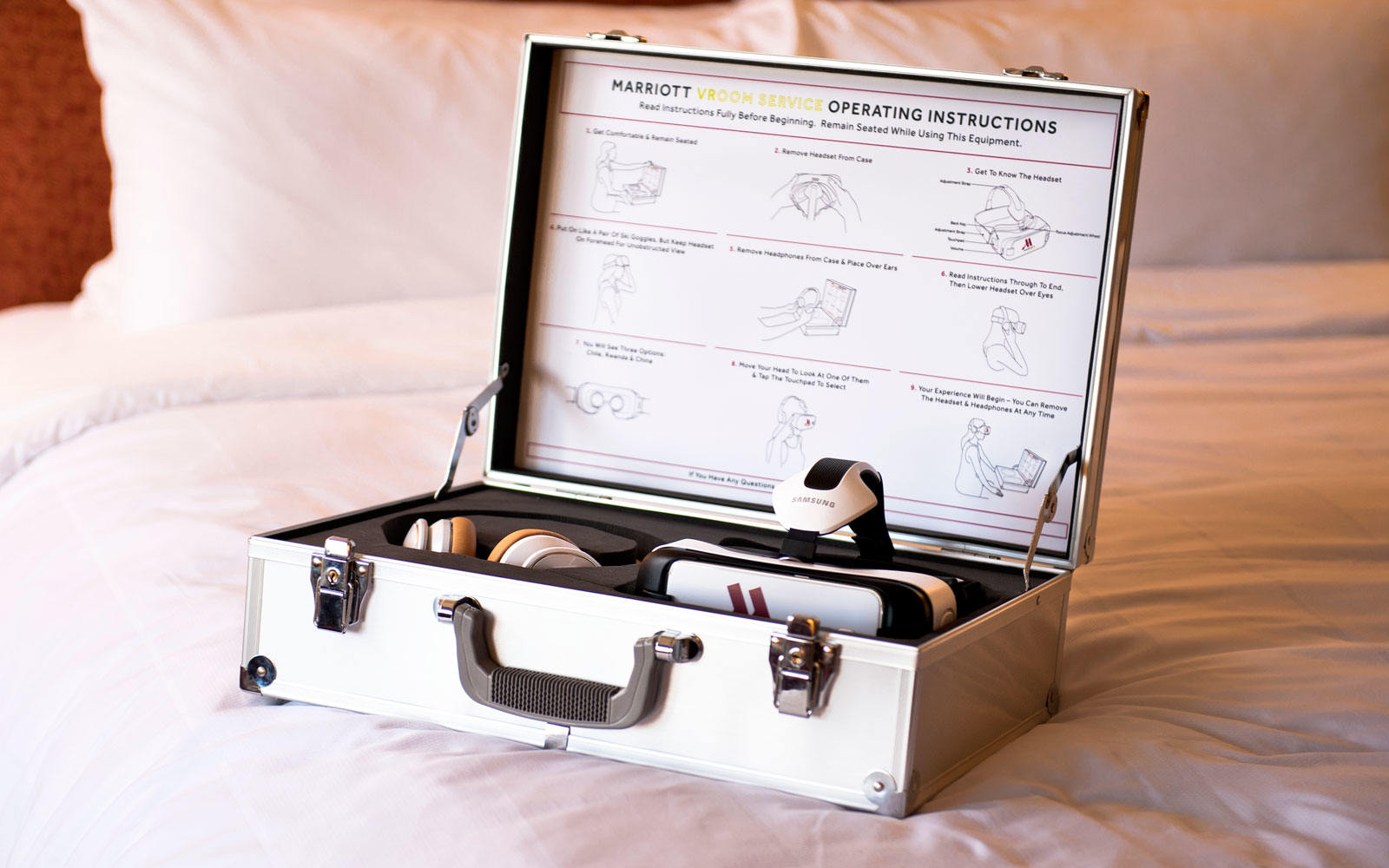 Marriott is bringing virtual reality into your hotel room. So we tried it out, got transported, and reported back.
Marriott's latest bid for millennial affection is a whole new kind of room service. Yesterday, the hotel giant debuted the in-room virtual travel experience, called Vroom Service. The two-minute clips—VR Postcards, as they're called—feature entrepreneurs and travelers explaining what travel means to them.
The experiential video series isn't the hotel chain's first foray into immersive technology. Last year, it revealed Teleporter, a booth that gave users an immersive virtual trip to London or Hawaii. The "4D" technology meant one could feel the warm ocean breeze. More recently, Marriott announced a partnership with Netflix to revolutionize in-room entertainment, which means you can watch every episode of Friends on your next business trip.
Materially speaking the experience boils down to headphones and a Samsung Gear VR headset, delivered upon request to a guest room in a sleek, indestructible-looking suitcase.
Strap on the headset, secure your headphones, and look left. Your video options scroll left. Scroll through and select your options.
First, join Erica Bryndza—a marketing exec for an anonymous social media company—at the summit of a peak in the Andes Mountains. Then head to Beijing, where you meet gallery-owner and curator Camillo Alvarez, who shares his passion for travel while eating steamed dumplings on a bustling street.
Despite the relatively grainy quality of the footage, there is something surprisingly transportive about the experience. You, like me, may find yourself furtively reaching out for your chopsticks.
Next, go to Rwanda, where you'll watch a drum performance and chat with Alexis Miesen of Blue Marble Ice Cream. You'll have to physically turn around to see her: she's sitting behind you, which, if nothing else, shows off the capabilities of the tech.
In reality, Miesen is sitting in the next room. I take a real seat next to her and ask her what she thinks about virtual travel.
"No matter how powerful a medium like virtual reality is it can never totally replace being somewhere in the flesh," Miesen said when asked how she would feel about a future in which everyone traveled by strapping on a fancy headset and sitting in a comfortable hotel room. "I hope it will have the opposite effect. I think people will be so moved and so exhilarated by the experience they have within virtual reality, they might feel even more inspired and emboldened to go and be there in person. Virtual reality is a nice step in that direction."
Vroom Service is being tested for two weeks at the New York Marriott Marquis and the London Marriott Park Lane.
"The objective," said Michael Dail, the VP of global brand marketing at Marriott Hotels, "isn't to get [guests] to go to these exact place. As a hotel brand, we're always trying to find the new innovations out there, and Marriott is trying to find out [if] there is a way we can immerse the two things [travel and technology] to make it interesting to enhance the experience of the guest? Who knows, you may be sending these virtual reality postcards to a friend instead of posting on Facebook."