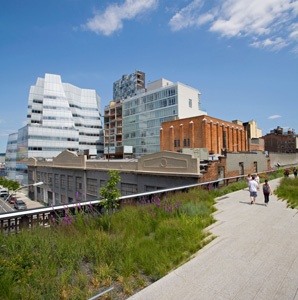 New York's predominantly gay neighborhood is ground zero for the city's best art galleries—and much more.
See the Globetrotter's Guide to World Hot Spots.
The closest subways to Chelsea only go as far west as 8th Avenue, which may explain why this neighborhood—which sits roughly between 14th and 30th streets, and 7th Avenue to the Hudson River—feels like one of Manhattan's quietest. But with the calm comes the buzz of high-end retail, warehouse art galleries, an indoor market (also home to the Food Network's studios), and—perhaps the most talked-about development project in recent city history—the High Line. A converted rail line, this elevated urban park offers views of the river and New Jersey, plus the bustling-yet-still-tranquil streets down below.
Cookshop: This inviting Chelsea eatery, owned by Marc Meyer, Chris Paraskevaides, and Vicki Freeman, serves a menu of American- and Mediterranean-influenced comfort food. The dishes are reflective of chef Meyer's appreciation of sustainable ingredients, local produce, and humanely-raised meats. Diners can enjoy such dinner selections as rigatoni pasta with chanterelles and spit roasted all-natural chicken with sweet potatoes and brussels sprouts. The restaurant creates a welcoming, home-like atmosphere with large glass windows, red leather banquettes, and simple artwork adorning the walls.
Socarrat: Named for the flavor-packed crust that forms on the bottom of the paella pan, this small spot embraces Spanish culinary traditions—from the menu to the long communal tables. One tip: As good as the crispy potatoes, spicy chorizo, and other tapas look, don't fill up on them. Here, the paella is the star; go for the Socarrat version, a mélange of chicken, beef, sepia, shrimp, cuttle fish, mussels, cockle clams, and green beans. Or, go for the version made with vermicelli noodles called fideua. 259 W. 19th St.; (212) 462-1000.
Upright Citizens Brigade Theatre: Robin Williams, Conan O'Brien, and Tina Fey have all graced the stage of this heralded 150-seat comedy venue, where shows take place seven nights a week, the tickets are cheap, and there's no drink minimum. Since its founding in 1996 by the sketch comedy team Upright Citizens Brigade (of which Amy Poehler was a member), it has expanded to include a training center—for all those Will Ferrell wannabes out there. 307 W. 26th St.; (212) 366-9176.
Chelsea Market: Chelsea Market is an enclosed collection of retail shops and restaurants in the historic National Biscuit Company complex at 75 Ninth Avenue in the Chelsea neighborhood. The original factory floors and exposed brick halls have been maintained, but since 1997 this complex has featured gourmet food vendors like Manhattan Fruit Exchange, Amy's Bread and Fat Witch Bakery. Anthropologie, the lifestyle store with women's apparel, accessories, and home decor, joined in 2010. Restaurants include Morimoto and Del Posto, each owned by a different Iron Chef from the Food Network.
Printed Matter: Established in 1976, this non-profit is the largest in the world dedicated to the promotion of artist-made publications. Inside the brightly lit space, you'll find 15,00 titles—plus rare reads. 195 Tenth Ave.; (212) 925-0325.
See the Globetrotter's Guide to World Hot Spots.
Maison 140: This home décor store is the kind of place you can get lost in for hours. Every inch of space (ceiling included) is overflowing with charming gift-worthy items, such as brightly colored Yves Delorme mohair throws, owl-shaped salt and pepper shakers, and Savon de Marseille soaps. 140 9th Ave.; (212) 255-0022.
High Line: At the south end of the High Line, an abandoned 1930's elevated freight rail track turned 21st-century park, a new Standard Hotel is going up on massive concrete piers, boldly straddling this most extraordinary public space. All along its 1 1/2-mile path (the first third is scheduled to open by the end of 2008), the High Line has become a magnet for innovative architecture; the Standard will soon be joined by a branch of the Whitney Museum designed by Renzo Piano, and experimental architect Neil Denari's gravity-defying apartment tower is rising a few blocks north. Between the speckled concrete walkways and benches by Diller Scofidio + Renfro and Field Operations, Dutch garden designer Piet Oudolf is inserting a somewhat aestheticized version of the urban meadow that had previously grown undisturbed on the tracks, with clusters of flowering perennials, wetland grasses, and occasional wooded patches. "To walk on the High Line," says Friends of the High Line cofounder Joshua David, "is to experience New York from a vantage point that can't be touched anywhere else."
Gallery Hopping in Chelsea: With seemingly countless galleries lining its streets, Chelsea is essentially a museum—one displaying everything from experimental art from up-and-comers to more staid works by longtime greats. (A few must visits: Gagosian Gallery, The Pace Gallery, Matthew Marks Gallery, Paul Kasmin Gallery, and David Zwirner.) With so many spaces from which to choose, it's best just to wander up and down the blocks. And the beauty is you don't have to pay to look. Between 20th and 28th Sts. and 10th and 11th Aves.
Chelsea Piers: If there's a sport, you can probably play it at this expansive complex set along the Hudson River with facilities for everything from bowling and rock climbing to year-round ice skating and golf (especially popular because you get to whack balls into nets overlooking the water).
Morimoto: Iron Chef Masaharu Morimoto brings superb Japanese and Asian fusion cuisine to the Chelsea neighborhood with his trendy restaurant Morimoto. The sleekness and simplicity of the decor is reminescent of traditional Japanese homes but with modern touches: a large water bottle wall, canvas ceilings and translucent partitions. Maintain tradition by enjoying Morimoto's sashimi—cubes of hamachi, salmon, eel and seared toro—or embrace the modern and try the tuna pizza (bluefin with anchovy aioli) or the yellowtail pastrami (togarashi, crème fraîche and candied olive). Either way, your meal is sure to be a sensation.
The Tippler: Hidden two flights below Chelsea Market (look for the "open" neon sign), this dimly lit bar is the perfect escape from the street-level bustle. The staffers are hip, the well-mixed cocktails have witty names (Czech Mate; Gin & Chronic). Make sure to grab a seat at a banquette—you won't get much cell service, but you won't even miss it. 425 W. 15th St.; (212) 206-0000.
Barneys CO-OP: The department store's Chelsea location closed down in 1996, but this airy, edgy outpost—set inside a warehouse satisfies the needs of high-fashion shoppers. Both men and women head here for everything from designer jeans to of-the-minute accessories. If you're in town in February or August, don't miss the twice-yearly Warehouse Sale, where you can snag designer goods for up to 75% off. 236 W. 18th St., (212) 716-8816.
Hôtel Americano: Who would stock a Manhattan mini-bar with a harmonica and furnish a bathroom with denim bathrobes? The answer: cult-favorite Grupo Habita, the inventive Mexican company behind Hotel Boca Chica (It List 2010), in Acapulco. The steel-and-glass aesthetic of the 56-room hotel matches the creative vibe of Chelsea's burgeoning gallery scene. The High Line is a stone's throw away; contemporary-art dealer Paul Kasmin has a new annex across the street. Americano frequently hosts exhibition opening after-parties, and the tapas restaurant has become the de facto canteen for the city's art insiders. While the property could use better door service for 10th Avenue taxi pickups, we love that New York's of-the-moment neighborhood finally has a stylish hotel to call its own.
See the Globetrotter's Guide to World Hot Spots.