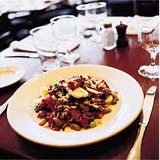 Daniela Stallinger From neighborhood "in" spots to outer-borough epiphanies, from hot dogs to haute design, from kimchi to caviar—here's the skinny on where to eat in this town.
The way New Yorkers are polishing off truffles and foie gras, you'd think we were back in the days when junk bonds were corporate street food. But there's more—lots more—than an eighties revival heating up Big Apple kitchens.
BEST UNSUNG CHEF
MEIGAS 350 Hudson St.; 212/627-5800; dinner for two $90. Reservations are easy at Meigas. And you won't see its dashing chef, Luis Bollo, flipping Spanish tortillas on Martha Stewart. Opened last fall with minimum fanfare, Meigas recalls a Barcelona hotel lobby—circa 1982. Never mind: this is the closest you'll come in America to tasting the wild creativity of millennial Spain. Bollo translates the folksy pulpo a feira into a still life of warm octopus, ribbons of puréed broccoli rabe, and tears of octopus gelée. He offsets the silkiness of skate with a salad of crisp sweetbreads, then pairs it with an improbably flavorful rice infused with squid ink. And his lobster gazpacho is soup from another dimension. Maybe you were expecting paella and sangria?
ARCHITECTURAL TRANSFORMATIONS
BRASSERIE 100 E. 53rd St.; 212/751-4840; dinner for two $70. Descend the translucent catwalk of a staircase and prepare to gape. Architects Elizabeth Diller and Ricardo Scofidio have transformed this old standard into a modern tour de force, taking resin, silicon, and perforated wood where they've never gone before. Now think retro and order fish sticks—er, goujonettes of sole—and chocolate beignets from a waitress so friendly she's practically codependent. The space glows most seductively when it's half empty (i.e., late supper or breakfast).
GUASTAVINO'S 409 E. 59th St.; 212/980-2455; dinner for two downstairs, $110; upstairs $130. What if you crossed Grand Central Terminal with a Gothic cathedral, then slicked it with Terence Conran's signature gloss?You'd have Guastavino's, the designer's Titanic-worthy production under the Queensboro Bridge. At the downstairs brasserie as many as 300 diners loudly attack reassuringly ordinary salads and grills. But upstairs, at the pricier Club Guastavino, the pike quenelles and the crispy spiced frog legs are almost good enough to excuse the clueless service.
AND ABOUT THAT DUCASSE DEBUT …
ALAIN DUCASSE AT THE ESSEX HOUSE 155 W. 58th St.; 212/247-0300; lunch or dinner for two from $320. Let New York food critics rattle their knives. Me?I cherished every second of my four-hour, $600 lunch (for two) at Ducasse. Still seething after my last Paris meal chez Alain—withering snobbery, a disturbing blood-dripping pigeon—I show up with my Michelin Star Wars defense system on full alert. Then … something happens. Is it the indecent lusciousness of foie gras royale or the post-dessert bombardment of goofy confections?The pleasure of being wooed by an army of Gallic garçons, this time defanged and submissive?Or is it the old Les Célébrités space—reborn as a faux-Empire stage set?My companion and I stare at the hideous, paint-splattered car crash of musical instruments on the wall. We scan the clumsy menu descriptions ("marmalade of chicken legs"—does the kitchen employ a grand-mère with Jack the Ripper tendencies?). And break into a light-headed giggle. You laugh like this only in Vegas.
Even the $160 tasting menu doesn't ruin the mood. True, the food is mostly ridiculous, but there are moments of the sublime. The ugly bird from Paris returns as a swan of a squab, and the desserts are a triumph. The bloopers?Oversteamed sole in one of those piercingly rich sauces that give French cuisine a bad reputation. Bow-tie pasta (the tacky kasha varnishkas sort) with another mucky sauce—this one fit for a 30,000-lira menù turistico.
And still. We leave loaded with lollipops—and almost delirious with joy. Amused to have partaken in a folly so arrogant and yet so naÔve. Glad to have seen the world's most celebrated and cynical chef slip on his own reductions. Thrilled to have witnessed the Michelin three-star ritual exposed as farce. But mainly, happy to have had such a grand ol' time. Certainly "vaut le voyage," as the red book would have it.
GRAPE EXPECTATIONS
Enough with the Cosmopolitans, already. New York is awash in Syrah and Gruner Veltliner, and wine bars are opening faster than you can decant a Barolo. In the belly of the Meatpacking District, RHÔNE (63 Gansevoort St.; 212/367-8440; dinner for two $100) proves that concrete, aluminum, and brick can, in fact, be cozy. The Rhône-obsessed owner, Jeffrey Goldenstein, can talk you through his St. Josephs and Côtes du Rhônes one grape at a time. Order the succulent pork belly with that knockout Gigondas.
The adorable Demi (125½; E. 17th St.; 212/260-0900; dinner for two $40) could fit into a sommelier's pocket. Chef Diane Forley's tiny whimsies—such as corn flan with lobster—are arranged in tiers and matched to, say, a hand-picked rosé or Pinot Noir.
"That Pinot Gris is really uninteresting," declares a wine waiter at MORELL WINE BAR & CAFÉ (1 Rockefeller Plaza, at 49th St.; 212/262-7700; dinner for two $90). "Let me recommend …" Minutes later you're sniffing out the bright mango notes in a Marlborough Sauvignon Blanc. A handful of grape-friendly dishes complement 125 wines by the glass.
HARLEM RENAISSANCE
Heads up, downtown—the top of the island is rockin'. Stepping out this fall: JIMMY'S UPTOWN (2207 Adam Clayton Powell Jr. Blvd. at 130th St.; 212/491-4000; dinner for two $65), a Latin-themed extravaganza from the owner of the legendary Jimmy's Bronx Café. Want soul 'n' spice without supper-club hoopla?Bayou (308 Lenox Ave.; 212/426-3800; dinner for two $50) is your place. Manhattan's most welcoming restaurant excels in roast chicken and catfish, classic Creole turtle soup, and shrimp in a sharp rémoulade. Afterward, catch a set at the revamped ART DECO LENOX LOUNGE (288 Lenox Ave., 212/427-0253). Okay, okay, you're still hankering for ribs, collards, chitlins. You'll find them at COPELAND'S (547 W. 145th St.; 212/234-2357; dinner for two $40).
HIGH-FLYING FISH
ESCA 402 W. 43rd St.; 212/564-7272; dinner for two $90. Just when Mario Batali's cooking at Babbo was getting a little aggressive, he and co-conspirator Joseph Bastianich reinvented themselves with a sleek new fish house. Translucent slices of raw scallop splashed with tangerine oil … a tangle of pasta with petals of cured tuna roe … immaculate salt-baked sea bass. Even without the captivating Italian wines it would still be the most lyrical meal this side of Amalfi.
PEARL OYSTER BAR 18 Cornelia St.; 212/691-8211; lunch for two $45. This dinghy-sized spot packs in the most fish flavor in town—per square inch. If you don't believe that line, you'll believe the one at the door. The ultra-fresh bivalves, lobster rolls, and pan-roasted salmon will ferry you to seafood heaven. Beat the crowds; come for lunch.
LE BERNARDIN 155 West 55th St.; 212/489-1515; prix fixe dinner for two $144. With its bronze wood, huge paintings, and corporate-casual décor, Le Bernardin is both a timeless and dated backdrop for Eric Ripert's flirtatious dishes. His lobster timbale in a zingy chive broth, peekytoe crab ringed by a vibrant gazpacho, and monkfish with a flourish of peppermint deliver simplicity, precision, and poetry all on one plate. The wine list seems conservative, but only until the sommelier steers you toward that unusual sparkling rosé from Savoie.
TEN BITES OF THE APPLE
1. PASTRAMI AT ARTIE'S: This new deli is serving the most succulent pastrami in town—yeah, bubeleh, hand-cut. 2290 Broadway; 212/579-5959; pastrami sandwich $8.39.
2. PANINI AT ´INO: Where the Italian sandwich died and went back to Milan. 21 Bedford St.; 212/989-5769; average panino $8.
3. PEARL TEA AT SAINT'S ALP TEAHOUSE: Frothy Taiwanese cold tea "cocktails" loaded with fat tapioca pearls. Try taro. 51 Mott St.; 212/766-9889; tea $5.
4. CAVIAR AT PETROSSIAN: Beluga, sevruga, osetra … Brezhnev never had it so good. 182 W. 58th St.; 212/245-2214; prix fixe dinner $38 per person.
5. KIMCHI AT CHO DANG GOL: A parade of mouth-tingling pickles to accompany the restaurant's signature tofu dishes. 55 W. 35th St; 212/695-8222; kimchi included with dinner; dinner for two $35.
6. FALAFEL AT MOISHE'S STREET CART: A light cannonball loaded with spice. 46th St. and Ave. of the Americas; falafel $5.
7. CEVICHE AT CHICAMA: From Nuevo Latino king Doug Rodriguez, raw fish concoctions so bold and fiery they virtually leap in your mouth. 35 E. 18th St.; 212/505-2233; average ceviche $15.
8. HOT DOG AT PAPAYA KING: Grilled, greasy, glorious, and dangerously addictive. 179 E. 86th St.; 212/369-0648; hot dog $1.29.
9. PIZZA AT LOMBARDI'S: New York's definitive dough at America's oldest pizzeria. 32 Spring St.; 212/941-7994; large pizza $15.
10. COTTON CANDY AT THE FOUR SEASONS: Ur-vernacular treat at Philip Johnson's austere temple of Modernism. 99 E. 52nd St.; 212/745-9494; cotton candy served before dessert on request; dinner for two $125
FUSION DIVAS
ANNISA 13 Barrow St.; 212/741-6699; dinner for two $100. Chinese-American chef Anita Lo wanted a soft opening for her new place. Was she kidding?Before she could say "bok choy," her intimate, off-white nook was abuzz with doe-eyed couples of every stripe and persuasion, seduced by the intriguing wines from only women vintners and Lo's quietly transporting cuisine. Shanghainese soup dumplings are reinterpreted with seared foie gras; amazing roast chicken comes with a luscious stuffing of pig's feet. "This is my third dinner here in a week," confesses my neighbor.
AZ 21 W. 17th St.; 212/691-8888; dinner for two $104. Patricia Yeo's restaurant arrived in the Flatiron District this summer with a big bang: critics raved, dot-commers swarmed the lounge, boldface types crowded the upstairs restaurant (imagine a postmodern Asian garden teahouse). The food ranges from insipid (listless lemongrass-cured salmon) to inspirational (plum soup with cherries and lychee sorbet). Consult the I Ching before ordering.
COOL CLASSICISM
DANUBE 30 Hudson St.; 212/791-3771; dinner for two $140. Feast your eyes on the stagey Klimtian interior and you're sated even before your Fabergé terrine of beets and goat cheese arrives. A good thing, too, because the dishes are so exquisite and so microscopic you don't quite know whether to swoon or sue. (Only David Bouley's cerebral kitchen could reduce Mitteleuropa to a series of Zen-like metaphysical teasers.) Five astounding ravioli of "high-altitude" cheeses leave you yearning for more. Sweetly glazed beef cheeks are an abstraction of meatiness. Still hungry?A zaftig burger awaits you around the corner at the Odeon (145 W. Broadway; 212/233-0507; burger $10.50).
JEAN GEORGES Trump International Hotel & Tower, 1 Central Park West; 212/299-3900; dinner for two $200. Is Jean-Georges Vongerichten a chef or a superman (costumed by Helmut Lang)?Leaping between five global outposts—plus four more in this town—he keeps his creative edge as sharp as a sushi knife. A mouthful of consommé boosted with sweet Jura wine dissolves the richness of its accompanying foie gras terrine. A transparent broth bathes crisp-skinned sea bass and explodes with sweet-tart Thai intensity. Add whisper-smooth service and thoroughbred wines, and you have a Michelin three-star experience reconfigured for 21st-century Gotham.
NOBU 105 Hudson St.; 212/219-0500; dinner for two $120. Here's Kevin Bacon looking too thin and too blond. There's Tommy Hilfiger plying a see-through brunette ("She's my new all-American girl") with miso-glazed cod. Just a typical Monday night at Nobu. An invisible wall of bamboo separates us from this world, but once you break through you'll find nothing forbidding about designer David Rockwell's enchanted forest. As for the food, expect fusion-as-unusual: Nobu Matsuhisa's tricks with toro, uni, yuzu, and ponzu are more entertaining than Tokyo Disneyland. (Count on similar food, clever design, and a very long wait at the no-reservations Next Door Nobu.)
NEW NEIGHBORHOOD HAUNTS
RED CAT 227 10th Ave.; 212/242-1122; dinner for two $75. Chelsea has experienced a gastronomic invasion this fall, but Red Cat could well remain the tastiest spot on 10th Avenue. Laid-back setting (white clapboard walls hung with eclectic contemporary art). Laid-back dress code (Agnès B. behaving like J. Crew). Spot-on seasonal cooking pretending to be laid-back. Was that Kevin Spacey ordering julienned zucchini with almonds?He looked pretty laid-back, too.
71 CLINTON FRESH FOOD 71 Clinton St.; 212/614-6960; dinner for two $70. The minuscule storefront is more haimish than hip, the down-home'haute cooking by Jean Georges alumnus Wylie Dufresne merely pleasant. If you thwart the reservationist's tendency to slam down the receiver and then manage to find this forlorn corner of the Lower East Side, you might discover that the cultish 71 Clinton is not such a big deal. Which, of course, makes it an even bigger deal.
PEASANT 194 Elizabeth St.; 212/965-9511; dinner for two $80. The former garage in Nolita has enough earthenware, brick, and rough-hewn wood to fill an ethnographic museum. Stylish but unthreatening waiters bear crocks full of garlicky savories from the rotisserie and wood-burning oven. Skip the pastas—you want a bottle of the elegant Arneis blange from Piedmont, tutti antipasti, a crackling anchovy pizza, and a charred, juicy bistecca alla fiorentina.
MANHATTAN ZENS
SUSHI YASUDA 204 E. 43rd St.; 212/972-1001; dinner for two $105. What's tangy and earthy like sourdough bread?As intriguingly textured as raw Japanese silk?As fascinatingly fishy as Tsukiji market at dawn?It's the rice at Sushi Yasuda, rolled around morsels of extra-buttery otoro tuna, briny squid, or sweet Santa Barbara sea urchin. Reserve a perch at the city's most thrilling sushi counter and surrender yourself to Maomichi Yasuda's whims. (Ask him about the peculiar grooming habits of sea eels.)
HONMURA AN 170 Mercer St.; 212/334-5253; lunch for two $90. Never mind that the loftlike Honmura An isn't quite the sanctuary you hoped it would be—the handmade soba makes you see Kyoto. SoHo habitués dote on the cold noodles with nori, red salmon caviar, and bonito flakes. Japanese hipsters kick off with small plates—such as the mouth-tingling pickles the owner brings in from Japan—and end with a lacquered box of exotically plain seiro soba. Please don't come in droves to Honmura An: we New Yorkers want it all to ourselves.
PARIS REDUX
British restaurateur Keith McNally gave TriBeCa the enduringly hip Odeon and exported cool to the Upper West Side with Café Luxembourg. At BALTHAZAR (80 Spring St.; 212/965-1414; dinner for two $94) and its brash sibling PASTIS (9 Ninth Ave.; 212/929-4844; dinner for two $70) he conjured up a nicotine-stained, Pernod-drenched slice of Paris that every wannabe brasserie baron in this town would kill to knock off. (Believe me, they've tried.) Two things to know about B. and P.: the steak isn't usually worth its frites (instead, try the glorious côte de boeuf at Balthazar or the braised beef at Pastis), and the dinnertime pandemonium renders them as inviting as Châtelet station at rush hour. The answer?Balthazar on a late weekday morning for café au lait and a wicked pain au chocolat. Pastis, well, at midnight. Too late, you say?Ah, mes amis, c'est la vie new-yorkaise.
DINNER DEMOCRACY
In an ideal world—Danny Meyer's world—there are no front-of-the-house ice queens escorting you to Siberia, no "Will you hold?" shticks on the phone. And Meyer's ultra-polished establishments offer more options than the Internet: Have a tasting menu of Floyd Cardoz's jazzy Indian fusion at TABLA (11 Madison Ave.; 212/889-0667; dinner for two $108), or make for Bollywood with Technicolor curries and naan at Tabla's downstairs Bread Bar. Not up for an indulgent evening at the romantic GRAMERCY TAVERN (42 E. 20th St.; 212/477-0777; dinner for two $130)?Swing by at teatime for dessert diva Claudia Fleming's sweet and savory miniatures. Feeling antisocial?Nosh solo on a filet mignon burger at the welcoming counter of UNION SQUARE CAFÉ (21 E. 16th St.; 212/243-4020; dinner for two $110). Meyer trades in delicious justice for all.
THE BIG BEEF
CHURRASCARIA PLATAFORMA 316 W. 49th St.; 212/245-0505; dinner for two $74. If you've been to a meatfest in Rio, you'll recognize the routine here. Flip the button on your table to green, and suddenly waiters samba around you, wielding giant skewers of succulent skirt, flank, top round, pork, turkey, and sausage. Resist the siren call of the buffet station, and beg for another round of iced caipirinhas to cut through the cholesterol. You won't dare bare your midriff on Copacabana Beach anytime soon.
PETER LUGER 178 Broadway, Brooklyn; 718/387-7400; dinner for two $130. Yep, it's all true: beer-hall walls, indifferent service, and a tomato and onion salad that's someone's idea of a practical joke (bring mouthwash). But for your last steak on this planet—a gorgeously aged prime porterhouse—this is where you'd come.
JACKSON HEIGHTS: LAHORE TO LIMA
"Cu·nto for el mango?" inquires a Peruvian customer at a Korean grocery. "Un peso," replies the Indian cashier. Welcome to Jackson Heights, Queens. Take the fast E or F train to the Jackson Heights'Roosevelt Avenue stop, walk to 74th Street, and you're in Bombay—sari merchants, spice emporiums, dollhouse sweetshops. TABAQ 74 (73-21 37th Rd.; 718/898-2837; dinner for two $35) specializes in ruggedly refined Lahore-style dals and mutton cooked on a giant cast-iron tawa; you'll find intricate vegetarian Gujarati snacks at DIMPLE (35-68 73rd St.; 718/458-8144; snacks for two $15).
Half a block over, on Roosevelt Avenue, is a vibrant pan-Latin stew pot, fueled by sounds of merengue and cumbia. Try tropical shakes and fluffy arepas (South American stuffed corn cakes) at the neon-bright COSITAS RICAS (79-19 Roosevelt Ave.; 718/478-1500; snacks for two $12), spicy Peruvian rotisserie chicken with Chinese sides at LA CASA DEL POLLO (87-07 Roosevelt Ave.; no phone; lunch for two $10), and a masterly Argentinean mixed grill at LA PORTEÒA (74-25 37th Ave.; 718/458-8111; mixed grill for two $28.50).
ASTORIA: GREECE AND EGYPT
The N train that goes to Astoria, Queens, deposits you in the old Hellenic world that flourishes around 31st Street under the elevated tracks. Take a detour first to Central Europe with pilsner and potato cakes at the BOHEMIAN HALL (29-19 24th Ave.; 718/274-4925; appetizers for two $15), then delight in the lovingly prepared mezedes and grills at Scouna (23-01 31st St.; 718/545-4000; dinner for two $55), and finish with a coffee frappé and honey-drenched pastries across the street at LEFKOS PIERGOS CAFÉ (22-85 31st St.; 718/932-4423; dessert for two $10). Want more?STAMATIS (29-12 23rd Ave.; 718/ 721-4507; dinner for two $40) delivers the authentic dishes you never found on Mykonos, and TAVERNA KYCLADES (33-07 Ditmars Blvd.; 718/545-8666; dinner for two $50) excels in grilled fish.
But that's not all. On a stretch of Steinway Street near 25th Street, there's a secret Egyptian enclave lined with small cafés populated by men puffing on hookahs and hunched over games of backgammon. Here you'll find MOMBAR (25-22 Steinway St.; 718/726-2356; dinner for two $60). There are no menus or set prices—just inspired Egyptian cooking done by the owner's sister on a small stove. The interior explodes with homespun Orientalism. Ditto the couscous cake.
BRIGHTON BEACH: BACK IN THE U.S.S.R.
When the first Russian émigrés settled in Brooklyn's Brighton Beach in the seventies, they erected temples to the sort of conspicuous food consumption they'd always dreamed of back home. Take any of the several subway lines that stop at Coney Island, wolf down a hot dog at NATHAN'S FAMOUS (1310 Surf Ave.; 718/946-2202; hot dog $1.99), and then stroll east on the boardwalk until a cluster of cafés'cum'sushi bars—with names like Tatiana—signals your arrival in Little Odessa. Grab an outdoor table at any of them, skip the sushi in favor of blini and borscht, and savor the great Felliniesque promenade. Among the famously rambunctious Brighton Beach supper clubs, PRIMORSKI (282 Brighton Beach Ave.; 718/891-3111; prix fixe dinner for two $40) is my favorite. Bring a crowd and order the banquet, with its never-ending parade of cold and hot zakuski and liters of vodka. Is that Mom dancing on the table?
FLUSHING: THE OTHER CHINATOWN
No, Flushing isn't something you do in the WC: it's a neighborhood where you'll discover the bigger and brighter Queens branch of Chinatown. Surfacing from the 7 train at Main Street, you can navigate all of east Asia over on tiny 40th Road. You'll find Taiwanese dim sum (try the scallion pancakes with beef) at JIA XIANG LO (135-25A 40th Rd.; 718/886-8829; lunch for two $20), tanks of live fish at the H.K. (for "Hong Kong") SEAFOOD RESTAURANT (135-32 40th Rd.; 718/539-2200; lunch for two $35), Shanghainese soup-filled crab dumplings and braised pork shoulder at SHANGHAI TANG (135-20 40th Rd.; 718/661-0900; lunch for two $15), and Malaysian curries at RESTORANT MALAYSIA (135-17 40th Rd.; 718/353-2901; lunch for two $30).
A bit farther east, Little Korea is worth the short cab ride from Main Street. A casserole of goat and peppery shiso leaves; kimchis of exotic wild shoots; and sensational potato pancakes are yours at SOL BAWOO (41-10 149th Place; 718/445-2542; dinner for two $45). Cleanse the palate as Koreans do, with arrowroot noodles in a chilled tangy broth, at Hanjoo (41-06 149th Place; 718/359-6888; noodles for two $15). Little English is spoken, but you can always point, smile, and nod.