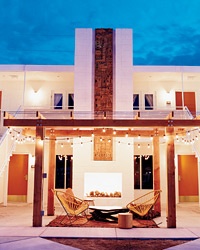 This may be the perfect year for Ace Hotels' lo-fi, rock 'n' roll style, as the Oregon-based company expands to California and New York. T+L reports from Palm Springs on the reinvention of the budget hotel—here and elsewhere.
Back in mid January, a month before the new Ace Hotel & Swim Club, in Palm Springs, officially welcomed its first guest on February 12, the owners held a two-day "job fair" to staff the completely refurbished five-acre property on the eastern leg of Palm Canyon Drive, the city's main thoroughfare. According to Jonathan Heath, the hotel's general manager, Ace needed to fill 120 slots—from housekeepers and engineers to dishwashers and front-desk attendants—and some 2,000 people from the Coachella Valley turned up between 9 a.m. and 3 p.m. to vie for the openings. Though, in the insouciant spirit of Ace, there was music and a barbecue to add a festive note to the proceedings, the lottery-like odds of landing one of the 120 jobs were, by any measure, sobering, a gauge of the current economic climate.
Like Target and Mini Cooper, JetBlue and H&M, Ikea and Ralph Lauren's Rugby line, Ace has verve, a kind of youthful can-do exuberance that is particularly appealing when so many enterprises are anxiously battening down the hatches. "In times of economic stress, people crave emotion and substance, a sense of honesty and authenticity," says Alex Calderwood, one of Ace's three founders. "The brands that have a perspective and a point of view, that are creating something of substance, will be okay," he continues, noting, apropos of Palm Springs, that "this is the time to be more aggressive, more creative, and more innovative…to create reasons for people to be here at the hotel."
Not least among those reasons, obvious but true, is Ace's decade-long commitment to offering a category of rooms for under $100.
Though the idea of a high-design $100 hotel room is not new—in 1990, Ian Schrager opened the super-affordable Paramount on West 46th Street off Times Square—it is especially timely now. Indeed, the budget hotel is in the process of being reinvented (including by Schrager himself), and Ace epitomizes what might be called a New Bohemian attitude and style: hotels that are not stripped-down and minimalist but rather idiosyncratic, cool, and casual.
"Business is terrible all over," says a candid Schrager, adding that while "'cheapchic' is always a relevant idea—very democratic—it's more compelling today than ever." Schrager is currently at work on a new hotel in lower Manhattan that will, he says, open in 18 months and be appreciably more affordable than the Gramercy Park Hotel , his much-heralded property at the base of Lexington Avenue. He is also at work on an affordable ($200 or less) hotel in Miami Beach, which has been designed by London architect John Pawson in collaboration with New York architect Calvin Tsao.
Similarly, André Balazs, owner of the Chateau Marmont in Los Angeles and the Mercer in New York City, among other hotels, is busily expanding the Standard, his more affordable brand. With two outposts in Los Angeles and one in Miami Beach, Balazs is now completing a sleek-chic new Standard in New York City that straddles the High Line park adjacent to the Meatpacking District (see the "It List" for more). And architect David Rockwell is working for Starwood Hotels on Aloft, an international chain that will stretch from Beijing to Rancho Cucamonga. With 500 Alofts planned by 2012, Rockwell's sprightly reinvention of the affordable roadside motel is worth note: the public spaces are colorful, lively, and populated, and the rooms have been designed to steer clear of the soul-killing fluorescents and polyester that were once the norm. "I have a fascination with motels," says Rockwell, describing the design challenge to "take advantage of every square foot—the closet, the safe, and the mini-bar are all built in"; and to introduce more natural light by using large windows.
Among the other hoteliers committed to the cause are Eric Goode and Sean MacPherson, known for the Bowery Hotel , the Maritime Hotel , and Lafayette House , all in New York. At the moment, MacPherson and Goode are in the process of completing a restoration of the 200-room Jane Hotel , situated at the westernmost edge of Greenwich Village. Built in 1907 as a sailors' haven, the Jane went on to become a quirky residential hotel before Goode and MacPherson turned up to transform it into "a unique micro hotel for young travelers with more dash than cash." (Quips MacPherson: "Our ideal client is a 19-year-old runaway.") Billed as "the least expensive hotel in lower Manhattan," the Jane offers 150 minuscule, 50-square-foot rooms with shared baths for $99. Inspired by luxury train cabins, the wood-paneled rooms are fitted out with single beds, flat-screen TV's, and Wi-Fi. For the more flush (or claustrophobic) the Jane will soon offer 50 more rooms that are 250 square feet and have private baths, for about $250. "So many young people have a romanticized notion of bohemian New York, but have trouble finding it these days," says MacPherson, who is convinced that the problem has now been solved.
Meanwhile, in Paris, a block away from Père Lachaise, the storied cemetery in the 20th Arrondissement where Marcel Proust and Jim Morrison are buried, Philippe Starck (who designed the Paramount for Schrager all those years ago) has completed a hotel of his own: Mama Shelter , a 172-room property where overnight accommodations with a private bath will run you $105. (Or, if you would prefer a suite, $344.) Working with architect Roland Castro, Serge, Benjamin, and Jeremie Trigano (son and grandsons of the founder of Club Med), and "philosopher" Cyril Aouizerate, Starck tore down a former parking garage and built a very contemporary hotel. "Mama Shelter is first and foremost a place of freedom and creativity; a place for young people, artists, students, and people not interested in material goods," reads the manifesto. "Our ambition was not only to create somewhere to spend the night, but to establish a modern kibbutz, a laic monastery." Materialistic or not, each room is equipped with a 24-inch iMac and a kitchenette. There is also a 160-seat restaurant, a 40-seat bar, an eight-person foosball table, and a yoga room. True to Starck's winsome ways, the bedside lights are covered with plastic Halloween masks.
As for Ace's commitment to the new-affordable-chic-Bohemian-Hotel cause, it dates back to 1999, when Calderwood and two friends, Wade Weigel and Doug Herrick, made their debut as hoteliers with the Ace Seattle , a 28-room hotel in a former halfway house downtown. The idea, at the time, was not to become the next Ian Schrager or André Balazs, but to provide affordable accommodations for the trio's friends and acquaintances, "the creative types who have been behind the evolving cultural renaissance of the Pacific Northwest in the past decade, and who aren't generally awash in cash." According to Calderwood, Ace's MO was straightforward: "Taking characterful old buildings in emerging neighborhoods and doing as much as we could with the existing infrastructure on a shoestring budget."
Though the rooms were spare, they had good light, good beds, and shimmering stainless-steel prison sinks, and they cost $95 a night. So what if the unisex showers and WC's were down the hall?If you really minded, the Ace Seattle offered rooms with private baths for $150.
In 2007, the company opened the second Ace , in Portland, Oregon, in the former Clyde Hotel: 79 rooms—half of which were decorated by artists, half by Ace's in-house graphics team—plus a large exhibition and event space, a restaurant, and an outpost of the celebrated Portland-based Stumptown Coffee Roasters.
Bolstered by its successes in Seattle and Portland (where the company is now based), Ace looked to Palm Springs for hotel number three, and New York City for number four. (The New York property , on West 29th Street, opened in April.)
"Too often Palm Springs opts for a slavish, cookie-cutter Midcentury Modern thing, which was maybe exciting 10 years ago," Calderwood says. "But we wanted to celebrate the desert and southern California, and a sort of modern Bohemia or modern folk or hippie aesthetic…more representative of the desert than of Palm Springs."
Calderwood called his friend Roman Alonso, a founding principal of the five-year-old Los Angeles–based firm Commune, for the job. "Ace hotels have a democratic, highly urban vibe, so it was an interesting challenge to bring that out to the California desert," Alonso says. "Commune and Ace share so many things philosophically—love of honest materials and pure design and handcraft—it wasn't hard for all of us to be on the same page. We kept thinking of a desert experience that didn't really say Palm Springs, but was more about the Southwest, Native American culture, camping, communal living, Nature Boy, and desert movies of the early 1970's...as if M*A*S*H, Billy Jack, and Jesus Christ Superstar were thrown in a blender."
Somewhat telegraphically, Alonso continues: "Albert Frey meets Timothy Leary; dune buggy meets 'Magic Bus'; Steve McQueen meets Mountain Girl…an assembled subversive mix of styles; an all-purpose repair station; a retreat for simple comforts in the sunny sanity of nature."
The Ace Hotel & Swim Club, in Palm Springs, represents an exponential leap forward for Ace. In addition to its 180 rooms, the hotel is an expansive, self-contained, five-acre resort, the kind of carefree, slightly enchanted place where you could easily while away several indolent days without ever leaving the property.
"For what you pay, you get a lot," Calderwood says. "It's a rich experience."
Unless you want a suite or a room with a private patio, what you pay is $89. And this time around you have your own bathroom.
The first indication that the Ace Palm Springs is no longer a generic, garden-variety motor inn is at check-in, where guests are greeted with a 100-square-foot diorama installed in the soffit above the front desk. Part Salvador Dalí, part Robert Rauschenberg, the diorama is the handiwork of California artists Alice Lodge and Clare Crespo, who were commissioned by Commune to create the piece, called Bower Birds. "We decided to do a sort of traditional-looking diorama, like you might see at a small nature center somewhere, with taxidermy and plants. But, of course, we let it get a bit surreal," Alonso says. "The coyote is wearing necklaces, the chipmunks are decorating their den with blue objects they have found in the sand, and a flock of monarch butterflies has mysteriously descended on a lavender cactus. I love the idea that when people are not around, animals might be up to some beautiful and magical stunts."
For the gimlet-eyed, there are additional clues to alert you to the fact that things have radically changed down at the old Westward Ho/Howard Johnson on East Palm Canyon Drive. In lieu of curtains or solar shades for the oversize plate-glass windows in the lobby, for example, Commune tapped artist Michael Schmidt to create a massive macramé installation. Nearby, adjacent to the front desk, there is an ATM and a period-perfect photo booth where, for $3, you can get four quickie self-portraits.
If art and craft are conspicuous in the public spaces, Commune and Ace also did not scrimp on the aesthetic amenities when it came to the rooms, which they all but gutted.
To help support the "urban camping" conceit, two of the rooms' four walls are hung, floor to ceiling, with loose canvas, which gives the spaces a soft, rippling, tent-like quality. The other two walls are covered with white slatted-wood panels that come complete with S-hooks and clips for hanging clothes and art. For the windows and for the French doors that lead out to the walled-in patios on many of the ground-floor rooms, there is a layer of mosquito netting to blunt the light and, over that, a second layer of canvas to completely block it out. The bedcovers are also canvas, punched up a bit with silk-screened abstract graphics by Free City.
The bedside tables are the work of sculptor and furniture maker Alma Allen, who created a stumplike wooden cylinder for the telephone on one side and a low rectangular four-legged table on the other for a Revlon-red Music Hall turntable and a black amplifier-receiver, complete with five vintage vinyl records handpicked by Ace.
Rather than buy conventional reading lamps, Commune commissioned Los Angeles artist Robert Lewis to design what he calls "love lights," stubby, baton-like cylindrical white metal fixtures with a high-watt white reading light on one end and a low-watt red bulb on the other end for…mood. In the spirit of the red-bulb end of the mood-enhancing lamps, each room comes complete with a round tin—marked xxx—containing two condoms.
In addition to doubling the size of the existing swimming pool, which they enveloped with rope-and-metal canopied chaise longues, Commune added a second pool and a new 3,000-square-foot building for special events, which features monumental steel-and-glass doors that retract into the roofline to blur the distinction, in the venerable tradition of southern California, between inside and outside. They also erected a long arbor lined with hammocks for taking in the shade, and built a new retail store and pool kiosk that form the base for a "stargazing deck," complete with lounge chairs.
According to Calderwood, the Ace spa is less about self-indulgence and being pampered, and more about a "holistic" approach to "health and well-being." To help communicate the difference, Com- mune erected three round canvas Mongolian yurts, with insulated, batik-lined interior walls, for massages. Adjacent to the yurts, a concrete-block building contains a steam room and sauna, in addition to treatment rooms. The spa building also houses a fully equipped gym, which is open 24 hours a day.
Next to the restaurant, just off the lobby, is a well preserved memento of things past: an in-house watering hole called the Amigo Room. It's a cavelike black-brick bar with upholstered booths, a cork-tiled floor, and Mexican pesos embedded in the transparent tabletops.
Considering what they went through to get their jobs, it was surely welcome news to the Ace staff that the hotel's "uniforms" are anything but standard issue. Calderwood contacted Levi's and made a deal for three models of jeans—employees have their pick—and then he hit American Rag and Jet Rag in Los Angeles, buying up scores of vintage cowboy shirts to complete the Ace look.
Palm Springs
Ace Hotel & Swim Club 701 E. Palm Canyon Dr.; 760/325-9900; acehotel.com; singles from $89.
New York City
Ace New York 20 W. 29th St.; 212/679-2222; acehotel.com; doubles from $169.
The Jane 113 Jane St.; 212/924-6700; thejanenyc.com; singles from $99.
Paris
Mama Shelter 109 Rue de Bagnolet, 20th Arr.; 33-1/43-48-48-48; mamashelter.com; doubles from $105.