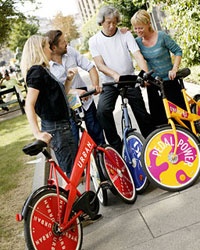 Courtesy of Visit Denmark From ski lift tickets to hotels, T+L's list of things you'll never have to pay for again.
A few years ago, Canadians Terry and Carole Baker vacationed in St. Genis, France and stayed in a place with a kitchen, washer/dryer, and a balcony overlooking the Jura Mountains. They've also stayed in a 4,000-square-foot, 18th-floor condo in Penang, Malaysia and in a sprawling, amenity-laden spot in Mesa, Arizona. And next August they're spending five weeks in a cozy cottage in Stirling, Scotland.
Cost of their accommodations? $0.
The Bakers had discovered one of the craftiest ways to save money on hotels: home-swapping. Whenever wanderlust calls, they list their four-bedroom home in Ottawa on several home exchange sites and trade lives with people around the planet—without paying them a dime.
See our slideshow of the World's Best Free Stuff
Sure, we all stumble across the occasional grocery-store sample or the no-cover music venue. But finding free events, accommodations, and transportation is especially important these days, when even the complimentary things we took for granted are disappearing. Checking your bag? $25. Soggy airline sandwich? $10. And now that the cost of gas is at eye-popping levels, free stuff is not just a bonus, it can be a vacation-saver.
Sometimes, of course, there are catches: the Bakers had to trust that the strangers living in their house wouldn't sell all their possessions on eBay (they've never had a problem). And there can be significant costs in accumulating enough frequent-flier miles to fly free.
But sometimes free really means free. One example: world-renowned works of art. True, some famous museums do away with tickets for a couple hours each week (usually at inconvenient times). But if you're heading to Great Britain, you'll find that all the national museums and galleries are free of admission fees, allowing you to peruse masterpieces by Picasso, Matisse, and Miró in spaces like London's Tate Modern for $0 (which, thankfully, converts to 0 euros).
"People don't expect national treasures from all over the world in the British Museum to be in free public display, but it allows our heritage to be available to everyone," explains Paul Mace, deputy head concierge for the May Fair hotel in Central London, who delights in telling guests that most museums are complimentary. "It's a nice and welcome surprise and illustrates how British people invite visitors to share what we have."
But just because New York City's MoMA now costs $20 to get into, it doesn't mean a Big Apple vacation has to take a debilitating bite out of your vacation budget—there are lots of free activities. Riding the Staten Island Ferry gets you a panoramic view of downtown Manhattan and a close-up view of the Statue of Liberty. Check out free museums like the American Folk Art Museum and the Guggenheim Museum Soho. Then hook up with a Big Apple Greeter and have a volunteer show you their favorite locales with a truly insider view (the program's also available in cities like Houston and Buenos Aires). There's no charge, and your guide won't ask for a tip (and will even throw in a $4 subway and bus credit for each person).
Sports fan? You could spend $50 or more to see the Chicago Bears football team play from nosebleed seats. But how about watching them up close—for free? Since the early 1980s, the Chicago Bears have opened their team training practice in Bourbonnais, Illinois, for three weeks to the public, at no charge. "All our home games are sold out, so training camp gives us the opportunity to reach out all to Bears fans," explains team spokesman Scott Hagel. Not only do fans see the team up close and personal, there are free football clinics, autograph sessions and firework displays.
It's that local, personal experience that drives Terry and Carole Baker to keep home-swapping. "We have been in extraordinary homes and experienced local culture," says Terry, "and saved a fortune."
See our slideshow of the World's Best Free Stuff