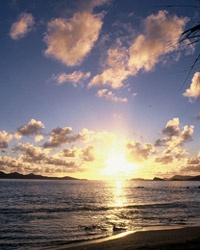 Courtesy of Peter Island Most Romantic Caribbean Sunsets Ten tropical spots for snuggling up as the sun goes down.
See the slideshow of the Most Romantic Caribbean Sunsets.
The Caribbean islands are famous for their sunshine—and rightly so. Is there anything more daydream-worthy, more symbolic of languor and ease, than those ubiquitous images of sugary white beaches, dappled palms, and turquoise lagoons sparkling in the sun?
Sunsets in the Caribbean don't get nearly as much attention. But they should. Those gorgeous stretches of sand and sea (well, at least the western-facing ones) are every bit as spectacular in the light of the setting sun, with Easter egg–colored clouds floating overhead. Especially when you have someone to share them with.
For centuries, sunsets—particularly sunsets over the sea—have inspired romantic musings. In his epic poem Evangeline (published in 1847) Henry Wadsworth Longfellow put it like this:
See the slideshow of the Most Romantic Caribbean Sunsets.
With all that melting and mingling and fiery touching, it's no wonder so many sunset-watching spots seem custom-tailored for couples. Grand Cayman's Seven Mile Beach, for example—though public, and actually closer to five-and-a-half miles—is long enough that starry-eyed duos find plenty of space for intimate evening strolls or picnics. And at St. Lucia's Jade Mountain resort, honeymooners (or wannabes) can soak together in private infinity pools—some as large as 900 square feet—while watching the sun go down.
In the Caribbean, though, romance doesn't always have to mean seclusion. It's hard not to have an enchanted evening at Jamaica's famous Rick's Café, for instance—lingering on the cliffside terrace for grilled seafood and Tropitinis, then dancing to live reggae music as the sun dips low. The same can be said for gathering among island locals on Antigua's highest hill, Shirley Heights, with its sunset views over sweeping beaches and sailboats bobbing at anchor.
Of course, each one of these spots can be the perfect setting for romance—as long as you bring the right person. But that's not up to the islands; that's up to you.
See the slideshow of the Most Romantic Caribbean Sunsets.