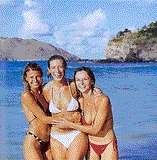 Melanie Acevedo Slip on a swimsuit and pass the turkey. Michael Gross indulges in a Thanksgiving on St. Bart's
'I should be chopping celery for stuffing,' Barbara says as she rises at 7 a.m. I pull a pillow over my head, but the scent of jasmine whispers me awake. It is Thanksgiving morning on St. Bart's.
The holiday has always been my favorite, mostly for culinary reasons. After my family dispersed from New York to three corners of the country, my wife and I began celebrating with friends. Last year, though, that didn't work out: two weeks before the big day, we had no plans. "Join us," my friend Gerry joked one night as we bemoaned our soon-to-be feastless state. "We have reservations at Maya's for a full turkey dinner."
I've long loved the St. Bart's restaurant run by Maya Gurley, a chef from Guadeloupe, and her husband, Randy, who grew up in Newport and Nantucket and knows a thing or two about tradition. When Maya went north two decades ago to meet Randy's parents, she found she loved Thanksgiving, and brought back recipes. But could I face a Thanksgiving without leftovers?No way, I thought. Then I considered . . . how good it would be to replace them with grilled langoustes, leisurely swims, and hikes across rocky landscapes. So instead of making turkey, we made reservations.
Once, St. Bart's was something of a secret. An eight-mile-square windswept island with a craggy coastline rising to a mountainous interior, it was inhabited by Carib Indians when Columbus sailed by in 1493 and named it for his brother Bartholomeo. About 150 years later, the first Frenchmen arrived. Tourists began to take notice after the end of World War II, once adventurer Rémy de Haenen had piloted his plane onto the field that is now the airport. Since then, the island has evolved from a celebrity hideaway to a sophisticated alternative for anyone who craves the Caribbean but can live without golf courses, casinos, and cold, corporate hotels. Sure, cruise ships now send tides of day-trippers through the restaurants and boutiques. But island habitués, ensconced in their rented villas and luxurious hotels, know it's as easy to avoid the scene as it is to make the scene on chic St. Bart's.
The arrival here is famously precipitous, though once you've done it a few times, it's more like an amusement park ride. Planes pass through a gap between two hills, appropriately called La Tourmente, and drop onto the second shortest landing strip in the Caribbean. There's no customs, just a man in uniform who checks passports next to the runway and actually looks glad to see you. Along the alley of car-rental booths on the other side of the tiny airport, signs list the names of the day's arrivals, many of them naggingly familiar: Kors, Radziwill, Smits, Wenner.
Usually Barbara and I rent a house, but because this time we're just stealing a weekend, we're staying at François Plantation. It's still low season, so the place is a bargain; the hotel even throws in a car. Unfortunately, no one told Europcar, and there is no answer when the young woman at the rental desk calls François to see if we're legit. This is both typical and pas de problème. We get a brand-new purple Suzuki jeep. St. Bart's is as trusting and crime-free as it is small. It is also utterly French, a mini Côte d'Azur just south of Miami.
Like all roads on St. Bart's, the route to François Plantation traverses mountains and hairy curves, and can seem far too narrow for cars to pass on (yet they do). We turn off the road, drive through a trellised gate, park, and walk down a jungly path. Little birds rustle the hibiscus, bougainvillea, and tropical vines outside the French plantation house. Messalina, our jet-setting West Highland terrier, rushes ahead to greet the house cocker spaniel. A pretty young woman wearing a white shirt open to a dangerously sexy tan hands us two beach towels and leads us to our bright pink bungalow— signature St. Bart's. First things first: we turn off the air conditioner and open the windows to enjoy the scents and the view of rough hills speckled with huge homes, uninhabited nearby islands, and sea.
There's enough sun left for a swim, so I forgo unpacking and drive to Anse des Flamands. As I bomb down roads that once scared me witless, I notice a change. Everything is incredibly lush, as green as I've ever seen it. It's been raining for a week, but there has also been an extraordinary effort by the local population, aided by the French army, to restore St. Bart's after Hurricane Luis in 1995. That storm washed away much of the salt from the soil: vegetation now thrives.
At the bottom of the road down to Flamands, a sharp turn leads to the ultra-exclusive Taiwana, a hotel and restaurant. Closed for a year, it's a giant construction zone swarming with workers. I peek through its gate and there is the owner, Jean-Paul Nemegyei, spreading his arms wide after squinting to be sure he's seen me before (it's that kind of place). "It's a whole new Taiwana," he exclaims. "We open in two days." St. Bart's has much to be thankful for this Thanksgiving.
After a dip at the nearly empty beach, I go back to the hotel to join wife and dog at the hilltop swimming pool. Along the way I pass two empty shopping malls, which are usually packed in January. Stopping in one to pick up provisions for the room, I drift by the poultry in the fully (if erratically) provisioned Match market and get a good laugh. There's no turkey.
Just before sunset we drop by Public beach, home of Maya's (and her planter's punch, made with fresh passion fruit). As the sun melts, we realize just how tired we are when neither of us can remember if our watches should be set forward or back an hour from New York time. Where to go for dinner on this exquisitely civilized island stuffed, like a turkey, with restaurants?Since we'll be spending Thursday at Maya's, we decide on La Marine, across the harbor. We typically end up there (along with half the island) on Thursday nights for moules marinières with parsley, shallots, white wine, and pommes frites. Since it's Wednesday, we settle for rosé and grilled langouste— huge, spiny, smoky, and bursting with roe.
Given the choice between nights and mornings on St. Bart's, we inevitably choose the latter. Right now, we can't wait for Thanksgiving to dawn. Back at the hotel, the bed is too high for Messalina. Barbara lifts her and a moment later, it's 7 a.m. and my wife is muttering about chopping celery.
Birds zip around outside our window, a cock crows, the sky is blue-gray. After breakfast on François's white-fenced terrace comes the big decision: which beach to visit?There's Grande Saline, the largest, most glorious stretch of sand. But it's a nude beach and a magnet for beautiful folk— and we're feeling a bit too pasty. We similarly reject St. Jean (it's a bathtub beach and we want waves), Shell Beach (we're not ready for the sound of Jet Skis), Petit Cul-de-Sac (too shallow), Colombier (pretty, but a half-hour hike), Marigot (too hard to reach), Lorient (too many children), and Maréchal (too small) before deciding on Gouverneur, located behind the huge estate of a rich American. It is gloriously undeveloped.
When we arrive at 9 a.m., there are few cars parked along the road. This is an unexpected reward of hotel life; when we're in a villa, we usually laze around drinking coffee and never make it to the beach until the crowds have come. Messalina patters onto the expanse of sand, turns her head, and bounces as if telling us to hurry up. "She just realized where she is," Barbara says, laughing.
On the drive back, we make a crucial decision: aside from swimming at Gouverneur and dining at Maya's, the rest of the weekend will be spent doing things we've never done on St. Bart's. That means no meals at our other favorite restaurants, Vincent Adam and Le Tamarin. We're determined to be adventurous.
Thus our first stop is the Lafayette Club, the très branché restaurant on Grand Cul-de-Sac beach. We've always avoided Lafayette, having heard that it is as expensive as it is exclusive. Sunlight dapples through the leaves on the trees, and the too-blue water sparkles a few feet away. Minutes later, designer Michael Kors (aha!) lands under a palm tree next to the restaurant's pool. A model circulates wearing little more than a kitten grin.
Finally it's time for the raison d'être of our trip: Maya's. The table is set with miniature pumpkins, tropical flowers, crisp linens, and embroidered napkins. Jann Wenner, publisher of Rolling Stone, heads a long table on the deck at the water's edge. His boyfriend, Matt Nye, and Anthony Radziwill— son of Lee, Jacqueline Onassis's sister— are with him, along with a passel of family and children. Back at our table, the serious business of eating proceeds. Maya has been cooking (and chopping) since 6:30 in the morning. Her innovations include free-range turkey from nearby Nevis, with Creole stuffing made of apples, onions, cranberries, and porcini (there's pumpkin flan for dessert). Half-jokingly, I ask for seconds, and sure enough, another plate arrives. Only then do we learn that Randy Gurley hasn't had firsts. In fact, there's no turkey left at all. But he's hardly unhappy. "I eat the kitchen's errors," he says. "I had carré d'agneau and mâche. It was very good."
As stuffed as Creole birds, we return to François. In the cigar bar behind the restaurant, we order an eau-de-vie and retire to our bungalow's terrace to sip the fiery stuff. The reflection of the moon on the water is phosphorescent gunmetal, Orion stands guard next to a cotton-candy cloud in the sky, the hotel gardens glow in the dark, the wind comes up, and we talk softly about how lucky we are. As I fall asleep, I think, I'd be washing dishes now.
It turns out the entire island adopted Thanksgiving with a vengeance. As befits a restaurant with a French chef, the turkey at La Case de L'Isle (at Hôtel St.-Barth Isle de France) was accompanied by lobster ravioli in pumpkin sauce and a croustillant topped with mushrooms and sweet-potato purée. Eddy's, in Gustavia, also served turkey, as did Le Patio, an Italian restaurant in the hotel Village St. Jean. Even at Kiki-é Mo, a take-out shop, you could buy full Thanksgiving dinners, prêt-à-manger!
Friday dawns and it's time to eat again. St. Bart's is dangerous that way. Breakfast at the Hôtel St.-Barth Isle de France, in a huge gazebo on the beach, is raisin cake, brioche, chocolate croissants, and turnovers. The espresso is strong and fragrant. Afterward, we laze on the beach at Flamands, swim among schools of tiny silver fish.
The party continues in the evening when a couple of New Yorkers, Harvey and Pauline, whom Messalina picked up on the beach, call and invite us to cocktails in the Treasure Suite, their cottage set in a cove beneath the Eden Rock Hotel, the first hotel on the island, built by Rémy de Haenen. There we find Eden Rock's proprietors, David and Jane Matthews. Once a corporate raider in London, he has chucked it all to restore the grand hotel. Sitting on the cottage deck, looking up at the ramshackle main house, we marvel at the antiques-filled room, the bathroom with a wall of rock, the pool, a St.-Tropez-style beach restaurant, and the Rock, a gourmet restaurant that will specialize in foie gras, oysters, and caviar. Food, glorious food.
We vow to spend Saturday burning off calories.
There are many ways to do that on St. Bart's: you could go to a gym, play water sports, hit the tennis courts. None of that for us: we head to Marine Service, a boat charter agency in Gustavia harbor, and rent a 17-foot Proline motorboat. Moments later, I am scaring my wife out of her wits as we speed clockwise around the island to the almost inaccessible Anse de Colombier. Unfortunately, the last leg in to the beach is in open sea, and it is rougher— much rougher— than it looked from shore. Guided by Barbara's screams, I learn to navigate big waves fast. The experience takes so much out of us, we ditch our plan to snorkel and instead just lie about and swim. Luckily, the trip back is easier. The only mishap occurs when I bring the little boat back into the dock a bit too quickly. "I got scared," I tell the deckhand who helps me ease in. "I did, too," he quips. Suddenly, I'm in the mood for a glass of rosé.
We spend our last night dining at Le Gaïac, the restaurant at Le Toiny, the island's most exclusive hotel. Le Toiny gained a certain notoriety as the place where Brad Pitt and Gwyneth Paltrow were photographed in the nude by cliff-climbing paparazzi. The cinematic duo are hardly the only stars to stay there. Its bungalows, each a suite with private pool, exercise equipment, fax, stereo, small kitchens, and fabulous bathrooms, are constantly booked, although manager David Henderson, the island's hunkiest hotelier, understandably declines to name names. Reluctantly, he confirms a tale told elsewhere, that he once turned away the late Princess of Wales. "We were full," he says with a pained expression. "There was nothing I could do."
Sleep comes easily on the last night. Packing is hard the next morning. There's only time for one last trip to Gouverneur and one last langouste at Eden Rock, where sail canvas snaps overhead, parrots jabber in a huge cage, fish lurk in the reefs below, and the planes taking off from the airport are a constant reminder that the next stop is home.