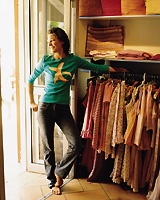 Max Kim-Bee Whether you're looking for sexy French sarongs or jewel-encrusted thongs, 10 boutiques where you can get your shopping fix on St. Bart's
POP QUIZ: WHAT'S PACKED AND FRENCH AND CHIC ALL OVER?ANSWER: ST. BART'S.
The Caribbean island has its own maverick dress code, which falls somewhere between Riviera couture and California beach-bum. We already know about the celebs and the supermodels. But you really want to watch the off-duty waitress in a clingy pareu and bikini top, toting a surfboard on a Vespa, her blond ponytail lashing as she navigates the coastal road between St. Jean and Gustavia. She's got the look. Ditto the daredevil cliff divers at Shell Beach—wet suits paired with Hogans.
For the late-night crowd at Le Ti St Barth (Pointe Milou; 590/279-771), the island's epicenter of cool, dressing for dinner is a competitive sport. Don't try to make a grand entrance in any old resort clothes; black mesh tanks and cropped satin hip-huggers are proper attire at this Gypsy caravan. (Remember, dancing on the tables is de rigueur, so leave your Jimmy Choos at home.) You can always pick up extra plumage at the restaurant's in-house bazaar, where trend watchdogs Carole Gruson and Thierry De Badereau stock the latest glad rags from St.-Tropez, Morocco, and Brazil.
And while St. Bart's also plays it safe with outposts of Hermès, Cartier, and Chanel, the island's most exciting boutiques test your style quotient with limited-edition labels. Here's where to find them.
GUSTAVIA
The port town of Gustavia is like a treasure hunt: some of the best shops are hidden down side alleys and up above street level.
Blue Coast Martine Alfare is a Paris expat who moved here to escape le rat race. Tucked in an alley off the harbor, her store is one of the few on St. Bart's that cater exclusively to men. (Beware of marauding wives and girlfriends.) Grab armloads of Alfare's soft linen shorts and shirts—the lime green and coral are top sellers—as well as floral Crossways and Kiribati surfer-dude trunks. 5 Rue du Bord de Mer; 590/296-018.
Calypso St Barth Don't despair if the shutters are closed—the laid-back staff will soon return from lunch. Like around four o'clock. (What are you doing shopping in the midday heat, anyway?) This is the original Calypso that started the fashion phenomenon. Chloé's fruit-emblazoned bikinis and T-shirts provide a whimsical note. Pair them with Jamin Puech totes, Technicolor leather Facteur Celeste thongs, and sexy Cool Change silk pareus. Top everything with a spritz of Léa, Calypso's own warm vanilla-almond eau de parfum. Le Carré d'Or; 590/276-974.
Lolita Jaca Above Gustavia's main drag, Jaca Faby woos you with her tightly edited collection of young, fun European designers. Just when you think you'll escape from this petite sirène empty-handed, she beguiles you with a shell-encrusted Antik Batik clutch from the back room. And suddenly you have a shopping bag full of Paul & Joe sweaters and demure Lola Parker bikinis. Les Hauts du Carré d'Or; 590/275-998.
Mandarine Squeeze into the palm-green Creole shack and snatch whatever you can find by Caribbean artist Jacob Scott, who fashions chunky handbags, bowls, and baskets from rope, sponge, fan coral, and other jetsam that washes ashore on Bequia's beaches. His bracelets—twisted skeins of black coral—are a big hit with the yacht crowd. Ti Case Vert, Rue de la République; 590/297-477.
Metis Need something bright and strappy to show off your Hard Candy toenail polish?Carole Thionville scours France for sweet Myma slingbacks, Jean Paul Barriol sandals, Le Plagiste thongs, and Pare Gabia espadrilles that will take your feet from the sands of Anse de Grande Saline to the dance floor at Boubou's (Grand Cul de Sac; 590/298-301). Plus, she has dainty Authentique Sud leather and raffia purses to match. And if you have the gall to bring a cell phone to St. Bart's, her macramé pouch covers up your social gaffe. Les Hauts du Carré d'Or; 590/298-108.
Syysuna by Free Mousse Does your rental villa need a few high-concept knickknacks?Drop into this home décor store for its handsome, monochromatic imports: creamy linen tablecloths from Latvia, Thai silk table runners, Laguiole picnic knives and corkscrews, hand-carved Italian salad bowls. Best hostess gift: the fuzzy faux-leopard-skin nutcracker. Le Carré d'Or; 590/277-504.
ST. JEAN
When you land at the island's airstrip in St. Jean, you notice only the sparkling water and endless beach. And then you focus on the boutiques devoted to sun and sand.
Kiwi It's advisable to hit the gym before you brave this bijou swimwear shop. The outrageous collection of skimpy bikinis and thongs from St.-Tropez look stunning on beach bunnies (the tiger print is très outré). Matching spandex miniskirts in aqua, hot pink, and lemon yellow will get you past any maître d' on the island, at least before sundown; in contrast, the men's patterned cotton trunks are practically prim. Villa Cré-ole; 590/275-708.
Mia Zia Belgian-born Philippe de Nys fell in love with the souks of Morocco, so he struck a deal with Marrakesh designer Valérie Barkowski to create a vibrant line of merino knit separates for his new store. Sporty accessories include silk bungee-cord bracelets, woven straw hats from Senegal, and viscose totes, but the home run here is a clever terry djellaba that looks as if it came straight from the desert. The baby version is even more adorable. 8 Villa Créole; 590/275-548.
Terra Jewelry designer Annelisa Gee, who places rare and semiprecious rough-cut gems in dainty gold settings, has a big Park Avenue fan club. (Marie Chantal of Greece and Lauren Hutton have snapped up her informal baubles.) Team one of Gee's single-strand chokers or cocktail rings with a silk Indonesian pareu or flirty sundress by Tibi and a beaded Ipanema bag—all for sale here, too. Pelican Plage; 590/275-750.
LORIENT
More residential than resort, Lorient, between St. Jean and Marigot, is quieter than the island's other towns. The only time it bustles is when school lets out and roads jam as mamans pick up their kids.
Ligne St Barth Will someone please tell the French that tanning has a downside?Luckily for the beach-and-bake set, Birgit Brin left behind frigid German winters to open a skin-care lab in Lorient. Watch techs in white coats blend purified seawater with Caribbean plant and fruit extracts, and then pick up the finished product: luscious mango-butter moisturizer, avocado massage oil, papaya facial peel. While Euros slather on Brin's zero-protection coconut oil, cautious Yanks prefer the Roucou SPF 50 block. Route de Saline; 590/278-263.
SURF AND TURF
When the clock strikes noon, St. Bart's shuts down and locals heads home for lunch. Skip your hotel's overpriced salade langouste, fling your mask and flippers into the Mini Moke, and retreat to Gouverneur or Flamands beach for the afternoon, with a picnic from one of the island's epicurean emporiums. Sud, Sud . . . Etc. Galerie du Commerce, St. Jean; 590/279-875. First stop, for a large straw tote made of baobab bark to carry it all. Match Supermarché La Savane Commercial Center, St. Jean; 590/884-806. Best menu: rotisserie chicken, Brie, Parma ham, and a crisp baguette. Add a chilled six-pack of Socrema—a fizzy Caribbean grenadine soda—or browse the liquor aisles for deeply discounted Dom Pérignon. Kiki-é Mo Catering St. Jean; 590/279-065. The tiny take-out shop carries delicious salads, panini, and fruit tarts. La Rotisserie Commercial Center, St. Jean; 590/297-483. Pick up treats from Paris-based Fauchon, including chocolates and foie gras. Vit Olive Lorient; 590/529-622. This is the place for Provençal honey, anchovy paste, and truffle-infused oils, plus a briny selection of black and green olives from France, Spain, and Italy.