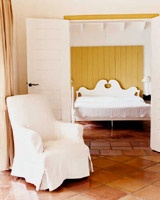 Buff Strickland If it's scene you're after, these four time-tested St. Bart's hotels will fit the bill. (But then there's the matter of the bill.)
St. Bart's is a private club posing as a Caribbean island, with all the style (and attitude) you expect from the French. On the hotel front, the possibilities have never been greater. Traditional resorts, boutique properties that rock into the night, freestanding villas that defend your privacy: they're all jockeying for your business. Measuring in at just 10 square miles, St. Bart's may be petite, but that hardly makes navigating the hotelscape easy. With so much to know (and the season just about to begin), we thought we'd better clue you in.
EDEN ROCK HOTEL Baie de St. Jean; 877/563-7105 or 590-590/297-999; doubles from $689; www.edenrockhotel.com. When wags say that St. Bart's has a St. Tropez complex, they have the Eden Rock Hotel in mind. It's the scene-iest hotel on the island. For anyone with even sketchy experience of France's summer fleshpot capital, the cast is familiar: beautiful girls in Sticky Fingers tank tops and camouflage headbands, Women of a Certain Age with spectacular boob jobs, potbellied moneymen chewing on Cohibas. At the Sand Bar, the Eden Rock's beach restaurant, a pipe running the length of the awning's edge emits a curtain of cool mist. At night, the hotel's logo is projected onto the sand, as if the Eden Rock were a movie celebrating its opening.
Smothering every inch of a tiny northern promontory with a pocketful of mismatched cottages thrown up wherever there was space between the boulders, the hotel didn't always cultivate a tape-à-l'oeil reputation. It was created organically over time, with no great concern for logic, starting in 1951, by Rémy de Haenen, the father of St. Bart's tourism. What people prized about the Eden Rock in de Haenen's day was its enchanting air of shipwrecked desuetude.
Much of that changed when David Matthews, an English entrepreneur who made his fortune in city-transport systems, purchased the place in 1995 and began running it as a real, numbers-crunching business. To his credit, Matthews understands something about the spot's original, bohemian magic. Under him the reception area has become a deliriously baroque cocktail of stuffed animal heads, blackamoors, mirrors framed with gilded putti, and a painting of St. Michael's Mount that is as big as it is bad. It's not every hotel that can get away with a Jerry Vale sound track and stone maidens proffering urns. But without descending into kitsch, the Eden Rock makes them a meaningful proposition.
The hotel has grown under Matthews, from 6 to 16 guest rooms. They're pure Fantasy Island, with wonderfully goofy upholstery, needlepoint cushions, florid antiques, and acid-toned plaids. Not everyone is juiced about the Eden Rock's evolution, however. As one local put it, trying not to sound critical, "The Eden Rock started out as a small hotel on a big rock. Now it's a big hotel on a small rock."
I didn't know how to break it to him that the hotel is getting even bigger. This year Matthews acquired his well-liked if slightly mumsie neighbor, the 30-room Filao Beach Hotel, which will close in April for a complete makeover in the Eden Rock's image, take its name in marriage, and reopen in late 2004. One of the things the Filao's new owner hopes to improve is the architecture: the existing bungalows look like Monopoly houses.
With the merger, Matthews is looking forward to fattening a customer base that thinks nothing of dropping $431 for 50 grams of Shassavar caviar in his Le Rock Restaurant. His secret?"I'm not a professional hotelier. I guess sometimes it pays not to know what you're doing."
EDEN ROCK HOTEL
THE LOOK Sunstruck British Eccentric
THE SCENE St. Tropez transfer
SECRET WEAPON Tapas on the Rocks, a sizzling restaurant with multiple levels glued to a cliff face
DIRTY SECRET A tight squeeze
BEST ROOMS Harbour House, owner David Matthews's quarters, which he also rents out; and Haenen, the former digs of the Eden Rock's founder
HOTEL GUANAHANI Grand Cul de Sac; 800/223-6800 or 590-590/276-660; doubles from $558; www.leguanahani.com. If you like low-key, you'll love Guanahani. It will never win a personality contest, but then personality is hardly the point here. The hotel contents itself with offering a traditional, bona fide destination-resort experience, like Little Dix Bay on Virgin Gorda, or Caneel Bay on St. John. Buzz?Guanahani is just not interested.
Being a card-carrying resort means that guests can check in and never once leave the hotel if they are not of a mind to. You want your hair bobbed, you go to the coiffeur. You want a tennis lesson, you book with the resident pro. You can get an acceptable crab sandwich on the beach at L'Indigo at one, a $52(!) first course of foie gras with a "ratatouille" of mango and other exotic fruit on the veranda at Le Bartolomeo at eight. Okay, maybe you sneak into Gustavia to troll the watch shops, but no one would think of missing the cocktail party hosted by the French general manager. And so on.
If it all sounds a little like a cruise ship, it is. There's even a photographer who circulates at dinner, to the tinklings of a pianist playing "Lara's Theme." No shorts or T-shirts, s'il vous plaît.
Indeed, of all the top-tier hotels on St. Bart's, none is more into control than Guanahani. Nobody—neither management nor patrons—wants anything unscripted to hap-pen, and happily, nothing does. This ethos extends to the setting. The property occupies a 16-acre peninsulaand has the secure, self-contained atmosphere of a gated community. Sixteen acres may sound like a lot, but build several dozen gaily painted West Indian cottages on them, and there's not much left over. The cottages are garnished with lacy gingerbread trim and include 75 guest rooms. That's approximately 22 too many for the size of the main beach, which is nice enough, just too small. The resort makes a big deal about its second, backup beach, but it's not as well groomed, there are no lounges or palapas, and you can forget about someone to take your piña colada order. No one sets foot on this beach.
The good news is that Guanahani is in the midst of a refurbishment; the bad news is that the general manager is making all the design decisions—never a good idea. Accommodations come in a variety of flavors, including Antillean Formal (mahogany four-posters, caned plantation chairs) and Decorator Castaway (turquoise vanities in glazed volcanic stone, crayon-colored knotty paneling). Unfortunately, the redo will take at least another year, and in the meantime many rooms have a patchy, transitional feel. Be sure to get one that's finished.
HOTEL GUANAHANI
THE LOOK In flux
THE SCENE Readers of Michael Crichton from Fairfield County
SECRET WEAPON Reliable, unofficious service
DIRTY SECRET No window screens
BEST ROOMS No. 6, for a preview of the new Guanahani
HOTEL ST.-BARTH ISLE DE FRANCE Baie des Flamands, 800/810-4691 or 590-590/275-666; doubles from $487; www.isle-de-france.com. You have to tip your hat to the Hôtel St.-Barth Isle de France. A full redesign completed in 2002 turned the rather squeezed quality that had always dogged the hotel into a sexy asset. Behind the change are new proprietors, an English couple who patronized and loved the Isle de France for years before finally deciding they had to own it. Under their stewardship, the hotel's physical tightness has given rise to a fizzy nonstop cocktail-party atmosphere that makes better friends of people who already know each other, and fast friends of utter strangers. Whatever the opposite of a social animal is, that's me. I hardly recognized myself high-fiving and clinking glasses with fellow guests I'd met barely 10 minutes before.
The 33-room hotel is also the kind of place where guests seem to run into people they haven't seen in ages. As an absorbed bystander, I attended the giddy reunion of two soccer moms who'd gone to high school together in Dallas. They squealed, they hugged—then disappeared into the gift shop to buy identical bead-fringed pareus.
The chance to pose and preen shoulder-to-shoulder under an azure sky isn't the only reason fans of the Isle de France lock in their reservations a year in advance. The beach is arguably the best (at least when the wind's not blowing) of any hotel on the island, offering nice if short walks (no one goes to St. Bart's expecting Montauk), plus room to spread out the trophy beach towel you paid way too much for at Hermès in town.
Guests also like the look, which is as crisp as a bowl of iced crudités. Thick stalks of bamboo dipped in matte white paint and posed self-consciously in white, wide-mouthed, crackle-glazed pots tell you everything you need to know about where the Isle de France is coming from, looks-wise. Nothing to scare the horses. And while most people probably couldn't put it into words, it's clear they like the novel in-between way the property has positioned itself, as something more than a hotel but not quite a full-blown resort. Very clever.
So is the layout. The Isle de France is sliced in two by a narrow, rustic public road that ends in a nearby cul-de-sac. The main building, brilliantly whitewashed and trimmed in the blue of an old French pushcart, incorporates a small swimming pool, a snug little bar, a glamorous breezeway framing heart-catching snapshots of the sea, and a restaurant with a fondness for gloppy pasta dishes served in tall, silly, trapezoidal glass bowls. While anyone in a ground-level room should be prepared for that cocktail party to spill onto his or her terrace, second-floor accommodations provide a lordly perch for observing the action at a near remove. Those with privacy issues are strongly advised to reserve an unattached cottage on the other side of the road amid the luxuriant palm and banana trees.
Service can be scattered, and that's being kind. Most things you have to ask for two, three, four times—and even then it might not happen.
At these prices?
HOTEL ST.-BARTH ISLE DE FRANCE
THE LOOK Beachy-elegant, with French and Asian touches
THE SCENE Old home week for arrivistes
SECRET WEAPON The most exhaustive spa on the island, branded Molton Brown
DIRTY SECRET A spitfire, in-your-face manager
BEST ROOMS Beach suites, for the surf- and people-watching
LE TOINY Anse de Toiny, 800/932-3222 or 590-590/278-888; doubles from $1,626; www.letoiny.com. From now on, every December when I read in the New York Times Sunday Styles section about movie moguls and heat-packing hip-hop impresarios spending New Year's on St. Bart's, I'll always picture them at Le Toiny. Built into a gently sloping hillside, the resort has just 14 one-bedroom and one three-bedroom independent villas, all with wide-open water views, kitchens, and 10-by-20-foot private pools. If every unit came with its own bodyguard, no one would find that surprising.
You know what I'm saying?
In high season the smaller accommodations, which are just under 1,100 square feet, go for a breathtaking $1,626 a night, and that's not a typo. How easy is it to imagine putting on your bootylicious chamois-leather bikini, accessorized with a couple of diamond pendants, and jumping into one of those pools with a magnum of Cristal?Very. I'm seeing Trina...Mya...
Considering the rates, you'd have every right to assume Le Toiny has a sensational beach, but your assumption would be wrong. Ask any of the hotel's pretty young French staff-ers, their hair swept up and pinned into magnificent chignons, which footpath leads down to the sea, and her face will turn from sunshine to rain. It's not that the beach is bad; it's just wild, with no provision made for those who might want to simply watch the sun rise. The thinking is: Why would someone like Harvey Weinstein schmooze with Gwyneth Paltrow on the beach, with the potential annoyances of wind and sand, when he can do it in the comfort and seclusion of his own villa?
Why indeed. Decorated in a safe but pleasant idiom, the 14 villas almost have it all—luxuriously bare oak floors, limed tray ceilings, Chippendale-style mirrors, sofas that invite flopping down with a good book, walk-in closets, fax machines (which some guests apparently prefer for making their needs known to the front desk), plus—in many rooms—giant wall-mounted plasma television screens. Only the toile fabrics hit the wrong note: Too bright, too busy. And while personally I'm not a big fan of white marble, it would be hard not to be impressed by the scale of the bathrooms. Twin vanities face each other across an expanse wider than many Manhattan apartments.
As for the kitchens, I was just about to describe them as "full," when I remembered that mine had not a single pot or pan. This may have something to do with Toiny's restaurant, Le Gaiac. It's a winner, despite the dated dots and dribbles of spices and oils, and an ambience that can be deadly even in the thick of February. Le Gaiac is an Event Restaurant, one that does a stunning job with that quintessential Event Dessert, crèpes Suzette prepared tableside. Practically everything else on the fashionable menu seconds St. Bart's love of high-pitched Asian-inflected French food.
So who cares if the kitchens in the villas at Le Toiny are almost pure window dressing?Who comes to St. Bart's to cook?Probably not Ashanti.
LE TOINY
THE LOOK Tradewinds traditional
THE SCENE V.V.I.P.
SECRET WEAPON The Suzuki Samurai jeep included in the Awaken in the Dream package
DIRTY SECRET Personnel who ignore the red flag outside your villa, which is supposed to signal "do not disturb"
BEST ROOMS No. 6, for maximum paparazzi protection.
MORE ISLAND NEWS
La Banane
BEST VALUE Hidden in a dense tuft of luscious vegetation, La Banane wouldn't be considered a value option anywhere but on sticker-shocker St. Bart's. Depending on how you experience space, you'll find the coolly contemporary nine-room hotel marvelously intimate—or too close for comfort. Best feature: the alfresco showers.
DOUBLES FROM $455. BAIE DE LORIENT; 590-590/520-300; www.labanane.com
François Plantation
This discreet St. Bart's mountaintop classic has transformed its formal restaurant into a nautically themed wine bar, with more than 40 wines by the glass and a more freewheeling, global menu.
DOUBLES FROM $310. COLOMBIER; 590-590/298-022; www.francois-plantation.com
Sereno Beach Hotel
Hotelier Andre Balazs (New York's Mercer, L.A.'s Standard) is betting he'll reprise Christian Liaigre's success at Club Med Bora Bora by hiringthe designer to reinvent this dowdy resort with great bones. The Sereno is closed for renovation, but a relaunch is set for fall '04.
GRAND-CUL-DE-SAC; 590-590/276-480; www.serenobeach.com