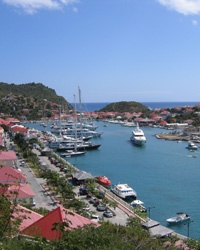 iStock This speck of volcanic rock has become the ne plus ultra of Caribbean glamour. T+L takes a look at the invention of a resort destination.
Originally called Ouanalao by the Carib Indians, St. Bart's has been "discovered" repeatedly since Columbus arrived in 1493 and renamed it for his brother Bartholomeo. The French followed in the 1600's, and although they were briefly supplanted by the Swedes, they were so well entrenched that the families of those original settlers still run St. Bart's. Over time the tasteful combination of Gallic chic, imported gourmet groceries, and tropical climate has proved irresistible. In recent years, the stock of this Caribbean version of St.-Tropez has done nothing but appreciate, as has its roster of $1,000-a-night hotels, restaurants, boutiques, and nightclubs. And its once-quiet, sheltered harbor is now a crowded parking lot where superyachts have to putt-putt into port. So just when did this tiny isle with no casinos or golf courses become the destination of choice for moguls and models, and the heat-seeking voyeurs who love to watch them?It all started, appropriately enough, in the last Gilded Age.
St. Bart's: a Timeline
1878
A series of disasters (fires, epidemics, hurricanes) leads the Swedish government to reconsider its ownership. Islanders pass a referendum to revert to French control, insuring that future visitors will breakfast on croissants rather than filmjölk (sour-milk yogurt).
1945
Sometime provisions smuggler, Rémy de Haenen lands an airplane on a goat pasture that eventually becomes the island's only airport. He also builds a home on St.-Jean Bay; it's now the Eden Rock Hotel, the best-situated resort on St. Bart's.
1957
The moguls cometh: David Rockefeller buys two plots of land, one on Gouveneur Beach. The Rothschild family also arrives, building an estate in a coconut grove next door to what later becomes the Hôtel Guanahani & Spa.
1972
Justin Colin, then president of the American Ballet Theatre, opens the four-room Les Castelets hotel, atop Mont Lurin. The dining room becomes the island's first great restaurant and celebrity magnet, attracting boldface names such as Mikhail Baryshnikov, before the property is destroyed in a hurricane in 1995.
1975
Roger Lacour, owner of a beach bar on St.-Jean Bay, and his wife Brook open a travel business that evolves into the agency Sibarth (sibarth.net), which rents and sells luxury villas. The island's unique social ecosystem—allowing either ultra-privacy or extreme socializing—starts to take shape.
1976
Jimmy Buffett arrives, but doesn't eat that apocryphal cheeseburger in paradise at the legendary Le Select. "We did get rip-roaring drunk," Buffett says. He later invests in Autour de Rocher, a small hotel that houses the island's first disco. It burns to the ground in 1991.
1984
Business is booming: Randy and Maya Gurley open Maya's, a perennial in-spot on Public Beach. In nearby Gustavia, a boutique called Sorry No Telephone sets up shop—named after the obstacles one faces when trying to get a St. Bart's landline.
1995
St. Bart's hits Page Six. Brad Pitt and then fiancée Gwyneth Paltrow are photographed nude by paparazzi at Hôtel Le Toiny, a property previously best known for the decadent four-course dinners served at its Restaurant Le Gaïac.
2003
Chez Francine, a sandy-floored St.-Jean Bay beach shack serving grilled lobster, gives way to the oceanfront bar and restaurant Nikki Beach, caviar, Cristal—and a new set of island regulars, including P. Diddy and Russell Simmons.
2008
Sorry No Telephone is no more. Flamands Beach, home to Hôtel St. Barth Îsle de France, is emblematic of the new St. Bart's: alive with the sound of cell-phone chatter. At least Rémy de Haenen's airport is still too small to land mega jets.