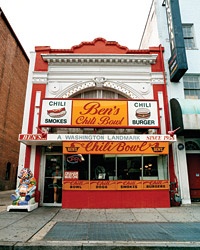 Whitney Lawson The oldest restaurant on U Street, open since 1958, has catered to the likes of Martin Luther King Jr. and Bill Cosby. New life comes to once gritty capital streets, as shops, restaurants, galleries, clubs, and scenesters take up residence.
As D.C.'s inner city blossoms, roughly six contiguous areas north of downtown are being grouped as MidCity. At its heart, Logan Circle (a genteel Victorian residential quarter in its day) and the U Street Corridor (a creative hub once hailed as Black Broadway, where hometown hero Duke Ellington grew up) have been among the city's most embattled neighborhoods. Now there's an influx of artists, students, and professionals, and businesses are opening in a collaborative spirit—with one eye toward the global village and the other very much on the local scene—showing what can happen when fashion, art, and food mix with politics.
WHAT TO SEE Half of the artists represented by Nevin Kelly Gallery (1517 U St. NW; 202/232-3464; www.nevinkellygallery.com) live in Poland, the rest are in D.C.: a delightful hybrid of old-world skillfulness and new-world dash. Founded by a Georgetown University professor, Irvine Contemporary (1412 14th St. NW; 202/332-8767; www.irvinecontemporary.com) exhibits work by well-known early- and mid-career artists—such as mixed-media dreamscapes by Robert Gutierrez. At bi-level Project 4 (903 U St. NW; 202/232-4340; www.project4gallery.com), guest curators organize shows of works from D.C. (photography, sculpture, site-specific installations).
WHERE TO EAT Busboys and Poets (2021 14th St. NW; 202/387-7638; lunch for two $27), is a café, performance space, and bookstore to a diverse clientele that favors the individual pizzas and well-pulled espressos as much as the readings by the likes of Barbara Ehrenreich and Amiri Baraka. On Sundays, the brunch crowd hits Crème (1322 U St. NW; 202/234-1884; brunch for two $25) for chef Terrell Danley's nouveau-soul cooking: think crispy fried chicken on fluffy Belgian waffles, doused with maple syrup. Since 1958, Ben's Chili Bowl (1213 U St. NW; 202/667-0909; lunch for two $17), a survivor of historic riots and economic depression, has satisfied fans with irresistible hot dogs and chili–cheese fries. Local-farm champion Barton Seaver's Café Saint-Ex (1847 14th St. NW; 202/265-7839; dinner for two $55) is packed night and day for such specialties as fried green tomato BLT's. At Viridian (1515 14th St. NW; 202/234-1400; dinner for two $64), MidCity's most sophisticated restaurant, Antonio Burrell also buys locally for his clean-flavored dishes, like tofu-and-mushroom terrine with red-pepper jam. Owned by two brothers, Etete (1942 Ninth St. NW; 202/232-7600; dinner for two $36) wins in a crowded field of Ethiopian restaurants; try the chicken with fresh ginger and hot pepper.
SHOP The owner of Muléh (1831 14th St. NW; 202/667-3440) scouts fine contemporary furniture from Asia and fashion from the United States and Europe (he was one of the first to carry 3.1 Phillip Lim). On the airy second floor of a row house, Nana (1528 U St. NW; 202/667-6955) delivers stylish, affordable fashion from up-and-coming designers. Look for Holly Aiken's striking "vegan-friendly" vinyl bags. Wild Women Wear Red (1512 U St. NW; 202/387-5700) sells sexy but practical shoes, such as puzzle-patterned suede boots by Camper and Lisa Nading loafers with kittenish heels. At the cavelike Carbon (1203 U St. NW; 202/986-2679), limited-edition mod Chelsea boots from Italy and deconstructed, rubber-soled wing tips by Blackstone attract professionals who don't take themselves too seriously. Lettie Gooch (1911 Ninth St. NW; 202/332-4242) has polished, slightly offbeat clothes and accessories, including herringbone pencil skirts with flirty back pleats from Black Halo, and delicate rolled-paper-and-silver strand necklaces by local designer Ayanna. Candida's World of Books (1541 14th St. NW; 202/667-4811) leaves bookstore travel sections far behind, and stocks cookbooks, coffee-table tomes, and fiction in 15 languages from 40-plus countries. Even the kids' section is multilingual.
WHERE TO GO OUT Hipsters and politicos with down time head to Gate 54 (1847 14th St. NW; 202/ 265-7839), a moody lounge with a speakeasy vibe. DJ's spin nightly, and on iPod evenings, locals plug in their own collections. Named for a 1987 House resolution honoring jazz, the nonprofit HR-57 (1610 14th St. NW; 202/667-3700) is dedicated to preserving the groove in an area once thick with clubs headlining such luminaries as Miles Davis and Sarah Vaughan. On Wednesdays and Fridays, HR-57 hosts the city's hottest jam sessions. The Duke would be proud.