Kakamega Forest
TIME : 2016/2/22 11:54:03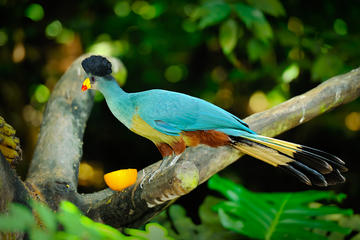 Kakamega Forest
Kakamega Forest is what remains of the mighty Guineo-Congolian rainforest that once spanned across central Africa, from east to west. It's situated in western Kenya, near the border of Uganda and around 350 kilometers from Nairobi city.
The Kakamega rainforest is particularly famous for its variety of bird species, with an estimated 360 species living here, including many not found anywhere else on the planet. Rare birds include the great blue turaco, the blue headed bee-eater, and the black and white casqued hornbill, among others.
The forest is also home to a wide range of unique flora, as well as 400 species of butterfly. Of the plant life found here, it's said that 80% have highly medicinal properties, with local people traditionally using them to cure a variety of ailments. The mammals that call the forest home include seven species of primate, bush pigs, porcupines, flying squirrels, fruit bats, mongoose, clawless otters, and many more.
Practical Info
It's just under 20 kilometers from Kakamega town to the entrance of Kakamega Forest.
Visitors should note that Kakamega is situated in an incredibly wet part of Kenya, receiving some of the highest rainfall in the country, most of which falls between April and November. Therefore, it's a good idea to take good hiking shoes and a raincoat!
You Might Also Like