Tsavo National Park
TIME : 2016/2/22 11:54:09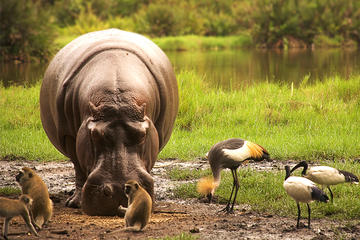 Tsavo National Park
Though forming one contiguous stretch of land, Tsavo is split into two entities either side of the main Nairobi-Mombasa road. Tsavo East National Park is the larger of the two, and is famed for its huge numbers of elephants that gather at the Galana River and wander across the plains. You may also spot lions, leopards, rhinos and buffaloes to complete the "Big Five" of game-spotting, and the park is a haven for a huge range of bird species.
Tsavo West extends southwards to the Tanzanian border, and includes the beautiful Mzima Springs. Here you can watch hippos, Nile crocodiles and fish swim by in a submerged viewing tank. There are also great opportunities for rock climbing, hiking and cave exploration.
Practical Info:
Tsavo East and West are in the south-east of Kenya, with the coastal city Mombasa about 66 miles (106 kilometers) from Tsavo East's closest point. There are lodges and campsites for overnight stays.
You Might Also Like