Lake Naivasha
TIME : 2016/2/22 11:54:15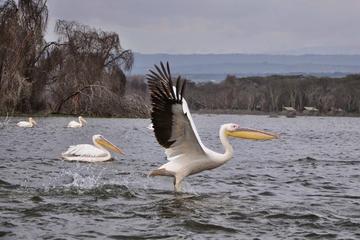 Lake Naivasha
Situated at an altitude of 1884 meters, Lake Naivasha is a freshwater lake in Kenya located around 100 kilometers northwest of Nairobi and near the town of Naivasha (formerly East Nakuru). The lake is part of the Great Rift Valley and its name comes from the Maasai word, Nai'posha – which translates as "rough water" – on account of the storms that can suddenly arise here.
This vast lake is surrounded by a swampland and fringed by papyrus plants. Among the residents of the lake are over 400 species of birds, including fish eagles, ospreys, lily-trotters, black crakes, and herons, and it's also home to a large community of hippos. A number of other mammals are also drawn here and it's not uncommon to see zebra, impala, buffalo, giraffe, and kongoni grazing in the areas surrounding the lake.
Practical Info
Lake Naivasha is a popular spot for day trips and weekends away from Nairobi. There are two roads connecting Nairobi and Naivasha; the A104 and the B3. The A104 is the starting route for many safaris, which means most visitors will get their first glimpses of Kenya's rural landscape as they drive along it.
You Might Also Like