Mount Kilimanjaro
TIME : 2016/2/22 15:08:33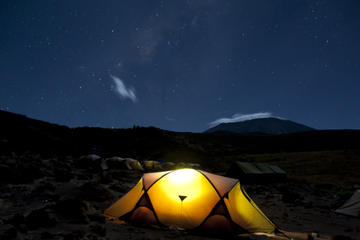 Mount Kilimanjaro
There are few mountains more iconic than Africa's tallest peak. Mount Kilimanjaro has attracted authors, adventurers, travelers and thrill seekers for hundreds of year, promising a challenging climb and unprecedented views. With a summit that measures an impressive 19,341 feet and transitions through some five different climate zones, the snow-capped peak offers travelers a serious sense of accomplishment and an incredibly memorable African experience. 
A network of seven official trekking routes wind up and down Kilimanjaro. Travelers agree that Machame—one of the most challenging routes—is the most scenic. Rongai, a less scenic but much easier pass, is accessible to hikers of all levels. Still, steep climbs, changing elevation and unpredictable weather can make reaching the summit a test for almost anyone. Those tight on time may not be able to climb Kilimanjaro's peak, but they can still visit the base camp in the municipality of Moshi.
Practical Info
Though Kilimanjaro is famed as one of the world's tallest walkable mountains its difficulty level still ranks as challenging. Travelers should allow seven to ten days to climb and properly acclimate to the change in elevation. It's necessary to hire a trek operator and guide for the excursion. Most of these organized groups include camping, food, a guide, park fees and transport. They can cost anywhere from $2,400 to $5,000 per person. High season is between January and March and September and October.
You Might Also Like