Mount Meru
TIME : 2016/2/22 15:08:41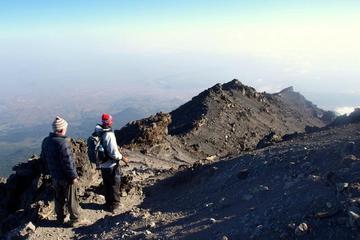 Mount Meru
Mount Meru, Kilimanjaro's more accessible cousin, is located east of the Great Rift Valley in the small but beautiful Arusha National Park. Recognized as the second tallest mountain in Tanzania and the fourth highest on the continent, its towering peak and fertile soil attract avid hikers because of the easy trails and diverse wildlife. 
Travelers agree that Mount Meru offers incredible views of the summit crater and Mount Kilimanjaro, as well as access to numerous African animals. (The fertile soil surrounding this still active volcano is home to some 400 species of indigenous birds, several types of monkeys and a handful of Tanzanian leopards.) A trip to this less-traveled peak is typically done in conjunction with an excursion to one of Tanzania's more popular destinations: Mount Kilimanjaro, the Ngorongoro Crater or Mount Kenya. But this just means travelers looking to get back to nature can escape the congestion on the trails of Mount Meru. 
Practical Info
Mount Meru is located 70 kilometers west of Mount Kilimanjaro. It last erupted in 1910 and is nearly 15,000 feet tall. Entry fee to the park is $25 a day. Mandatory guides are available for around $20 and costs should be paid in US dollars. Hikes from Momella Gate begin between 9 a.m. and 3 p.m. Peak hiking season is from June to February, with the best views of Kilimanjaro between December and February.
You Might Also Like