Old Fort (Ngome Kongwe)
TIME : 2016/2/22 15:08:44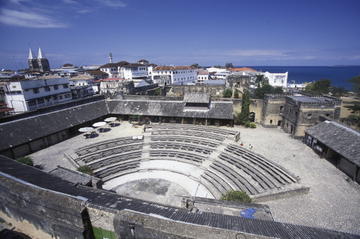 Old Fort (Ngome Kongwe)
Built in the 17th Century, Old Fort is one of the main attractions in Stone Town and perfect starting out point for first-time visitors to Zanzibar. Its giant stone fortress once protected the city from an outside attack, and it was later used as a prison to house local lawbreakers. Today, the Old Fort has been transformed into a cultural center that caters to tourists interested in exploring the history of the place and purchasing souvenirs like popular paintings and handmade jewelry.
The open-air theater is the perfect spot for travelers to catch a live dance performance or experience the local live music scene. The Old Fort also provides space for major festivals and even has an information desk for travelers in search of tips, advice and guidance from residents in the know.
Practical Info
The Old Fort is located on Mizingani Road, adjacent to the House of Wonders and facing the Forodhani Gardens. Old Fort houses the Zanzibar International Film Festival, which takes place each July.