Tonlé Sap
TIME : 2016/2/22 10:03:40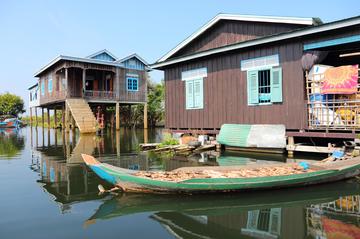 Tonlé Sap
This great lake in the heart of Cambodia is not only the largest body of fresh water in Southeast Asia, it's also a UNESCO-designated biosphere, due to its truly remarkable natural features. The flow of water in Tonlé Sap changes direction twice during the course of the year, and the lake expands and contracts with the seasons. From November to May—the country's dry season, the lake empties into the Mekong River. Once the rains begin, however, the waters reverse to form an enormous lake popular among both locals and travelers. 
Visitors can embark on boat trips across some of the lake's 4,000 square miles in both rainy and dry seasons, but travelers agree that the floating houses that make a trip to Tonlé Sap so unique are less spectacular when water levels are at their lowest.
Practical Info
Those looking to experience the lake at its peak should visit Tonlé Sap between August and September, when water levels are at their highest. Water levels are at their lowest between April and June.
You Might Also Like