Leshan Grand Buddha
TIME : 2-22 10:11:21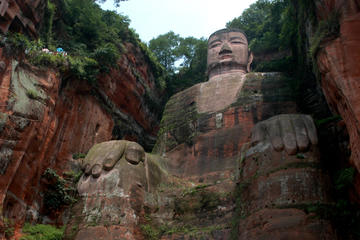 Leshan Grand Buddha
The 233-foot (71-meter) tall Grand Buddha in Leshan (also called the Leshan Giant Buddha) holds the record as both the tallest stone Buddha sculpture and one of the tallest sculptures anywhere in the world. Construction of the Buddha, carved out of the mountain, began in 713 when a Buddhist monk by the name of Hai Tong decided to carve the statue as a way to gain divine protection for local fisherman who were getting killed each year by violent river currents.
Ninety years of work went into the carving of the Grand Buddha, but the river rages on. After earning a place on the UNESCO World Heritage list, the statue has undergone extensive repairs, and today you can see it in much of its original glory with a day trip from Chengdu.
To see the statue from all angles, take the stone staircase down the statue's right side from the gift shop just behind his head. Once you've zigzagged your way down, you'll find a viewing platform at the statue's toe level. For the best views, you'll have to shell out a few dollars for a boat ride on the river.
You Might Also Like