Elephant Trunk Hill (Xiangbishan)
TIME : 2016/2/22 10:11:31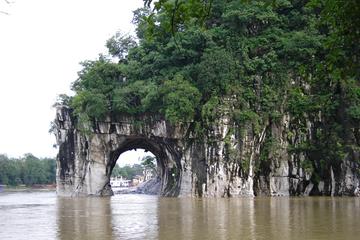 Elephant Trunk Hill (Xiangbishan)
Guilin's most famous sight is a rocky outcrop on the Li River whose natural stone arch is said to mimic the moon in water. But the whole formation is better known for its resemblance to an elephant dipping its trunk in the river, from which it derives its name, Elephant Trunk Hill - or Xiangbishan. Some poets couldn't even wait to get home to record their thoughts on this remarkable landmark; there are calligraphic carvings right in the rock.
The effect is best observed from the water, but you can climb up into the "eye" of the elephant and down into Water Moon Cave at the river's edge. Back on the hill, even the rustic brick Puxian Pagoda follows the prevailing theme – it is said to be the hilt of the dagger which killed the poor beast. This gruesome fantasy aside, the pagoda peak gives you a great view of the surrounding area.
Practical Info
Elephant Trunk Hill is in Guilin's south, on the Li River near the point where it meets the Taohua River. Get there from the center of town using the free tourist buses 57 or 58.
You Might Also Like