St Catherine's Cathedral (Sé Cathedral)
TIME : 2016/2/22 11:30:29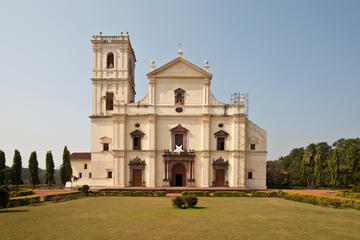 St Catherine's Cathedral (Sé Cathedral)
Some of the most visible legacies of the Portuguese colonial period in Goa are the churches, chapels and cathedrals. St Catherine's Cathedral (Sé Cathedral) is the largest such structure in Old Goa and the seat of the Archdiocese in the state. The grand white Portuguese-Gothic structure was built from 1562 to 1619 by order of the King of Portugal, and the altars were completed several decades later in 1652.
The cathedral was built in commemoration of the Portuguese military victory that eventually led to the capture of Goa. Since the battle was won on the feast of Saint Catherine the structure was dedicated to her, and to either side of the main altar you'll find painted scenes of her life.
St Catherine's is home to a couple famous religious relics. The cathedral's tower contains the largest bell in Goa, known as the Golden Bell for its rich tone. The cathedral also houses the Cross of Miracles, where some viewers report seeing a vision of Christ hanging from the cross.
You Might Also Like