Karla Caves
TIME : 2016/2/22 11:30:53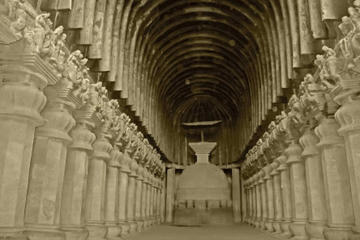 Karla Caves
A popular day trip from Mumbai, the Karla Caves are carved out of a hillside situated in the Western Ghats in Maharashtra. These Buddhist shrines were developed thousands of years ago in ancient India and depict the Buddhist architecture and culture of that time.
The Karla Caves feature a collection of intricately carved chaityas (prayer halls) with the largest measuring 45 meters and dating all the way back to the 1st century BC. It has an exquisitely carved teak-wood roof and rows of pillars decorated with sculptures of human couples, elephants and horses. (Despite its Buddhist origins, the Karla Caves in fact contain very few representations of the Buddha.) A large window at the entrance of the main prayer hall deflects rays of sunlight towards the rear, impressively illuminating the stupa situated there. The smaller of the Karla Caves feature viharas (monasteries) created for the Buddhist monks, who used to gather here to live and pray.
Reaching the Karla Caves involves a walk up a steep flight of 350 steps from the base of the hill (or nearly 200 steps from the car park half way up the hill). The steps are usually lined with vendors selling religious paraphernalia plus snacks and drinks and there's even a vegetarian restaurant in the car park.
Practical Info
The Karla Caves are located above the village of Karla in Maharashtra. Karla is located just off the Mumbai-Pune Expressway and is approximately a two-hour drive from Mumbai. While many choose to visit the Karla Caves as part of a day tour from Mumbai, also taking in the other significant caves in the area, they can also be reached via public transport, with frequent local buses running from nearby Lonavala from 6am daily.