Ganges River
TIME : 2016/2/22 11:32:04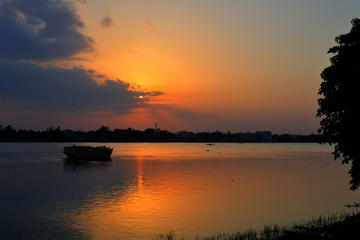 Ganges River
Named after the Hindu goddess, Ganga, the Ganges River is the second largest river on the Indian subcontinent, flowing through some of the most densely populated regions of India and Bangladesh. The Ganges is a much-revered and holy river in Hindu culture and is widely regarded as the epitome of India's traditions and lifestyle.
The Ganges River starts in the Himalayas and empties into the Bay of Bengal, supporting many rural and urban communities along the way. It is of course known for being highly polluted, yet pilgrims come from far and wide to purify themselves in the waters they consider sacred. Whether for spiritual reasons or to simply enjoy the sights from aboard a boat ride, people are drawn to the banks of the Ganges River from all over the world.
Between Malda and the Bay of Bengal, a distributary of the Ganges River named the 'Hooghly River' passes the towns and cities of Murshidabad, Nabadwip, Kolkata and Howrah. Sagar Island is an island in the Ganges that lies on the continental shelf of the Bay of Bengal and is home to Ganga Sagar – an important Hindu pilgrimage site. Taking a day trip from Kolkata to Ganga Sagar is a popular attraction for many visitors to Kolkata.
Practical Info
Most people book a day tour to experience the sights and sounds of the Ganges River from Kolkata.
You Might Also Like