Georgetown
TIME : 2016/2/22 11:55:40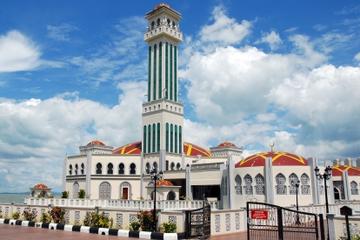 Georgetown
The city of Georgetown is known for its colonial heritage and old-world architecture, but travelers to this Penang destination will find a unique mix of Indian, Chinese and Muslim cultures along its European streets. Call to prayer rings out daily and tasty dim sum stalls start selling their tasty snacks as the sun rises.
Some 600,000 people call the city of Georgetown home and travelers to this bustling center will find restaurants, shops and temples tucked among traditional colonial-style buildings, like the Municipal Council of Pulau Pinang Hall. While visitors would certainly do well to wander the streets, architecture along Armenian Street and the typical items in Little India are worth a visit. Fort Cornwallis, with its historical galleries and restored grounds is an ideal stop for history lovers and Dhammikarama Burmese Buddhist Temple proves one of the city's most iconic religious structures.

Practical Info
Georgetown is the capital of Penang and located on the west coast of Malaysia. Because it's the state's transportation hub, travelers will find plenty of options for getting in and out of Penang. Ferries to and from Butterworth can be found at the Raja Tun Uda terminal. Boats to Langkawi and Pulau Payar leave from Swettenham Pier. Most of the town shuts down from Saturday afternoon through Sunday, so those looking to really experience the place should make a visit during the week. 

You Might Also Like