The KL Tower
TIME : 2016/2/22 11:55:44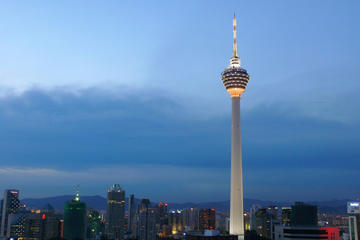 The KL Tower
Along with its considerable effectiveness as an instrument of communication technology, the Kuala Lumpur Tower (KL Tower) also functions as a platform for religious observance. The observatory deck doubles as tourist destination and the point from which the beginning of the Islamic month of Ramadan is marked each August when special designees mark the rising of the crescent moon. There is an excellent restaurant that naturally offers astonishing vistas (it's a revolving venue), and the tower plays host to a series of annual races, such as the KL Tower International Night Towerthon Challenge. It has also made an appearance in the reality television series The Amazing Race Asia.
More impressive still, KL Tower is the seventh-tallest telecommunication tower in the world, and along with the nearby Petronas Towers, it dominates the city's skyline. Since its completion in the mid-1990s, it has helped to define the city's aesthetic and international image, and draws thousands of tourists to the area every year.
After visiting the city's famous central market (where you can sample a variety of locally produced handicrafts and souvenirs), you can join an organized tour of the building and surrounding area, indulge in a buffet dinner, or switch it up and choose a nighttime tour of the Tower and the market as well.
The structure is divided into five separate sections. These consist of the aforementioned observation deck and revolving restaurant, the main antenna mast, the tower shaft (through which elevators race up and down the tower at astonishing speeds), the pedestrian mall on the ground, and the substructure beneath the building that contains three full floors of basements, storage and maintenance facilities.