Wat Chaiya Mangkalaram Temple
TIME : 2016/2/22 11:55:48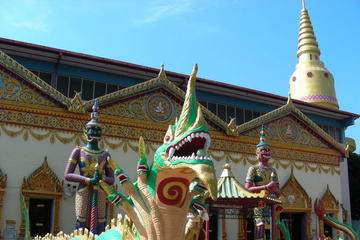 Wat Chaiya Mangkalaram Temple
Queen Victoria donated 5 acres of land to the local Thai community here, where in 1845 they built Wat Chayamangkalaram - a Thai buddhist temple.
The Temple is famed for the enormous gold buddha statue inside. The beautiful gold plated buddha lies 33m / 100 ft in length - his reclining position signifies absolute peace and freedom from the world at the point of enlightenment.
Most unusually, the Buddha's face, hands and feet are painted in rich pigments. Other interesting painted images and statues dot the temple and grounds.
Practical Info
The Wat Chaiyamangkalaram Temple is located 10 mins from Georgetown on the road to Batu Ferringgi, and can be easily reached by bus, taxi or motorbike. Respectful attire should be worn, and hats and shoes removed.
You Might Also Like