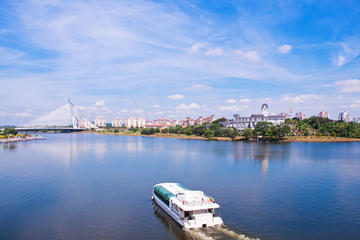 Kuala Lumpur Cruise Port
In recent years the bustling capital city of Kuala Lumpur has transformed from a lively city to an Asian economic hub, complete with modern skyscrapers and contemporary shopping plazas. This diverse city showcases the culture and history of some 2 million Malay, Chinese and Indian residents that call the capital of Malaysia home. And while the city is ripe for travel with plenty to do, see and experience, Kuala Lumpur receives torrential downpour nearly half the year. Crazy rains bring traffic in its bustling city streets to a standstill. Luckily, the risk of getting soaked is lowest during peak cruising season, from January to February (though it still might be worth packing a poncho, just in case).
How to Get to Kuala Lumpur
Port Klang may be a fair distance from Kuala Lumpur, but a variety of services—including fixed-priced roundtrip taxis and local car rentals make getting to the capital city relatively easy for intrepid travelers. Many organized tours include transportation to the city as well. Once in Kuala Lumpur, it's best to follow a map, since sites can feel somewhat far-flung. Walking in the city is always an option, but seriously speedy traffic sends most travelers to popular taxis and mass transit, like the monorail and railway.
One Day in Kuala Lumpur
Get a literal taste of the city by starting the day in Central Market. This popular destination is the perfect place to pick up handicrafts and souvenirs, as well as sample traditional local cuisine. Afterwards, head to the National Museum to explore Malaysia's history, art, economy and traditions. If the day is clear—which, in Kuala Lumpur, it rarely is—head to Menara Kuala Lumpur, a towering structure located in the city's Golden Triangle that offers unmatched views of the city. Round out the day with world class shopping at Bukit Bintang, the Fifth Avenue of Kuala Lumpur or a trip to the incredible Orchid and Hibiscus Gardens—home to some 8,000 species of the flowers.

Port Information
Ships dock at Port Klang, about 40 miles from Kuala Lumpur. The port, which serves major cargo ships, too, has a taxi counter, free Wi-Fi, a lounge and a small shop selling essentials. Travelers should be aware that while taxis accept US dollars, they do not take credit cards. Luckily, ATMs and money exchanges are plentiful at the port. While there are few attractions in the surrounding Port Klang, die-hard golfers will love easy access to the Port Klang Golf Resort, about a mile south of the terminal. English is widely spoken, but Malay is still the official language.