Kuching
TIME : 2016/2/22 11:55:56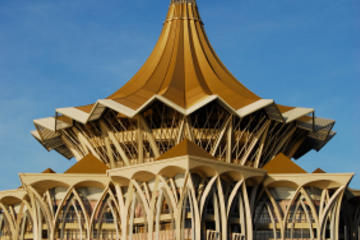 Kuching
Sarawak's capital, Kuching, is one of the few cities in Malaysian Borneo that escaped a hammering during WWII.  Its historic buildings, multi-racial society, excellent climate and position along the banks of the Sungai Sarawak river all contribute to the city's laid-back charms.
Kuching has an interesting history: the city was once ruled as a kingdom by British-Adventurer-come-Rajah, James Brooke, whose son, Charles, was responsible for building many of the structures that, along with its Chinese temples, mosques and waterfront, make Kuching such an appealing city to explore.
Kuching can be divided into two areas, which are more or less distinct. The Chinese dominated south is a commercial residential area, while the north shore is predominantly Malay in character, with old kampong houses lining the river. 
There are many places of interest in and around the city, and while Kuching as a whole is spread out, its main center is compact and easily explored on foot. A popular base for travelers exploring Sarawak, the city also tempts travelers with its nightlife, wide-ranging accommodations and delicious Chinese-Malay cuisine.