Rainforest and Canopy Walk
TIME : 2016/2/22 11:55:57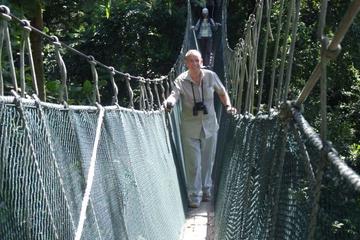 Rainforest and Canopy Walk
Get a taste of the local flora and fauna at Kuala Lumpur's Forest Reserve Institute of Malaysia (FRIM). At over 3,775 acres, FRIM holds hundreds of plant species and both regenerated and secondary forest.
Visitors hike along shady trails past a river and waterfall cutting through the forest, as well as the remains of an old Orang Asli settlement. The Dipterocarp arboretum is a collection of living trees for botanical reference, and the Bambusetum features 30 different species of local bamboo.
The more adventurous may want to explore some of the four jungle tracks: Keruing Trail, Rover Track, Engkabang Trail and Salleh Trail, all of which pass through some of most spectacular secondary forests in Malaysia.
Also a highlight is the Canopy Walk, allowing up close exploration of the rainforest's treetops. Canopy Walks are limited to 250 people per day and are closed Monday and Friday.