Kota Kinabalu
TIME : 2016/2/22 11:55:57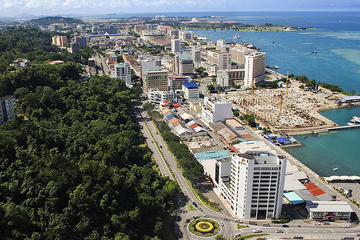 Kota Kinabalu
Kota Kinabalu (or KK) is Sabah's capital and a popular gateway city for visitors traveling around Sabah and Borneo. Originally known as Jesselton before being levelled in WWII, the city was rebuilt in the early 1960s and renamed Kota Kinabalu.
Compact KK is the ideal spot to base yourself for trips to Mount Kinabalu, Kinabalu National Park (80km/50mi),  and the islands of the Tunku Abdul Rahman (TAR) Marine Park just off its coast.
All main roads in Sabah radiate from Kota Kinabalu and its inevitable that you will find yourself staying here on more than one occasion. Thanks to its high turnover of tourists and multicultural population, there are plenty of accommodation and eating options to suit all budgets.
Sights in Kota Kinabalu are a little thin on the ground and you can easily take in most of what the city has to offer in a few short hours. In fact, KK is so compact that you can walk from one end of the city to the other in just half an hour!
You Might Also Like