Putrajaya Bridge
TIME : 2016/2/22 11:56:00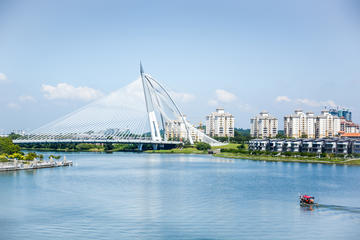 Putrajaya Bridge
Putrajaya Bridge, perhaps the most important bridge in Malaysia, spans Putrajaya Lake at a length of 1,427 feet (435 meters). Inspired by the Khaji Bridge in Iran, the Putrajaya Bridge combines cable backstays and steel tiebacks to create an elegant, sail-like appearance reminiscent of Santiago Calatrava's sculptural bridges.
The lower level of the bridge accommodates motor traffic and a monorail across the lake, connecting the Government Precinct in the North to a Mixed Development Precinct in the South, while the upper level carries a pedestrian path for jogging, walking or cycling. It's also a popular spot for watching the sun set over Putrajaya Lake in the evening. At night, changing colored lights illuminate the bridge.
Practical Info
The Putrajaya Bridge is located in the town of Putrajaya, about 40 minutes outside of Kuala Lumpur.
You Might Also Like