Mount Mat Chinchang
TIME : 2016/2/22 11:56:04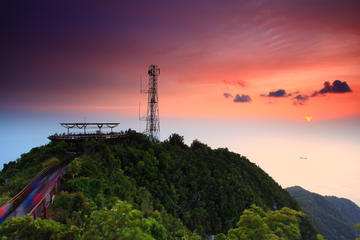 Mount Mat Chinchang
Mount Mat Cincang is the second highest peak on Langkawi and the oldest mountain in the whole of Southeast Asia. This majestic mountain range is covered in dense rainforest and features some incredibly old and impressive rock formations. Mount Mat Cincang is one of three UNESCO World Heritage Geoparks on Langkawi and is understandably one of the top tourist attractions on the island.
The rainforest within Mount Mat Cincang is home to some ancient, gigantic trees, as well as a flurry of forest animals, including the macaque monkey and an array of birdlife, including the eagle – the symbol Langkawi itself.
A cable car carries passengers 709 meters above sea-level to the top of Mount Mat Cincang. One of the steepest cable car rides in the world, the journey offers breathtaking views of the rainforest and the Seven Wells Waterfall, along with Langkawi's islands scattered in the Andaman Sea below. From the top of the peak on a clear day, Mount Mat Cincang presents sweeping views all the way to the Malaysian mainland and even across to southern Thailand.
Practical Info
The most popular and scenic way to see Mount Mat Cincang is to take the cable car ride from Oriental Village, located at the foot of the mountain in the Pantai Kok area. Opening hours are 10am-7pm from Monday to Thursday, 12-7pm on Wednesdays and 9:30am-7pm on weekends.
You Might Also Like