Beras Basah Island
TIME : 2016/2/22 11:56:06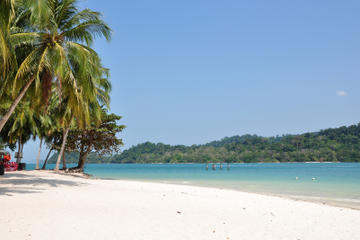 Beras Basah Island
Sitting to the west of Langkawi's archipelago of paradise islands, Beras Basah is an idyllic haven, with pristine beaches flanked by a verdant forested inland. Fully conforming to the tranquil Andaman Island ideal, a trip to the shores of Beras Basah is a popular activity for those visiting Pulau Langkawi.
Pulau Beras Basah (literal translation: "Island of Wet Rice") benefits from remaining non-commercial, yet is still easily accessible from the main island of Langkawi. Despite the daytrippers, it retains its laid-back paradise island ambience with ease. With not much to do but relax then, Beras Basah is the ideal place to sunbathe or take a dip in the island's inviting waters, where swimmers and snorkelers are said to spot schools of playful dolphins from time to time.
Practical Info
Although most visitors to Beras Basah Island come as part of an island-hopping tour (usually including Singa Besar Island and Dayang Bunting Island) it can also be reached by taking a boat from Langkawi Pulau at Pantai Marble (next to Kuah Jetty) or Pantai Cenang. Visitors should be aware that Beras Basah Island is small and undeveloped and, as such, there are very few amenities or conveniences on the island.
You Might Also Like