Satang Turtle Island National Park
TIME : 2016/2/22 11:56:13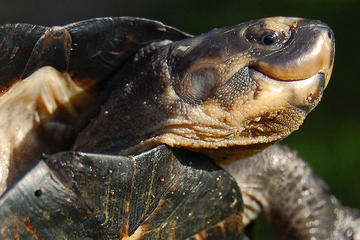 Satang Turtle Island National Park
Satang Turtle Island National Park consists of two islands Pulau Satang Besar and Pulau Satang Kecil just off Sarawak's west coast. These protected islands, surrounded by the pristine waters of the South China sea, are a recognized sanctuary for Green and rare Hawksbill turtles who return to the islands each year to lay their eggs.
You can visit the turtle conservation and hatchery area and learn about the conservation program on the island. Park rangers collect the turtle eggs, count them and replace them in a beach hatchery. When the hatchlings emerge from their eggs after 40 to 60 days, their numbers are recorded before they are released into the sea.
The surrounding ocean contains an abundance of coral and marine life and it is possible to swim and snorkel here and to take a guided stroll through the National Park's jungle-filled interior.
Practical Info
Satang Turtle Island National Park is a 30-minute boat ride from Damai Beach, Sarawak Boat Club Jetty or Telaga Air Jetty. The Park can only be visited on an organized tour as conservation takes precedence over tourism and certain areas are off limits to the public.

You Might Also Like