The Astana
TIME : 2016/2/22 11:56:14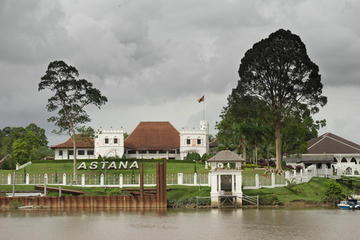 The Astana
Built in 1870 by Charles Brooke, Second White Rajah of Sarawak, the Astana is now the official residence of the Governor of Sarawak. Built as a bridal gift from Charles Brooke to his wife, Ranee Margaret of Sarawak, the Astana is now often viewed as an architectural monument of love. It is a regal complex comprised of three separate bungalows and a narrow system of passageways that unifies all parts of the Astana into a single palatial dwelling.
Set on the northern bank of the Sarawak River no visitors are allowed to enter the interior of the Astana, the one exception being the annual Hari Raya festival at the end of the month of Ramadan. During all other times of the year, however, visitors to Kuching are encouraged to wander the well-manicured palace grounds and peruse the various ethnic artifacts which lay scattered amongst the property. It's a popular hangout for locals and a serene spot to enjoy a sunset while gazing back at the Kuching waterfront.
During the time of Rajah Charles Brooke, it was understood that he planted a grove of betel nut trees behind the Astana in order to offer them to visiting Dayak chiefs, and although not entirely open to the public, the Astana is nonetheless one of the more important architectural and historical monuments pertaining to the curious history of Kuching.
You Might Also Like