Langkawi Crocodile Farm
TIME : 2016/2/22 11:56:15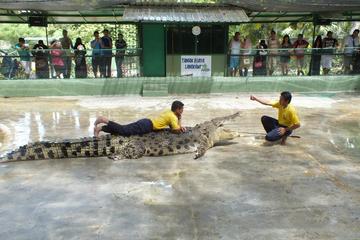 Langkawi Crocodile Farm
The Langkawi Crocodile Farm on the island of Langkawi, Malaysia houses one of the largest collections of crocodile and alligator species in the world. The reptiles range from newborns to fully grown and include some world record-holders and some that are handicapped. The crocodile farm covers an area of 20 acres.
Visitors come to Langkawi Crocodile Farm to see more than 1,000 crocodiles. The first section is where you'll find the baby crocodiles along with signs that provide facts about crocodiles. There is also a pond where both crocodiles and alligators are located, and signs explain the difference so you can try to tell them apart. At the feeding pond, you can watch crocodiles snap at and devour their meals. You can also walk on a bridge above another pond where crocodiles are lounging. For a more tame experience, there are animal shows with the trainers. There is also a gift shop where you can buy goods made out of crocodile leather as well as typical souvenirs like T-shirts, postcards, and key chains.
Practical Info
The Langkawi Crocodile Farm is located on Teluk Datai Road near Datai Bay and about 20 miles north of Kuah on the northwest side of the island. Entrance is RM20 (about $6) plus RM1 for bringing a camera. The farm is open daily from 10am to 6pm.
You Might Also Like