Chinatown (Petaling St.)
TIME : 2016/2/22 11:56:26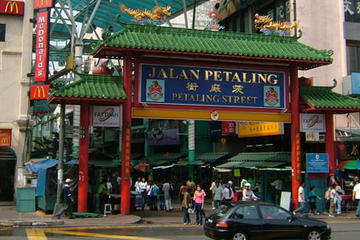 Chinatown (Petaling St.)
Bustling Petaling Street is the main thoroughfare of Kuala Lumpur's Chinatown. The street is effectively one long market which specialises in counterfeit clothes, watches and shoes. It sets up mid-morning and is busy until almost dawn with locals and tourists haggling for cheap wares.
Look past the pirated goods stalls and you will see a heritage area of old Chinese shop houses selling spices and food stalls selling local dishes like Hainanese chicken rice and nasi lemak. The side streets leading from Petaling Street are where you will find wet markets and shops selling everything from spices to electronics to funereal wreaths.
Other highlights of Chinatown besides shopping are the temples, some of the finest examples in Kuala Lumpur. There is the stunning Hindu temple Sri Mahamariamman and the two late 19th-Century Chinese temples Koon Yam and Chan See Shu Yuen.
Practical Info
Petaling Street is very central and you can take any of the many bus that travel through Chinatown. if you're taking the train then it is a 5-minute walk from Pasar Seni railway station.
You Might Also Like