Endau-Rompin National Park
TIME : 2016/2/22 11:56:36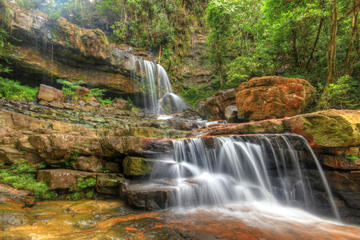 Endau-Rompin National Park
Volcanic rock formations dating back nearly 250 million years and the largest remaining Sumatran rhino population on the Malay Peninsula call the tropical rainforests of Endau-Rompin National Park home. Epic waterfalls like Buaya Sangkut, Upeh Guling and Batu Hampar make the nation's second national park an ideal destination for travelers looking to trek through scenic landscapes and dive into clear rushing rivers. 
While it's possible to explore the park on a single-day trip, seasoned travelers say three days is the bare minimum required to really experience the rare flora and fauna that make Endau-Rompin National Park so unique. After exploring the trails, trekking to waterfalls and camping in the thick jungles, travelers can meet with the Orang Hulu—a welcoming indigenous people—and learn more about the cultures and traditions of those who call this wild national park home. 
Practical Info
Endau-Rompin National Park is located south of Pahang and northeast of Johor. The park is closed to the public between November and March due to monsoon season and fishing is banned from September until October.
You Might Also Like