Johor Bahru
TIME : 2016/2/22 11:56:39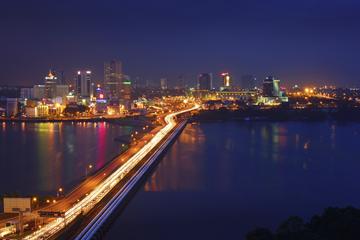 Johor Bahru
The capital of the Malaysian state of Johor, Johor Bahru (or Johore Bahru) is located on peninsular Malaysia, just across the causeway from Singapore. Though the city had the reputation of being a crazy border town, it has recently seen revitalization. Now, the city's museums, thriving food hawker scene, interesting architecture and vibrant nightlife are drawing visitors from around the world. Visiting Johor Bahru (or JB, as it's called) is a quick trip from Singapore but gives an interesting glimpse into Malaysian life and culture. It's also a great place to base yourself if you're looking for cheaper accommodations than you might find in Singapore.
Singaporeans love visiting JB for its shopping (taking advantage of the strong SGD), so be sure to check out the varieties of shops, including those selling handmade batik—a craft that's famous in Malaysia. After a bit of retail therapy, visit one the historic mosques in town, like Sultan Abu Bakar Mosque, which also boasts impressive views. There are several sights of interest, including the Royal Mausoleum, which is not only of architectural interest, but historical interest as well. JB is in for even more changes in the future, so visiting now to see the "pre-" version is a good idea. With Danga Bay, located just a few kilometers from the causeway, slated to become a financial and commercial center, the next time you visit JB it may have a fancy new face.
Practical Info
Johor Bahru is accessible from Singapore by both motorway and train. There are frequent buses between Singapore's Queen Street bus terminal and JB's Larkin bus station and the train runs between the two cities at regular intervals. Be sure to take your passport as there are border checks between the two cities.
You Might Also Like