Bintang Walk
TIME : 2016/2/22 11:56:43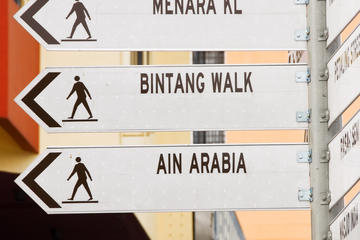 Bintang Walk
To truly feel the pulse of Kuala Lumpur, plan to spend a few hours walking one of its busiest streets, Bintang Walk. Located in the heart of Bukit Bintang, a neighborhood with the highest concentration of shopping outlets in the city, Bintang Walk runs along the area's main artery, Jalan Bukit Bintang, but has come to encompass the surrounding area as well.
While the shopping scene is what initially attracted tourists and locals to the area, Bintang Walk has grown beyond a mere commercial center. There's plenty of shopping to be done, but the streets here are also lined with cafes, hip nightclubs, eateries and vendors serving up just about anything one could want. This is also one of the best areas in the city to find Arabian food.
While Bintang Walk is buzzing throughout the week, weekend evenings are the prime time to see the area at its peak of activity, as a mixture of local youth and foreign tourists congregate to shop, eat, drink, see and be seen.
Practical Info
Bintang Walk is a popular area near Kuala Lumpur's center with its own metro station.
You Might Also Like