Dayang Bunting Island
TIME : 2016/2/22 11:56:46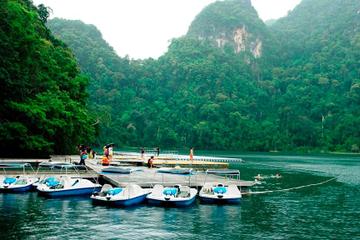 Dayang Bunting Island
Dayang Bunting Island is the second largest island in the Langkawi island group in Malaysia. The translation of the island's name is Pregnant Maiden Island, and it is most famous for Dayang Bunting Lake, or Pregnant Maiden Lake. The legend says that a princess named Mambang Sari married a man named Mat Teja and had a child. Unfortunately the baby died just a few days after he was born. The princess placed his body in the lake and blessed all women who have trouble conceiving a child. It is said that infertile women who take a dip in the lake will later be able to get pregnant.
Aside from the lake, another one of the island's attractions is Dayang Bunting Marble Geoforest Park where you can see unique limestone formations and caves. Visitors can also walk along a path through the mangrove forest and look for native birds and other animals. There are more than 90 different species of birds on the island.
Practical Info
Dayang Bunting Island is about 12 miles south of the main island of Langkawi. You can get there by boat from either Kuah Jetty or at Pantai Cenang, and the journey takes about 15 to 20 minutes. There are several island-hopping tours that include Dayang Bunting Island.